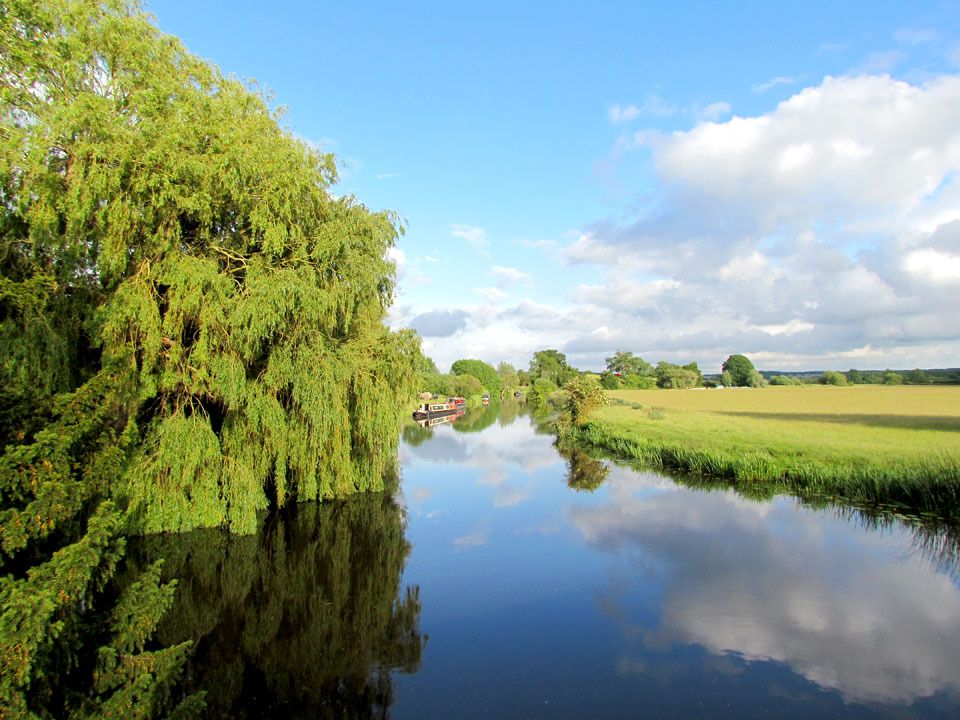 Summer by the river where weeping willow gently dips into the glassy waters and the noise of rooks contemplating an early roost passes over my head.
Further up are the small masonry remains of a castle, notable for the birthplace of Richard III and the execution of Mary Queen of Scots. Today, the stillness is punctuated by boating life. A boat just near the bridge I stand on has a man cleaning and tidying his pretty folk painted castle of his own, hoover and radio on.
I'm surrounded by verdant english fields, broad beans in one, some sheep in the distance, fishermen walking along a sinuous pathway in another. Calling it a day, as are we on this final stop before teatime, Bucolic scenes in the evening sunshine. Every field is buffered by wild flowers, mainly white umbelifers and the river has a fine edging of reed. By the hump back bridge, honouring the Scottish queen perhaps - a patch of purple thistle.
If I were inclined to paint with watercolour, I would do so here. The light so delicate and perfect cloud reflections. I wish I could have waited for the sun to set but a car full of hungry boys meant I had to carry on.
{Fotheringhay village, Northamptonshire}