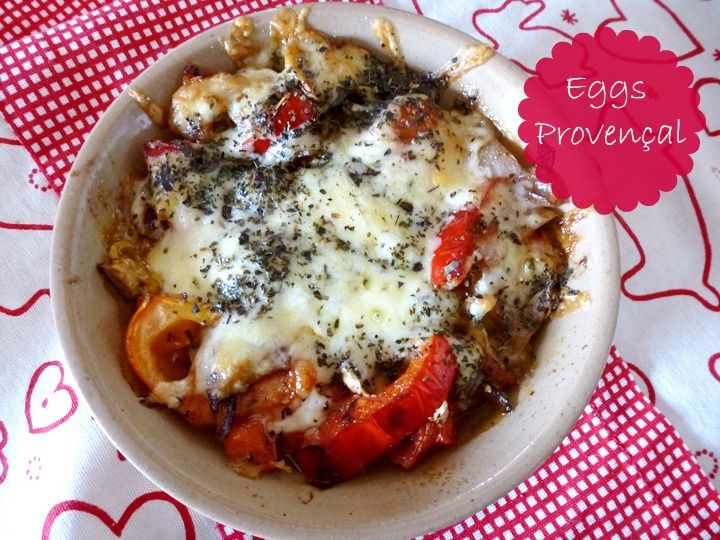 We are lucky in that we have a free and plentiful supply of eggs courtesy of my father's chickens who live a very happy and pampered life. My dad loves his chickens and is always cleaning their huge pen, checking them over and having a little chat with them. We are very grateful for all the eggs we receive and like to think of new recipes to make with them.
One that I like to make myself for a quick dinner or the whole family is my version of

Eggs Provencal

.
Fry some crushed garlic cloves, chopped onions, mushrooms, red peppers and a handful of cherry tomatoes in a little vegetable oil for a few minutes. Sprinkle with some Tabasco Sauce for a bit of oomph! Pour mixture into little baking dishes, I use these little brown dishes that I picked up in a charity shop - they have been so useful.
Make a hollow in the mixture and crack an egg into it. I crack them into a ramekin first just in case I get any egg shell in it. Sprinkle cheddar cheese over the top. Season and add some dried basil or oregano.
Place into the oven until the egg sets and the cheese has melted.
A very quick individual meal, serve with a little salad or some crusty bread.
This post is an entry for the
#ShortcutEggsperts Linky Challenge
sponsored by British Lion Eggs. Learn more and find recipes at www.eggrecipes.co.uk