Up in the hills above Macclesfield at Tegg's Nose we assembled on a Sunday morning with the local ranger and a Cheshire forest school to go wild bilberry picking. The acidic soils of the area are perfect for bilberries and the rugged landscape here is abundant with ripe ones at this time of year, ready for us to turn into glorious jam.
They are in the same family (Vaccinium) as the blueberry but are quite a bit smaller, making them impractical for shops to sell them these days. However the taste is far superior and well worth the couple of hours we spent harvesting them up on a reasonably steep bank.
Bilberries are also know by many other names but the one I know them by is wimberries as my father tells me that his mother used to make wimberry pie back in the 1950's. My father's family owned a green grocers and the wimberries would be displayed in a flat wicker basket.
Back with purple stained hands at base camp we poured our bilberries into a big pot, removed any leaves and then added the same amount of preserving sugar and kept stirring and keeping our feet warm by the fire. The rain lashed down and we stood there with our empty jam jars looking forward to our first try of fresh bilberry jam.
Bubbling away!
It was said that the bilberry was good for night vision and World War II RAF pilots were given bilberries as part of their rations, sadly a myth...... The leaves are also considered medicinal and make it an all round super berry.
Such an early autumnal feel to the day (bizarre in July!), the cold and the smell of woodsmoke, warming jam - now poured into all our jars and a treat for with our toast once home. I may bake some scones this week to fill with this fruity purple treat and a big blob of whipped cream.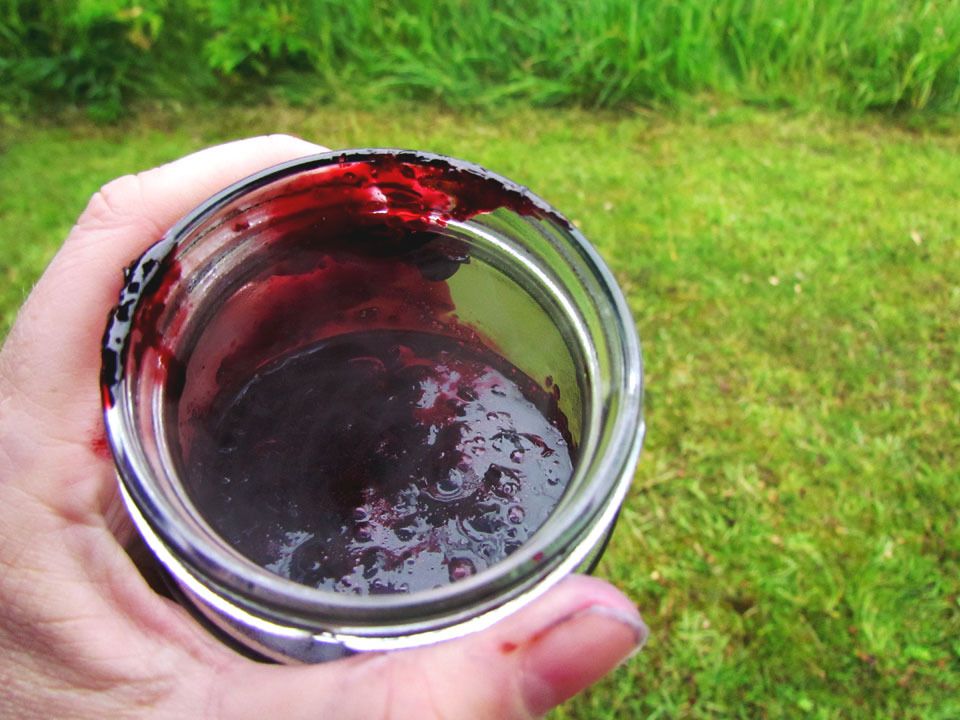 So this is the start of jam making season and hopefully I'll go back and collect some more bilberries, perhaps adding some blackberries for a hedgerow jam or try and make my father his childhood wimberry pie for nostalgia.