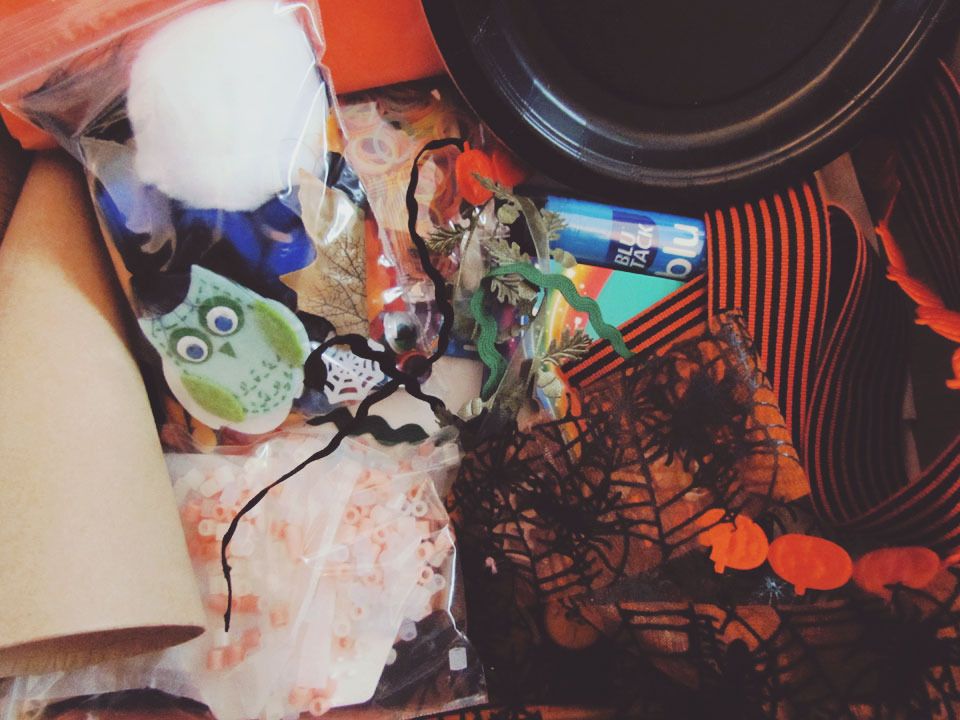 A whole box of Halloween coloured crafting delight - ribbons, felt, embellishments, black, white, orange. Now step in and mind my broomstick, lets weave a crafting spell......
To make a

black pumpkin plate decoration

we used:
1 black paper plate
Bostik Blu Tack Glu Dots
Scissors
White foam sheet
1 white pipe cleaner
Green ric rac
Sticky tape
Cut triangles of white foam sheet for the eyes and nose. Then cut a jaggedy mouth.
Glue to the black plate using the Blu Tack Glu Dots. Cut out some circle for freckles and glue them on to to make a pumpkin face.
Loop the white pipe cleaner and attach to the back of the plate with sticky tape to make a hook to hang the pumpkin decoration from.
Tie a short piece of green ric rac around the pipe cleaner, a little pumpkin stalk.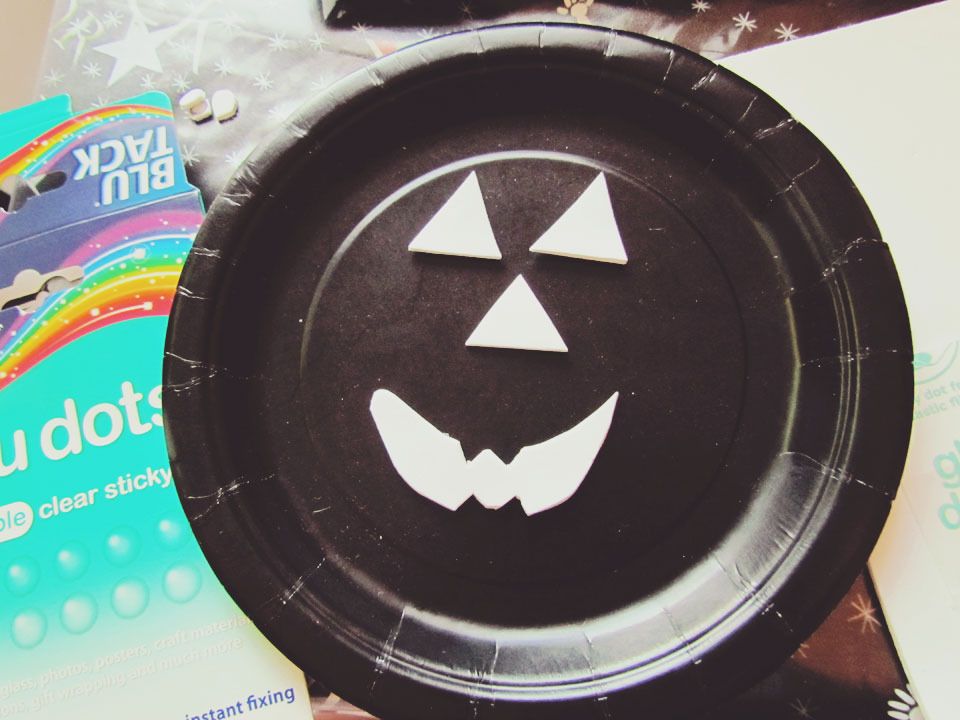 Next for a spooky jester's stick (or maybe a pumpkin wand)
Orange felt
Black felt
Selection of pipe cleaners
Polystyrene egg
Black and green ric rac
Orange pumpkin ribbon
Scissors
Blu Tack Blu Stick
Twist several pipe cleaners together to make a firm handle for our wand (leave one aside) Place the egg in the centre of the orange felt, place the pipe cleaner handle under the egg and scrunch it around and then secure with a pipe cleaner tie.
Cut out eyes and mouth for the pumpkin from the black felt. Glue on using the Blu Tack Blu Stick glue.
Tie the ribbon and ric rac around the wand
Cast a spell
Owl decoration
Silk leaves
Owl embellishment
Black feathers
Black felt
Bostik Blu Tack Glu Dots
Blu Tack Blu Stick
wooden dolly peg
Using the Blu Tack Glu Dots fix the silk leaves together into a rosette.
Stick the owl embellishment into the centre.
Onto the back, stick the feathers with the Glu Dots and a small piece of felt over the dolly peg. Secure with extra Blu Stick.
Last month was not back to school crafting.
The craft box was provided to me by Bostik as part of the Tots100/Bostik Craft Bloggers Club