In the New Year I am planning on finally redecorating and updating my bedroom as it has become a little tired looking over the past few years. I need new bedroom furniture desperately, the current wardrobe is far too small and my main chest of drawers has actually collapsed. Too many beauty products in one drawer and an assortment of hair straighteners and curlers in another caused them to fall onto each other. I'm left with baskets of clothes and make-up on the floor. I am looking forward to going and picking some new pieces and my first stop will be Argos who have a large range of bedroom furniture available here.
I love white furniture and will be choosing a bedroom suite that has a Scandinavian feel to it. My preference is to keep rooms fairly neutral, using a palette of whites and greys with accessories as colour pops within the room – this way I can change the room easily season by season. I need furniture that is smart, practical, great quality but won't be over my budget.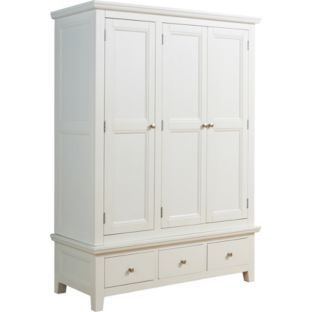 Argos Venice Triple Wardrobe
An Argos triple wardrobe would fit all my clothes in without them being crumpled. There's nothing more annoying than ironing a dress to later find it all creased. I need plenty of storage so having some drawers within the wardrobe would be fantastic to store all my scarves and jewellery. A new chest of drawers where I could have space for tops and a space for jumpers, all neatly folded would make me very happy. I like how these drawers have two smaller ones at the top for accessories.
Argos Venice Two Over Three Chest of Drawers
To really treat myself, I absolutely must have a glamorous dressing table so my cosmetics will have a place of their own and no longer find themselves rolling out the back of a broken drawer onto my clothing. My jewellery could adorn the top, making it very easy to find and not get tangled!
Argos Schreiber Provence 2 Drawer Dressing Table
Hopefully a few Christmas pennies will help me do the bedroom up and I'm looking forward to having a fresh new room to relax and unwind in. Do you have plans for redecorating in the New Year? What styles of furniture do you like?
This post was a collaboration with Argos. All words are my own. Pictures are from Argos.