I live in a Victorian house and notoriously as a poorly insulated old building it suffers from damp and mould. I don't like the idea of mould spores in the house - I have read reports that these can cause allergies when breathed in and cause asthma.With a young child in the house, damp was something I wanted to eradicate. We did have a damp proof course put in but this in itself was not the solution to the whole damp issue.
In the winter, with windows closed and no regular ventilation the water vapour in our homes increases - whether it's from cooking the tea, having a shower or my big sin - putting wet clothes on the radiator. Even wet dogs coming back in after a walk contribute and all the water vapour hitting cold walls causes the mould. A lot of the damp appears in the corners of the rooms. This is what was happening in a corner of my dining area - you can see the mould and how the paintwork is being ruined as a result of the damp (this was after a damp proof course too!)
A dehumidifier can help slow down the process of mould appearing by reducing the amount of water vapour in the air within your home and help you keep on top of it. I was lucky enough to be able to try out two dehumidifiers from Appliances Direct who sent me them to review.
Firstly I tried the Amcor Mini Dehumidifier which is ideal for smaller spaces, caravans or cupboards. I have an under stairs cupboard that gets so damp my shoes stored here regularly have mildew/weird yellow mould on them and it smells musty too. I put the unit just inside here for the evening and was astounded at how much water it collected in the 500ml tank. After a few hours it was 1/3 full! As it's very compact and portable, I've also used it on the kitchen worktop whilst cooking and kept it on a while after. You can see the water vapour condensing inside the tank straight away. It's also quiet so you can barely hear it on amidst the usual house noises and the tank easily slides out to empty. I've found it really useful, especially for my problem cupboard.
Upstairs, on the landing by the bathroom I tried out a larger Amcor 12 litres per day Dehumidifier. It certainly did collect the water and the tank soon begins to fill up. There are two settings and the highest one is a bit noisy but didn't bother me too much as I had in on during the daytime when I'm mostly downstairs. It's on castors so I could move it around a bit. One morning Little Bird's room had a lot of condensation on the windows, so I trundled it into his room for the morning to do its job. It's a heavy unit so I wouldn't be moving it between floors very often but to be honest, on the landing is probably the best place for it where sometimes I air washing and next to the bathroom of course
When you see all the water collected in such a short space of time it is easy to see why damp forms when there is little room ventilation. The unit will automatically switch off when it is full and the tank slides out easily for you to pour the water away. I will definitely be using my dehumidifiers to reduce the chances of mould forming and damage to my paintwork occurring. It will be interesting to see how much / if any mould is there in the spring especially in previous problem areas. If my shoes have no mildew on them I will be jumping for joy as I had to throw away several pairs this year ruined by this. I love the small dehumidifier as I can move it around very easily but the larger one really is the business if you have a larger damp issue. It is fairly big but it doesn't look too cumbersome in a spot on a landing or in the corner of a bedroom.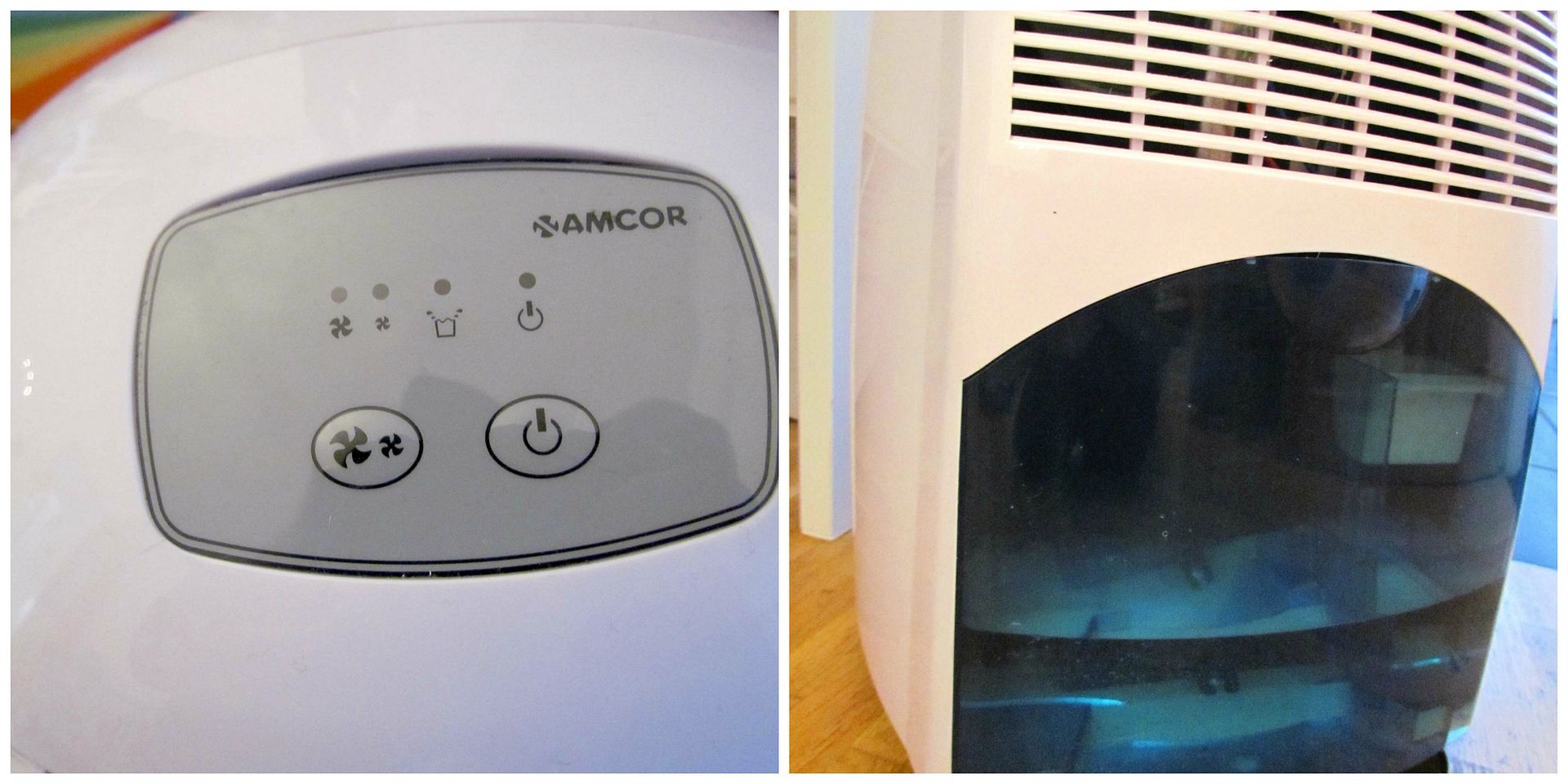 Disclosure: I received two dehumidifiers from Appliances Direct in exchange for a review. All words and pictures are my own and I give my true opinions.