Springtime is my time to start thinking about sprucing the home up. Towards Easter with the sun starting to poke its head through the clouds, I feel like I want the house looking cleaner and brighter. I'm frequently pencilling down ideas - colour schemes, new styles, inspiration from magazines and of course using Pinterest. So when I had the opportunity to take part in the Homebase #MyWay challenge I was very excited to be able to bring some of those ideas to reality.
Homebase have a super resource, the
Project Centre
where you can find plenty of home ideas and helpful advice for completing those home improvements. Recent research shows that most of us these days use 'friendspiration' to guide us in our projects, so friends offline and online - which is where I usually head to. I spend time poring over pretty lifestyle blogs and pinning like mad. In fact here is my Pinterest board with my ideas for this project:
Follow Happy Homebird's board Homebase #MyWay on Pinterest.
With £243 worth of vouchers as this is the average for updating their home décor, I headed off with all my ideas and went on a spring room makeover spending spree. Hoorah! Homebase's research also discovered that the average length of time to research a project is 29 days, not me, due to spending an incredible amount of time online (ahem) it is probably a few days.
I decided to makeover my kitchen and adjacent dining area as they were looking very tired, half finished and the dining area was looking too gloomy. The rear of the house where these rooms are situated doesn't get too much light and them both being rooms we use most of the time, I felt they were the prime candidates for a makeover. Plus the dining area doubles as our homeschool area so brightness was definitely required.
Here are the before pictures. Note half finished after plastering the ceiling look, walls that hadn't been painted since I've lived there, grubby cupboards with chipped paint and tired looking laminate floor. Also needed a declutter and improving with new on-trend accessories.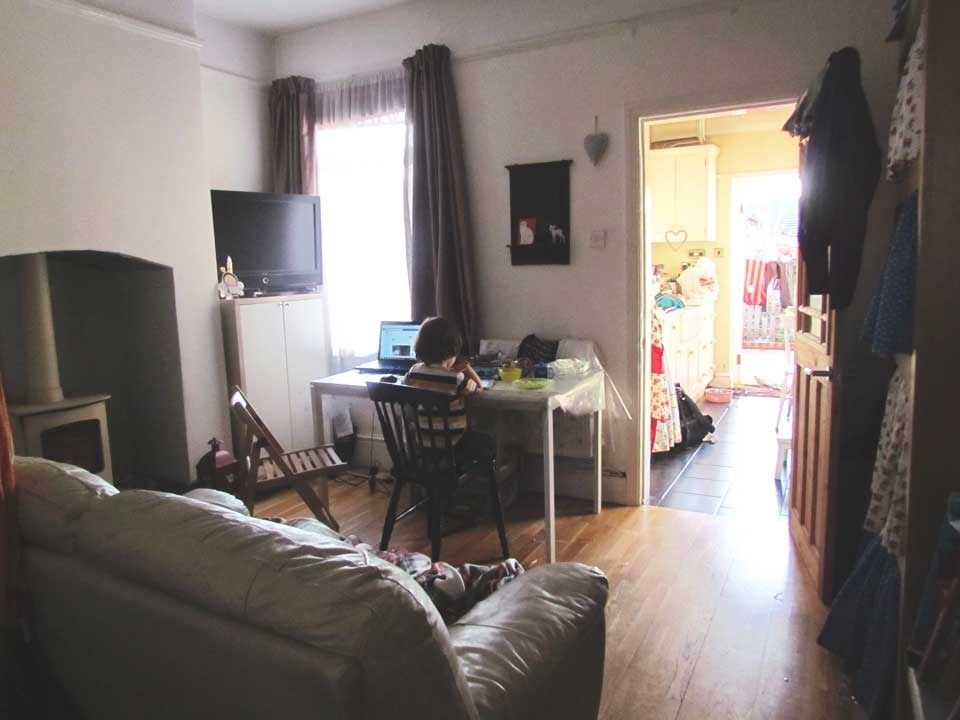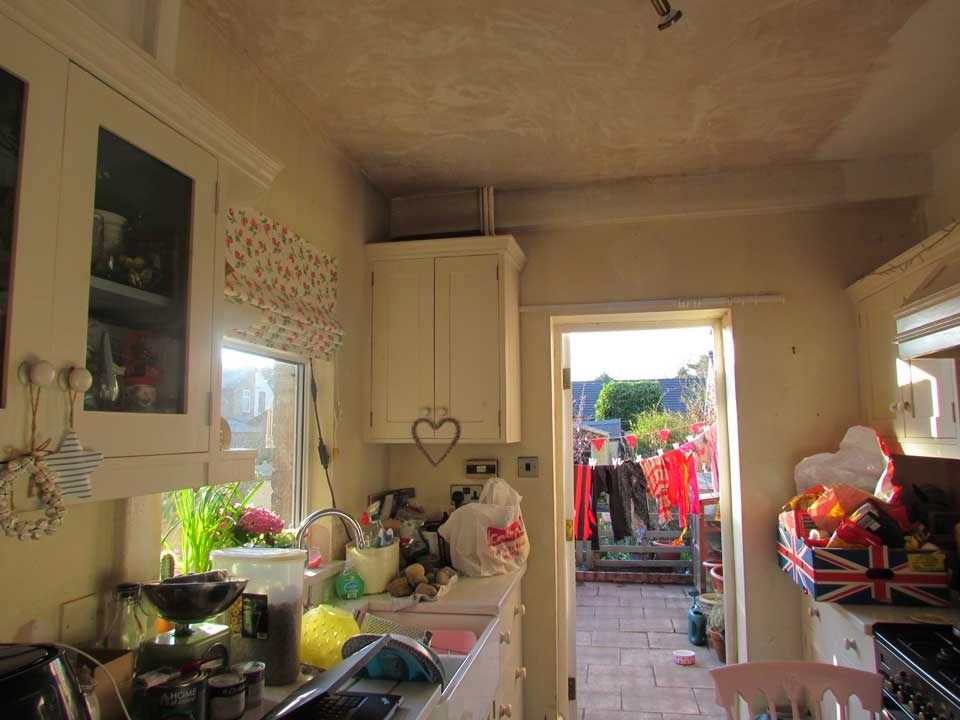 So......., what I love are white floors and walls with pastel painted furniture inspired by the
Yvestown
blog, her home is a look I adore. A blank canvas and then accented with colours that cheer me.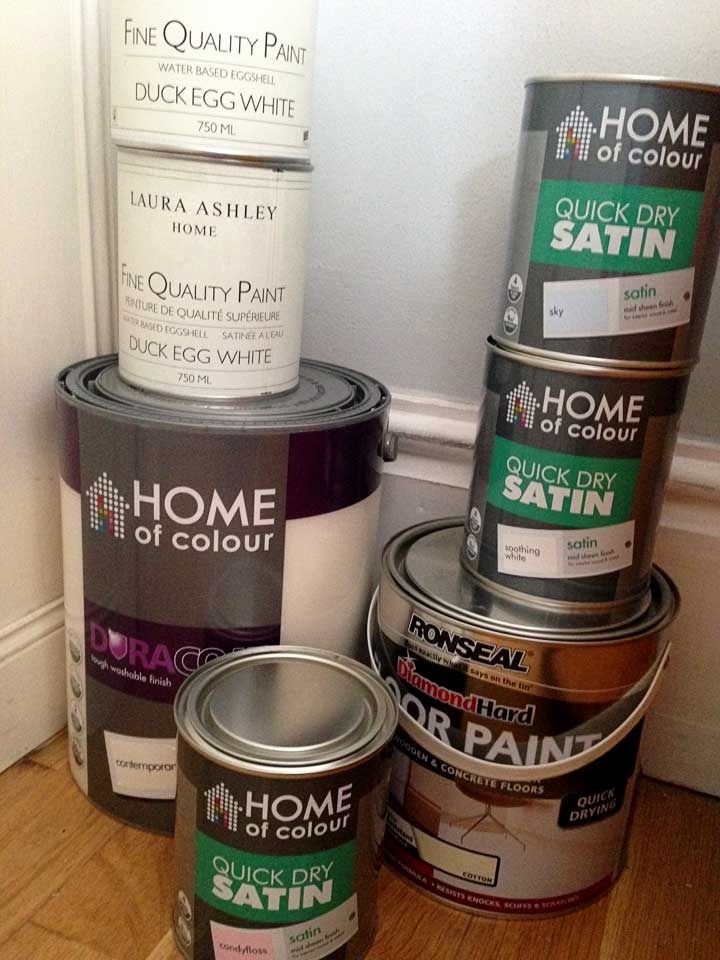 I bought so much paint -
Ronseal Diamond Hard Floor Paint in cotton
for a perfect white floor,
Quick Dry Satin
in candy floss and sky for the chairs,
Laura Ashley Duck Egg White
for the kitchen cupboards and finally a white emulsion for the kitchen walls from
Home of Colour Duracoat in Contemporary
which I thought was an excellent value range.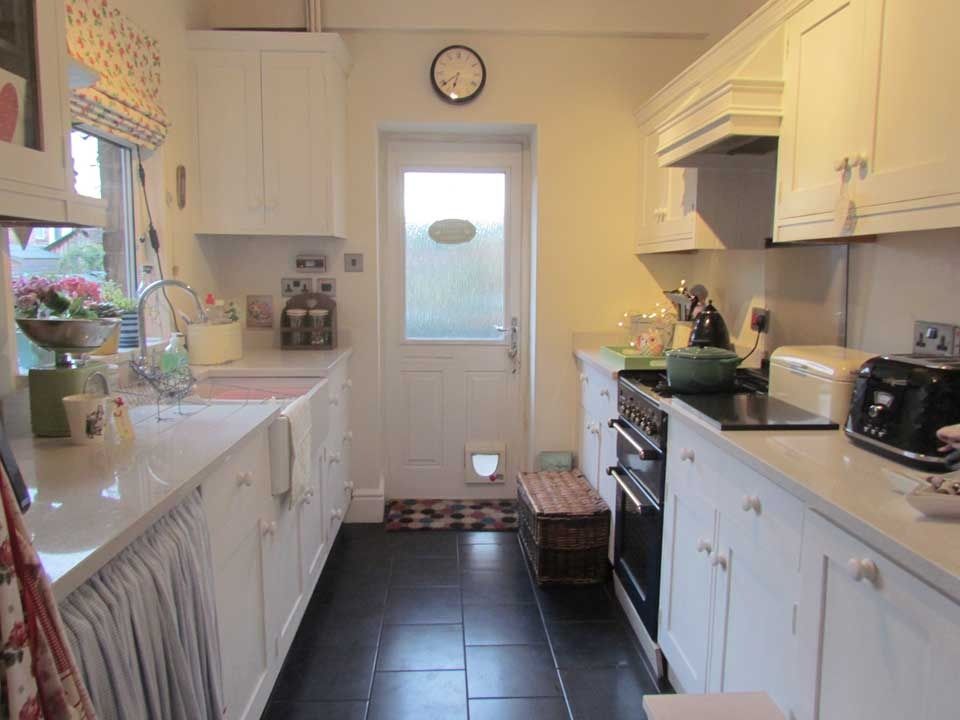 After preparation the wall - wiping clean and sanding we painted a couple of coats of white emulsion and in the cupboards in my favourite white duck egg. It was lovely to see the room looking so crisp and then I set about putting all my new accessories together for a country kitchen/shabby chic look. The clock is new and looks wonderfully classy against the white walls.
A pretty spring green tray for my tea and cakes and a cream bread bin to fit in better with my kitchen appliances.
The most beautiful glass storage jar set that I was so pleased to find- an absolute bargain at £9.99 In fact I was pleasantly surprised by the home interior range at Homebase and how on-trend it all was. Folk style is one of my favourites and fits in well with my house.
I also found some RHS greeting cards in store and I thought they were so vintage looking and of course, I love to garden so they were a find that I was very excited about. I do get quite giddy when doing the home up! Makes my heart skip when it all comes together.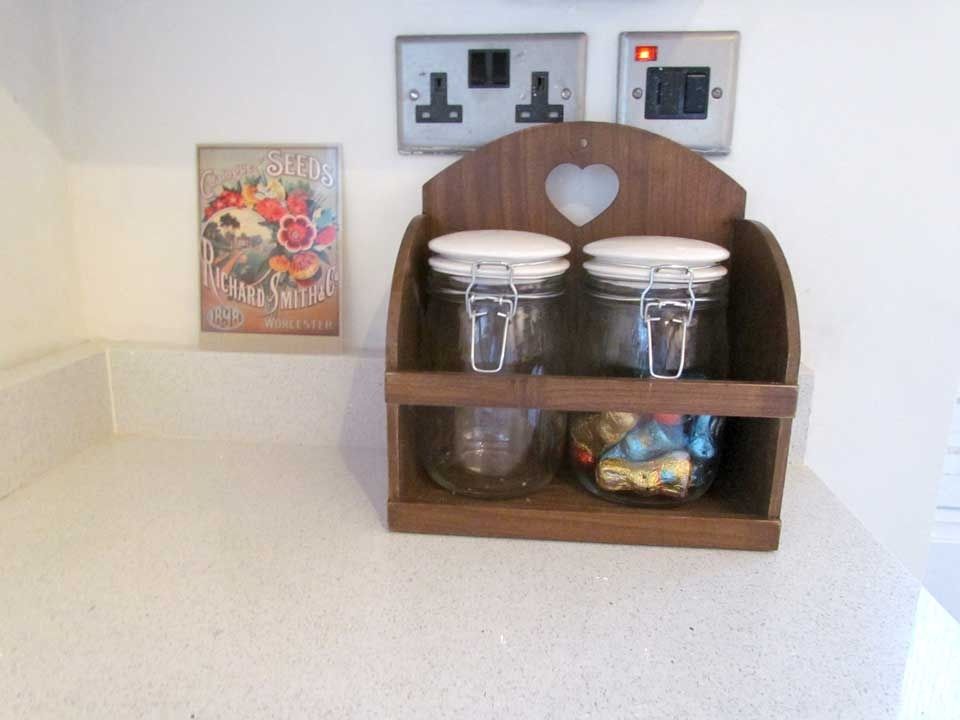 A cheeky owl vase to fuel my obsession, an antique green picture frame, yet more bird treasure with the wire birdy ornament.
And for the cake which is always available in this house, a vintage style pressed glass cake stand.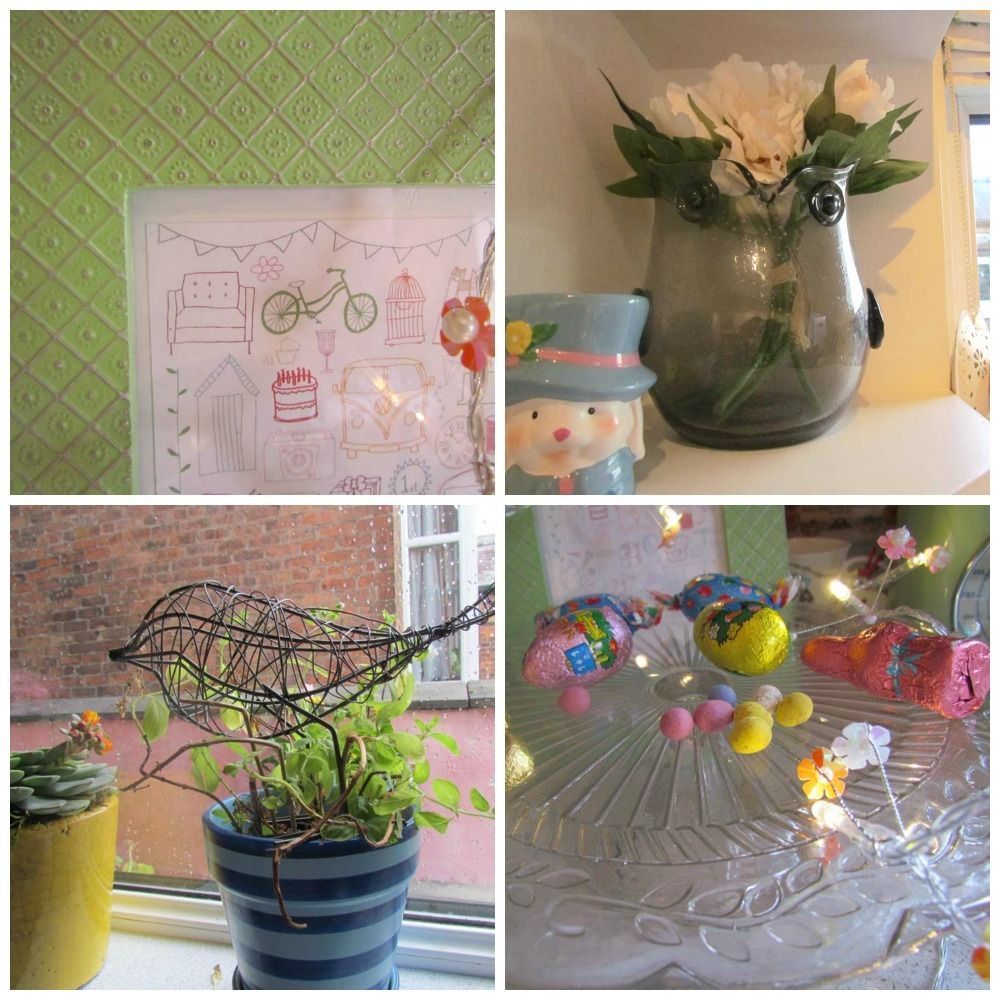 A new spotty doormat to tidy the doorway up with colour and it's all looking tidy now.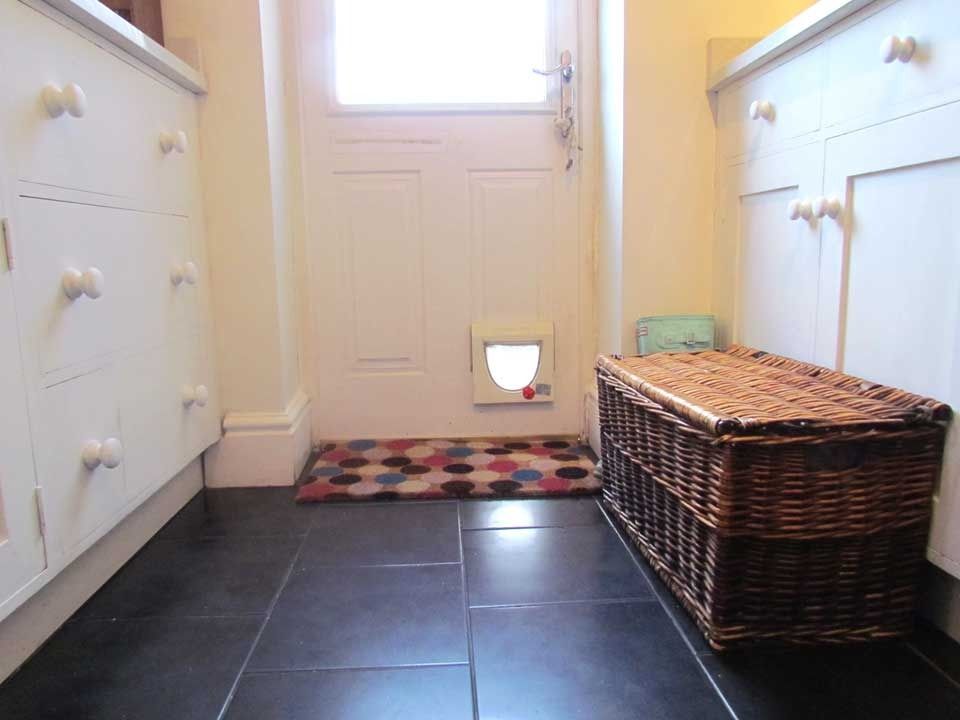 Moving into the dining room, the white continues and I used the other vintage cards as wall art.
Look how amazing the floor looks painted white. I am beyond happy as a lark about this. I feel I have the look I truly wanted. The chairs had a few coats of the candy floss pink and sky blue and remind me of summer days against the floor.
The storage box was a great way to tie in the pink and blue, it should have a lid but I seem to have come home without one which I didn't realise at the time. Ho hum! Looks great though to store my magazines in.
I still have paint left so I am going to carry on over Easter and paint my bookshelf sky blue and maybe some picture frames in the pink. Looks so much better and the room is filled with light now reflecting off the floor rather than being absorbed. It is better for our mood now, feeling cheery and the kitchen has a new lease of life.
Fantastic what a few days spent on a makeover can do and now I have two fantastic spaces in my home ready for spring.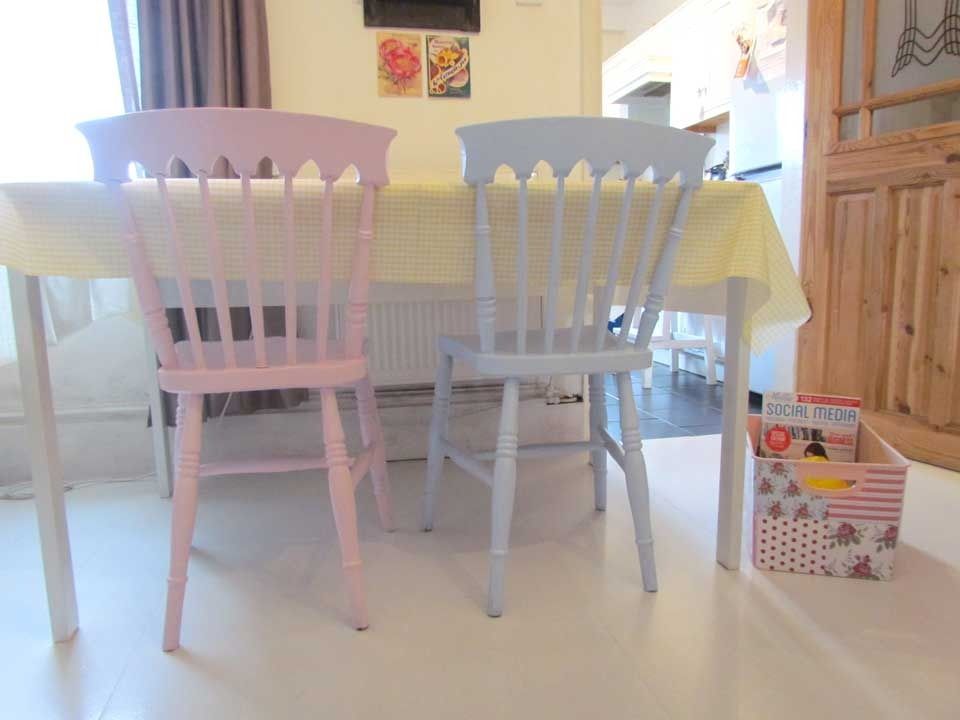 Disclosure: I was sent Homebase vouchers for the purposes of the room makeover, all words are my own honest opinion.