Park at the top of town and meander down the hill past many a Cornish pasty shop. Huge pasties filled with potatoes, swede, meat (although a vegetable one for me), lunch sorted. The narrow streets weave and wind until you reach St Ives harbour and its quaint buildings.
There's much to see, boats of course, from pleasure to working fishing boats with their fresh catches, ready to serve in one of St Ives restaurants. For us it was all about those pasties, still in their paper bags, as we looked for a place to eat and enjoy the views.
Aquamarine, luminous water, you could be abroad in the Mediterranean. Brightly coloured boats bob around in all their primary colours, taking people on trips or busy being worked upon. A pure gem, an area of natural beauty with Gulf Stream warmed sea.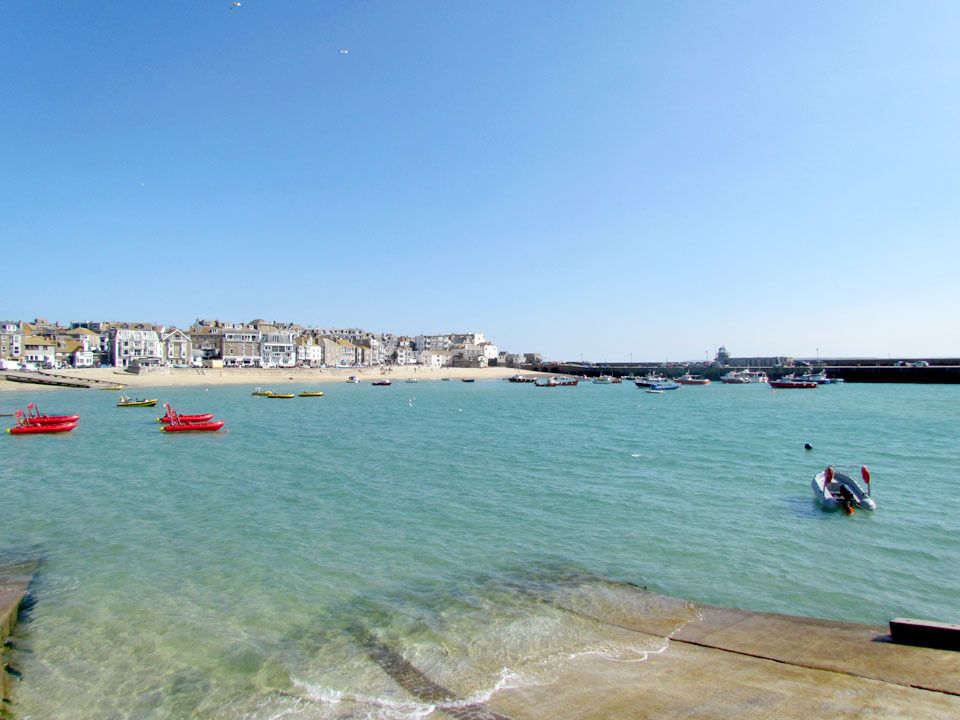 On the cobbled streets, food and art, in equal measure. Windows stacked with meringues and bread at the St Ives Bakery were so tempting.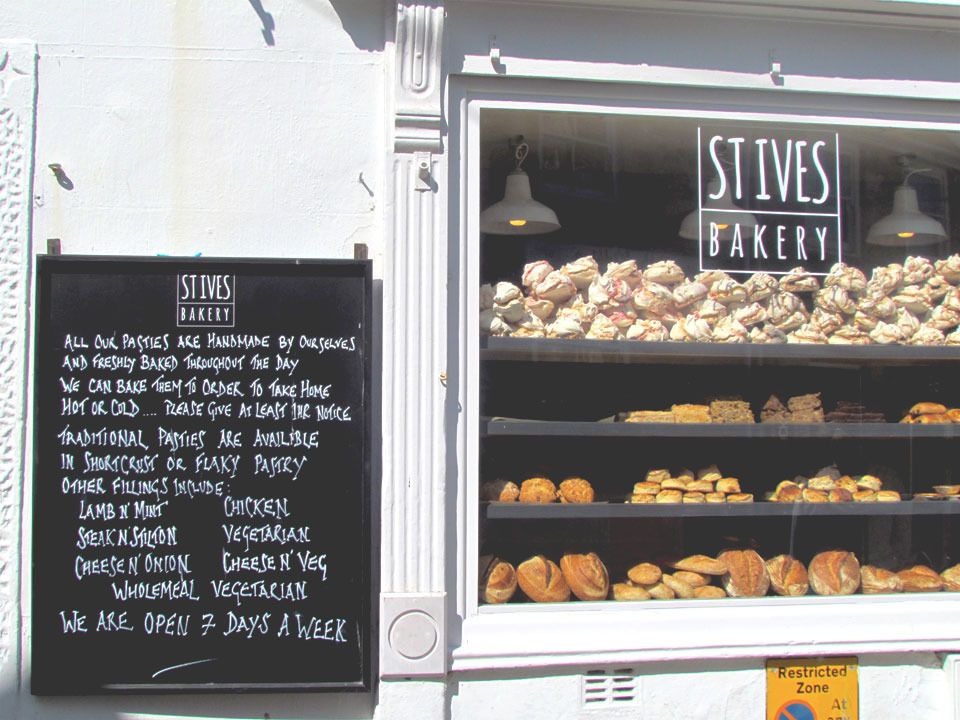 Just back from the harbour is St Ia, the parish church of St Ives. Unfortunately closed so we were unable to take a peek inside but walking through the churchyard was pleasant, with views across the bay over the stone walls. Palm trees spring up on corners and many small plants grow in cracks and crevasses.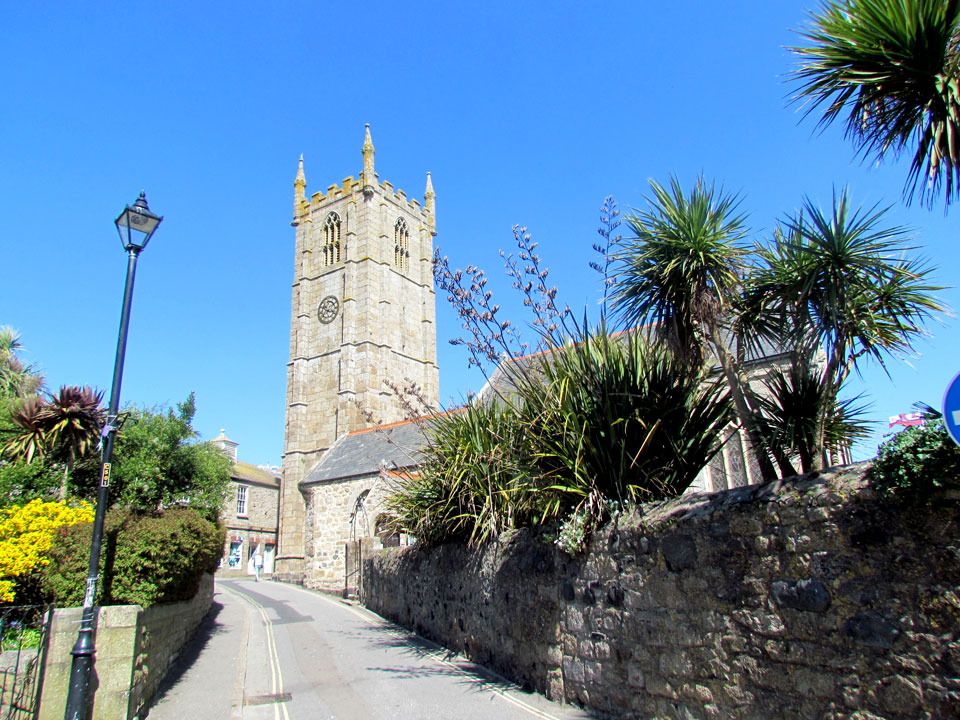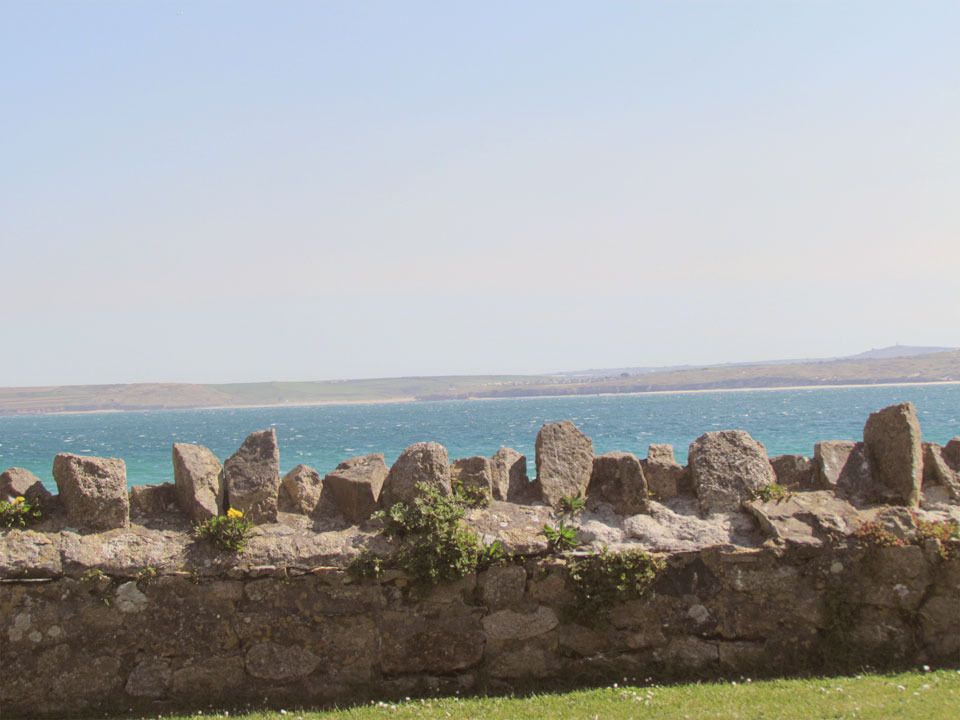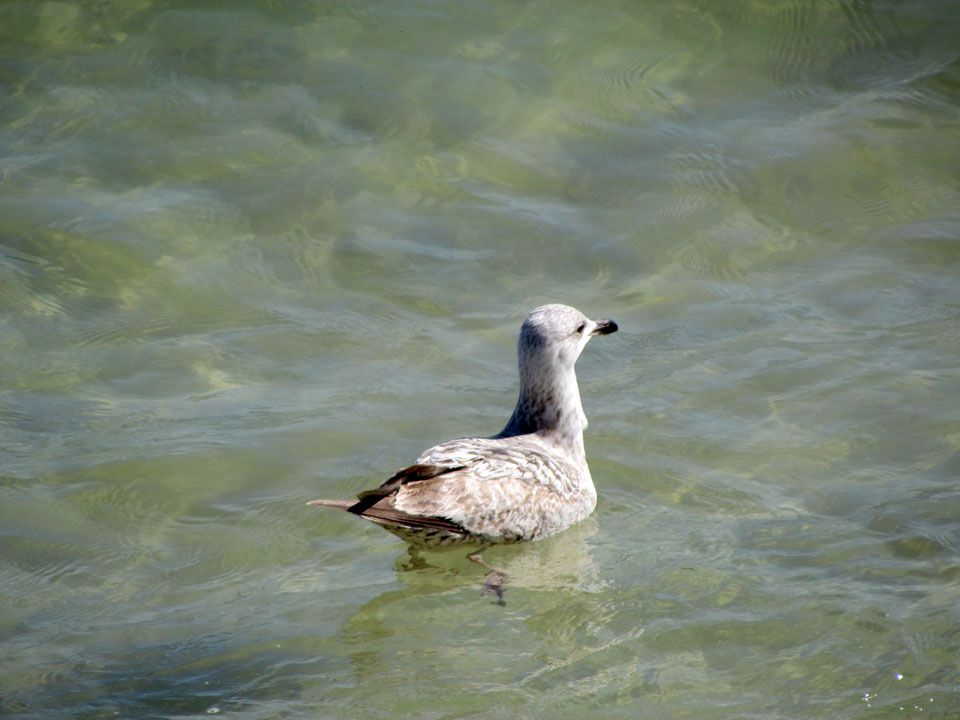 We found a bench over looking a small gull colony with adults and speckled juvenile birds who were enjoying the hot air thermals and then taking a dip in the sea. As long as they didn't pinch our pasties, they are ok!
The Sloop Inn is a traditional fisherman's pub with great character and a long history. A lively place on the wharf to enjoy a spot of people watching. People with stripy windbreaks and hiring deckchairs, children with buckets and spades. I love a harbour, seeing the variety of boats and everyday coastal life.
The light here is magnificent and it is clear how St Ives is a magnet for artists and is the home of the Tate Gallery. We didn't get to see any paintings as we had the dogs with us and were soaking up the sunshine instead and the dogs were well catered for with containers of water outside shops.
Our Cornwall travels were wonderful and as a first timer to the area, I can't wait to go back and explore more of the streets, beaches and cafes. I know that there a some beaches nearby to here that look amazing but we didn't get to go this time. Really needed two weeks......
St Ives used to be the hub for pilchard fishing in the 18th and 19th centuries with boats capturing whole shoals, preserving in salt and processing them there too. Nowadays, there is little, just some small scale sustainable operations which has to be a good thing. Plus I did not know this but a sardine is basically a small pilchard! Learn something new every day.
"Pilchards! Whose bodies yield the fragrant oil and make the London lamps at midnight smile!" (Peter Pindar 1783)
St Ia again, the Anglican church, originally a chapel of ease and built in the time of King Henry V.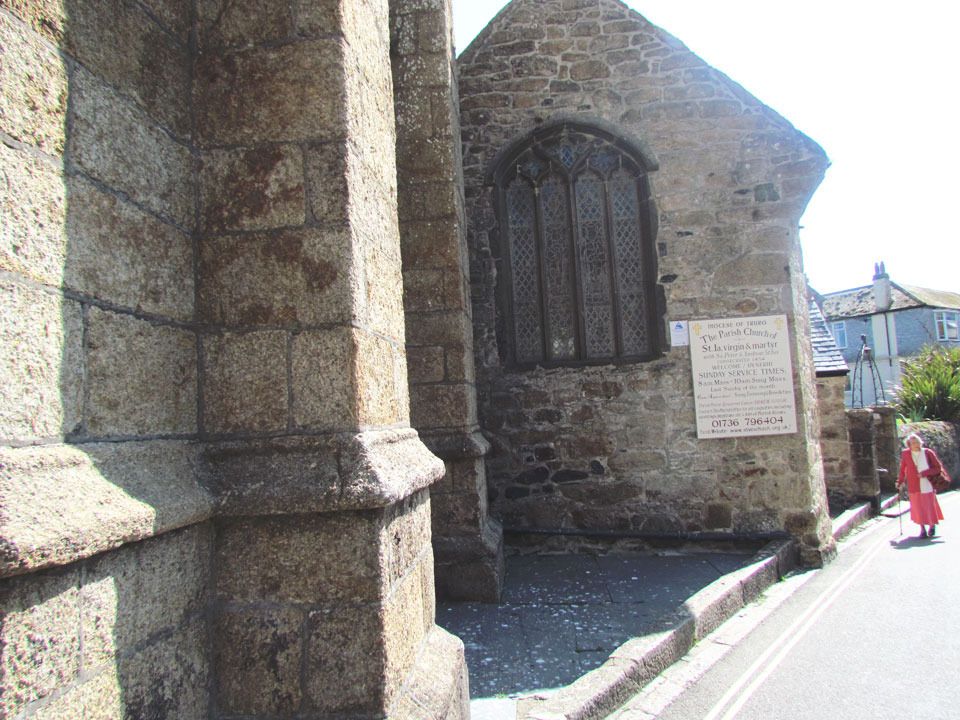 I'm such a deli lover! Gorgeous fruits and vegetables arranged so perfectly.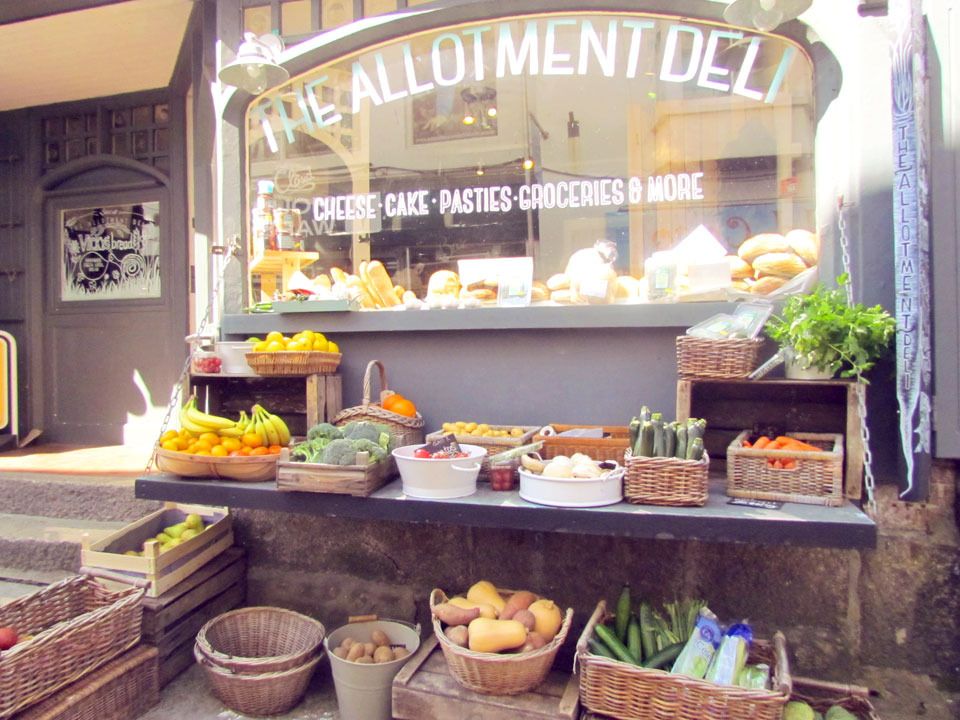 Back to the sun trap of Harbour Beach to take in all the colour.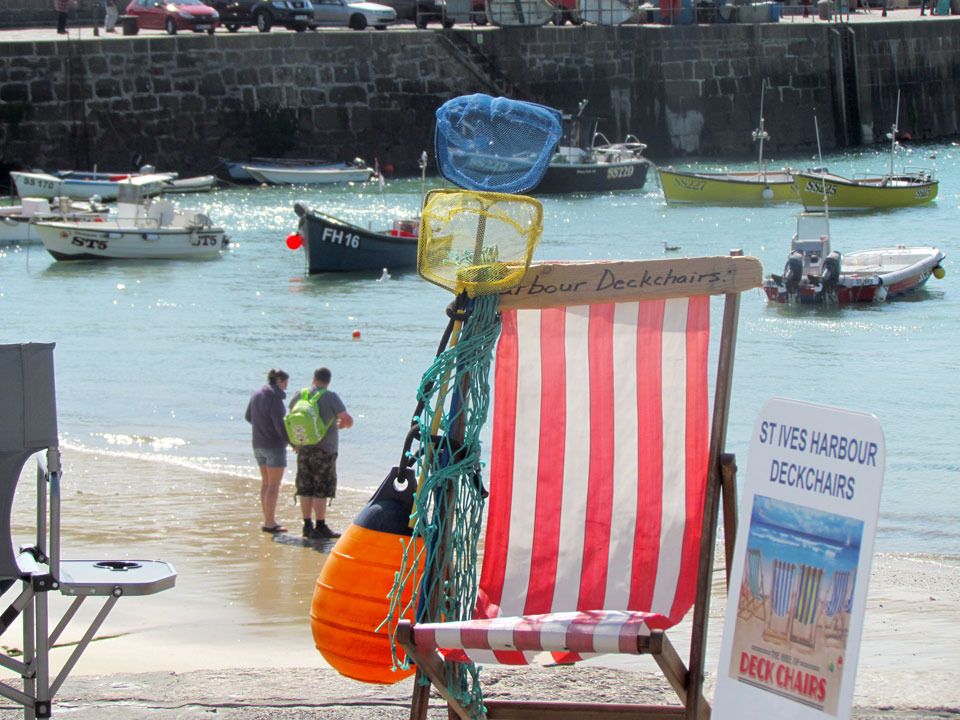 And then a walk around the harbour to look for sweet treats that may have involved fudge!