After recently returning from a blog conference in London I have been inspired by all the wonderful city sights from the Underground to Big Ben. I'd not been to London in such a long time and now I feel like creating a little capital love in my home. Here are my ideas for bringing a bit of London Town to your abode.
Craft a bit of city life into your own person piece of art like a shadow box with all your mementoes in making a collage of your trip. Maps too are a favourite of mine and I'd like a touristy map framing to remind me of the places I have seen. I've also seen glass jars filled with tube tickets as a quirky shelf decoration
Transport Inspired
Take inspiration from the many ways of getting across London from the iconic buses to the London Underground.
Metro tiles
inspired by the latter have been popular for years and are timeless. Whilst white are the usual choice, how about the bold red or green like the tube stations.
Vintage transport posters are a bright addition to a wall in any room, you can pick them up from
transport museum
or top of my list of items I really want is a framed Routemaster London bus blind in my living room above the fireplace.
Retro furniture
Looking around London I enjoyed poking around junk shops and the markets such as Portobello Road, looking at retro and classic pieces of living room furniture that would be ideal to create a townhouse look imagining pretty Notting Hill and its pastel coloured exteriors and rambling flowers. Very eclectic with a mix of contemporary and antiques, 70's coffee tables, upcucled painted bookshelves and a leather fireside armchair.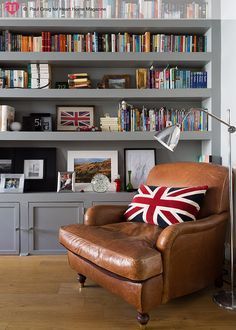 Union Jack crazy
How could I have a home without a Union Jack or two dotted around the home for a touch of the patriotic. Cushions, bunting, storage boxes and if you want to have less of a statement how about a few British style mugs or a nod to tea British with tea towel in the kitchen.
Children's London
My son's room deserves a little bit of London too and we have a few books on his shelf such as the classic This is London by Miroslav Sasek, with its beautiful illustrations of the famous London landmarks. A shelf can be decorated with London souvenirs and my favourite are these exceptionallt cute wooden toys of Big Ben, red buses and postboxes. I think I would be pinching these for the living room shelf too.
Follow Happy Homebird's board Happy British on Pinterest.
*Featured post*