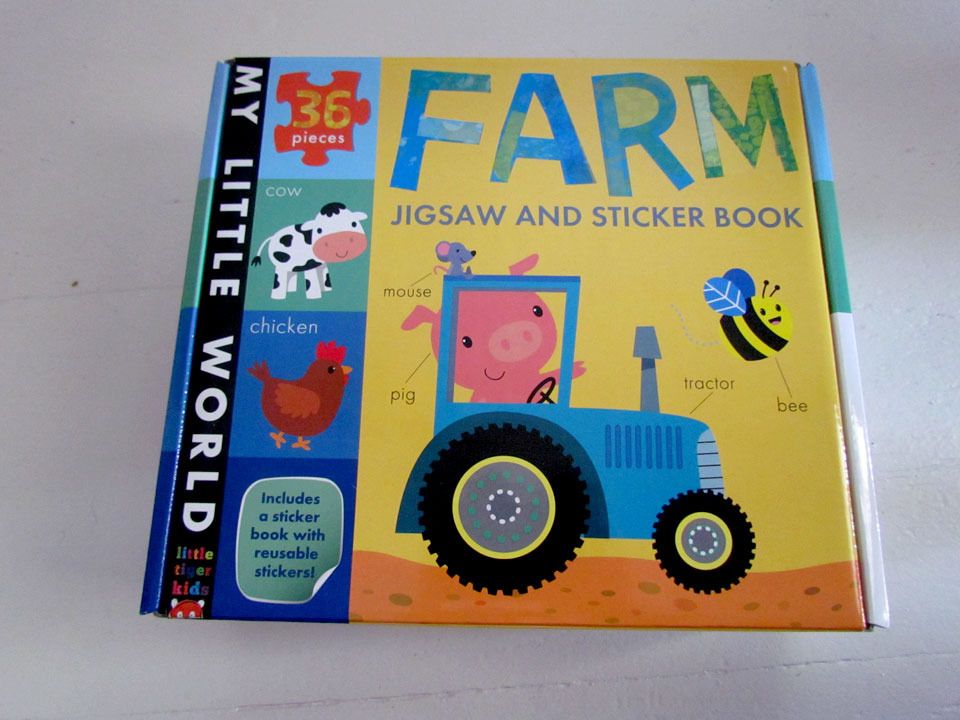 A certain little boy loves farms and Old Macdonald had a farm sends him skipping around the room. To encourage his concentration skills I decided our morning activity would be to look at a Farm Jigsaw and Sticker Book by My Little World.
The box set contains a sticker book with reusable stickers and a 36 piece jigsaw puzzle.
The jigsaw pieces are lovely and chunky and great for little hands to hold. The illustrations are nice and clear so helpful in guiding you to put the puzzle together (with some help from mum in this case) T found the pieces very easy to fit together and loved the brightness of the illustration. They are very sturdy and likely to last a long time.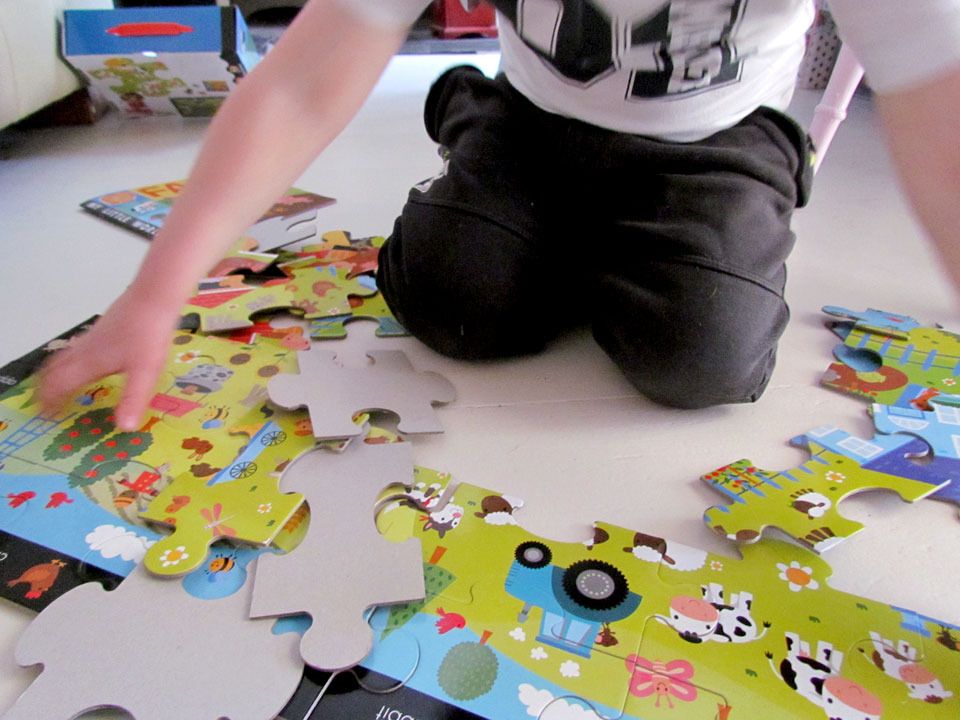 Once the puzzle is complete, there is an extra activity in the border, a 'can you find?' task that helps with searching and naming, learning words and practising vocabulary. Great for us and holding T's attention span and his visual scanning skills.
I see bum bee (bumble bee) :)
The sticker book is wipeable and the stickers reusable - although I think for us they will only get a couple of goes as they are paper based stickers and it will take some careful peeling. Nevertheless sticking them in will be a full activity for us over an afternoon or two.
This is a great categorising skill as in the book are pictures of locations, such as a pond or a field and you need to select the correct stickers with some sentence cues in the book.
Can you find some butterflies too?
I captured such a focused look and that is a good indicator to me that the jigsaw and book was a success. Normally he's a wriggle bum.
We are going to expand on our learning with the boxset by:
Matching toy animals to the pictures on the jigsaw.
Counting the number of apples or sheep or ears of corn.......
Playing farms in our
tuff spot
filled with oats, animals and tractors
Go to our allotment and plant seeds to grow into vegetables like the ones on the jigsaw
Singing rhymes about the pictures on the puzzle.
The box set retails at £8.99 and is suitable for ages 3-5, available from
Little Tiger Press
.
Great value for all the activities you get out of it. We took it on our recent caravan holiday as something to occupy T whilst making dinner and it did the trick of stopping him moaning for his food every 2 minutes :)
Disclosure: We received the boxset for the purpose of the review, all my own honest opinion and words

.