We are regulars at Delamere Forest now. It's become our classroom, our recreation ground and our place of relaxation. We are going to learn so much here. When you come across these huge log piles, you remember that it is actually a huge working forest.
The Forestry Commission do a wonderful job and manage 1/5 of the forests in the UK. We are going to have so many learning opportunities here; the types of trees, the animals and plant life found here and the management of the forest. So many activities too such as the Gruffalo trail in celebration of his 15th anniversary which is currently encouraging lots of people to come exploring. You can find out about this here and see if your nearest forest has a Gruffalo Trail. There is also going to be a special picnic on the 7th June that you can get a party pack for.
There are lots of these log piles at the edge of the forest pathways at the moment. Not for playing on of course but interesting to look at. I have also seen the lorries stacked with timber travelling down the main road near our house, off to the sawmill.
Little Bird is very relaxed under the canopy of the towering trees and tramping through brash and pine needle pathways. It's great for him to burn off energy. There are lots of picnic tables where we can do some work and eat out lunch. I'm quite excited by it all and look forward to putting some lesson plans together for our home education journey.
The dogs love it too at the forest and scamper about here and there enjoying the smells.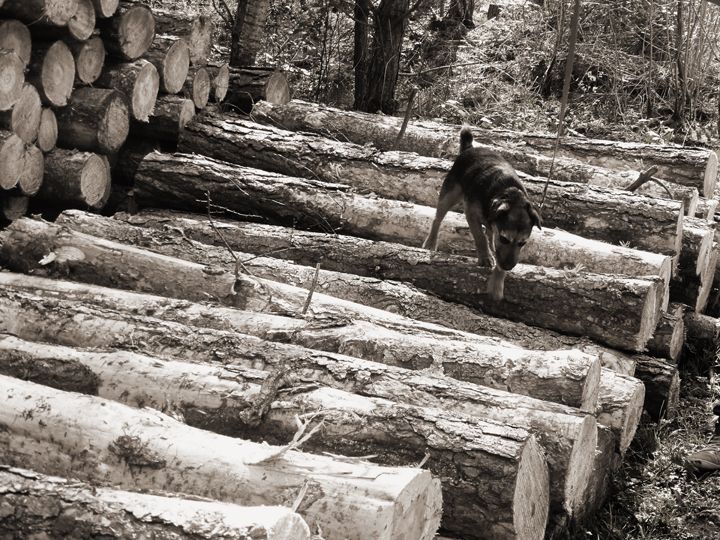 All this and only 15 minutes up the road. Hopefully I'll share what we learn on the blog and the activities that we do. I'll be learning so much too as we go along. We are happy foresters now.