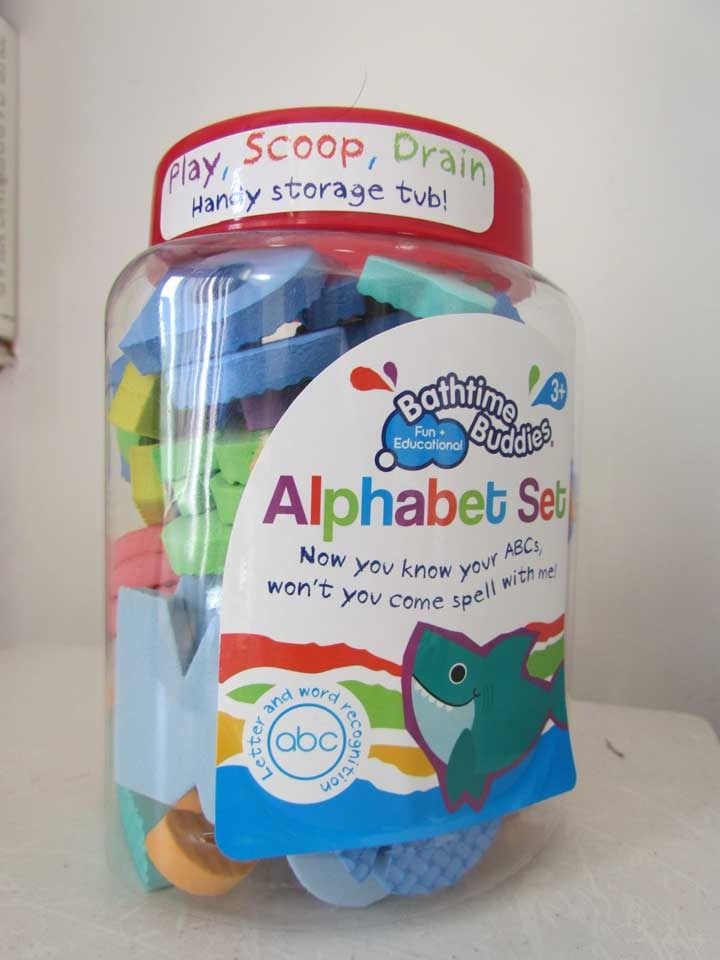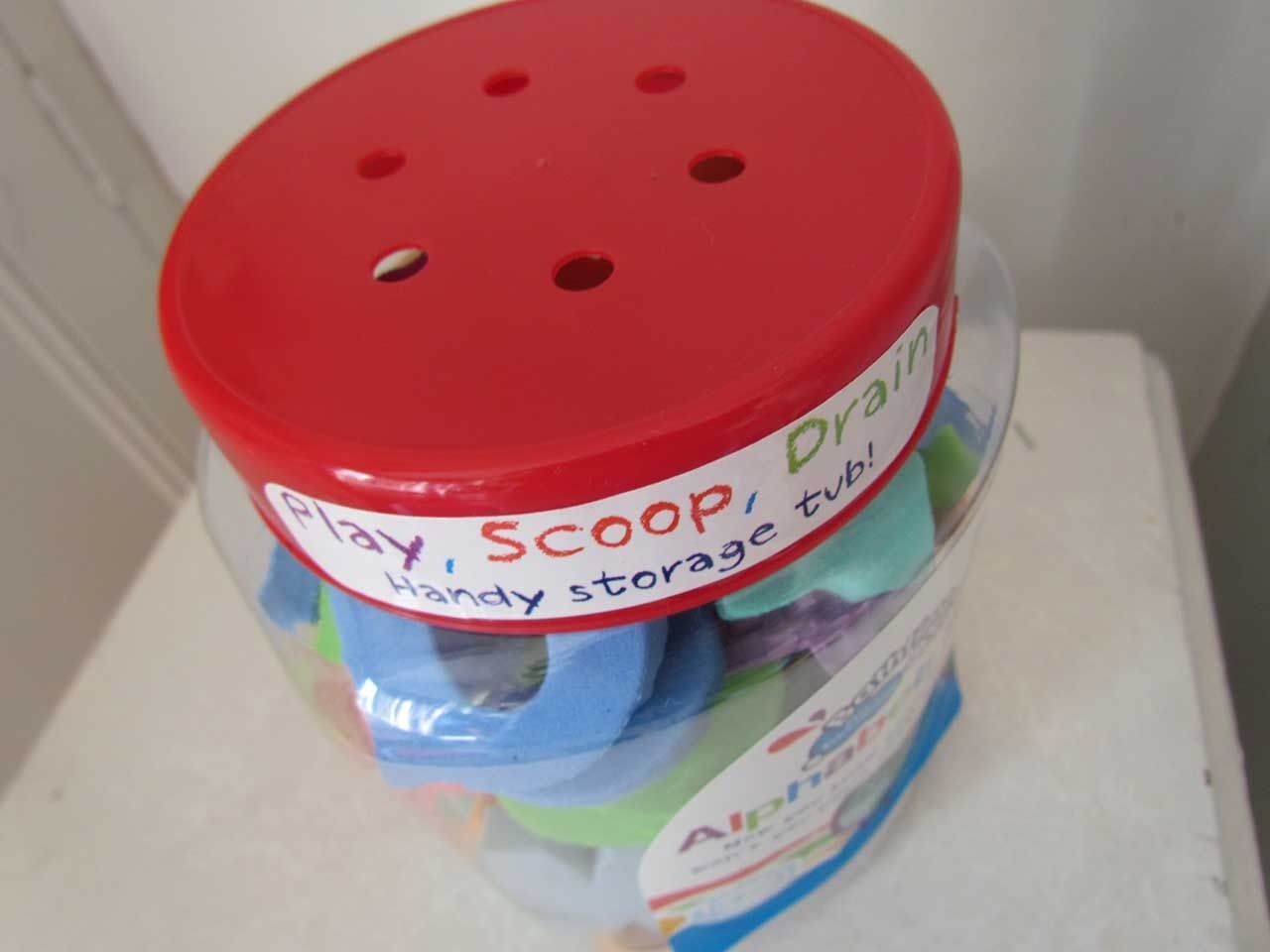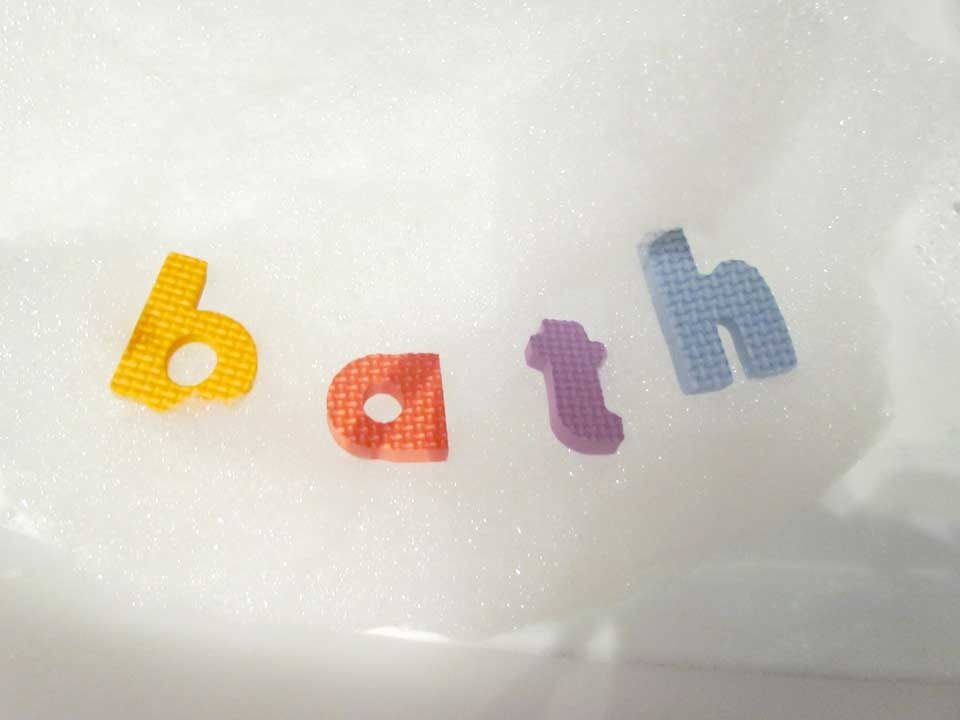 Little Bird loves his bath times although after a recent illness he has been not sure at all and there have been tears and anxiety. Luckily we got to try the H&A Bathtime Buddies Alphabet Set and it really cheered him up. The set is 65 letters - duplicates and lots of vowels so you can put plenty of words together.
The set is in a super handy tub with holes in the lid that enable the water to drain away - after play has finished, pop all the letters back, put the lid on and turn upside down. No water left in the tub and no slimy, smelly stale water situation a few days later. Plus the tub is an extra play item in its own right as we definitely discovered.
You may know that we home educate LB so all opportunities through the day are learning for us as we do not follow a set day as school does. LB's autism means that there are times when he just is not in the right mood for learning but more often than not, except for when he is under the weather, bathtime is a great 1-2-1 opportunity, especially with his daddy. It is a good playtime/bonding time for dad and son.
The letters were a big hit straight away and we discovered all sorts of ways to use the set. Scooping and pouring and particularly having the water drain through the lid holes was met with many giggles.
The tub became a letter boat at one point and we also played a colour match game as the letters are in different colours.
Not only did we use them at bathtime but also as a play activity during the day. In the summer we will use them at the water table in the garden but whilst it is cold and wintry we used the bathroom for some extra water play. Little Bird and I played a game where I said the letter and he picked and threw the correct one into the bubble bath. Learning and having fun at the same time is what it is all about. So many skills we can utilise the set for - phonics, spelling, matching letters to objects.....
A
utism games and as part of our daily home education
B
athtime excitement
C
olour games to encourage vocabulary, sorting and matching skills
D
rains the water out with the holes in the lid
E
ncourages eye contact and play skills
F
loat them, throw them, stick them onto the tiles
G
reat to practice turn taking
H
andy storage tub
I
nvent new games with them and imaginary play
J
ust splash them around and have fun
K
ids will love them and they're educational
L
etters, letters everywhere, 65 of them- more than one of each for learning to spell
M
atch the letters, encourages letter recognition
N
ot just for the bath, we would use these in messy play sessions and in sensory bins
O
pen up and tip them out, splish, splash
P
our the water out
Q
uality product
R
eally helps with the tantrums at bathtime, something fun to distract
S
ing the alphabet
T
idy them up afterwards - a fine motor skill picking up and putting back in the tub
U
nderstanding the alphabet
V
alue for money at
RRP £3.30
W
ater fun, bathtime or in the sink or messy play area
X
tra letters to make lots of words
Y
ellow is Little Bird's favourite colour letter
Z
zzzzzzzzzzzzzz after bathtime and a good play
The letters are excellent quality and I can see we will get a lot of use out of them. I think the tub having drainage holes is such a great idea and will extend the use we get out of them hopefully so they are not sat in water if we don't use them everyday. H&A have some other great Bathtime Buddies from Squirting Ducks to Bath Crayons. They would make a great gift too for a child and as we found out can be used in messy play activities too. I'd like to use them in a sensory bin with coloured rice as another opportunity for learning our letters.
**I received a H&A Bathtime Buddies Alphabet Set for the purpose of the review, words and opinions are all my own**