Warm beds, new pyjamas and a whisper of wonderful things.....creeping downstairs. Eyes wide. Still dark. The dogs stir and yawn - a bit tired, were they disturbed during the night? It's in my son's eyes when he sees the trail of oats and glitter across the floor. Mince pie eaten and I wink. Magic.
Door open.............................................. he's been, he's been. It's true.
Tree lights on, present unwrap.
Paper flurry. Cup of coffee to help my bleary eyes open whilst the magic circulates around our cosy room.
Toys. Wonderful toys. Wooden, lights, bright colours,sounds, fun games and books. Surprises and stocking fillers to make him laugh. the laugh that is worth so much. It was the RIGHT toy! Phew. Playing with the box now of course. A happy boy with new sparkly toys to help him learn and for him to enjoy. Still opening mid morning. Cooked breakfast on the go with hot buttered toast and grilled mushrooms. A feast on a day of excess where the calories do not matter.
Dressing in new jumpers, out for a walk. Lots of children on shiny new bikes and scooters. Everybody is happy and hellos are said joyfully where usually heads are down with hurried walking. The magic is out here too, I see it in the remains of a carrot on the cobbled path by the gate and cloven hoof print in the snow - this is my perfect Christmas, of course there is at least an icing sugar dusting of snow!
Faces flushed red, feeling energised, we then go to my parent's house for the Christmas of my past. Nostalgia. Foil decorations and pipe cleaner elves. The same singing Santa that comes out every year. A bowl of walnuts and plates of mince pies. As we enter the house, pans are bubbling and a steam filled room has my family on Christmas dinner duty. A military operation of nana peeling potatoes, my dad in charge of the turkey and my mum coordinating the whole thing - whisking cream whilst making cups of tea and putting crosses in the sprouts at the same time. Perfect homeliness.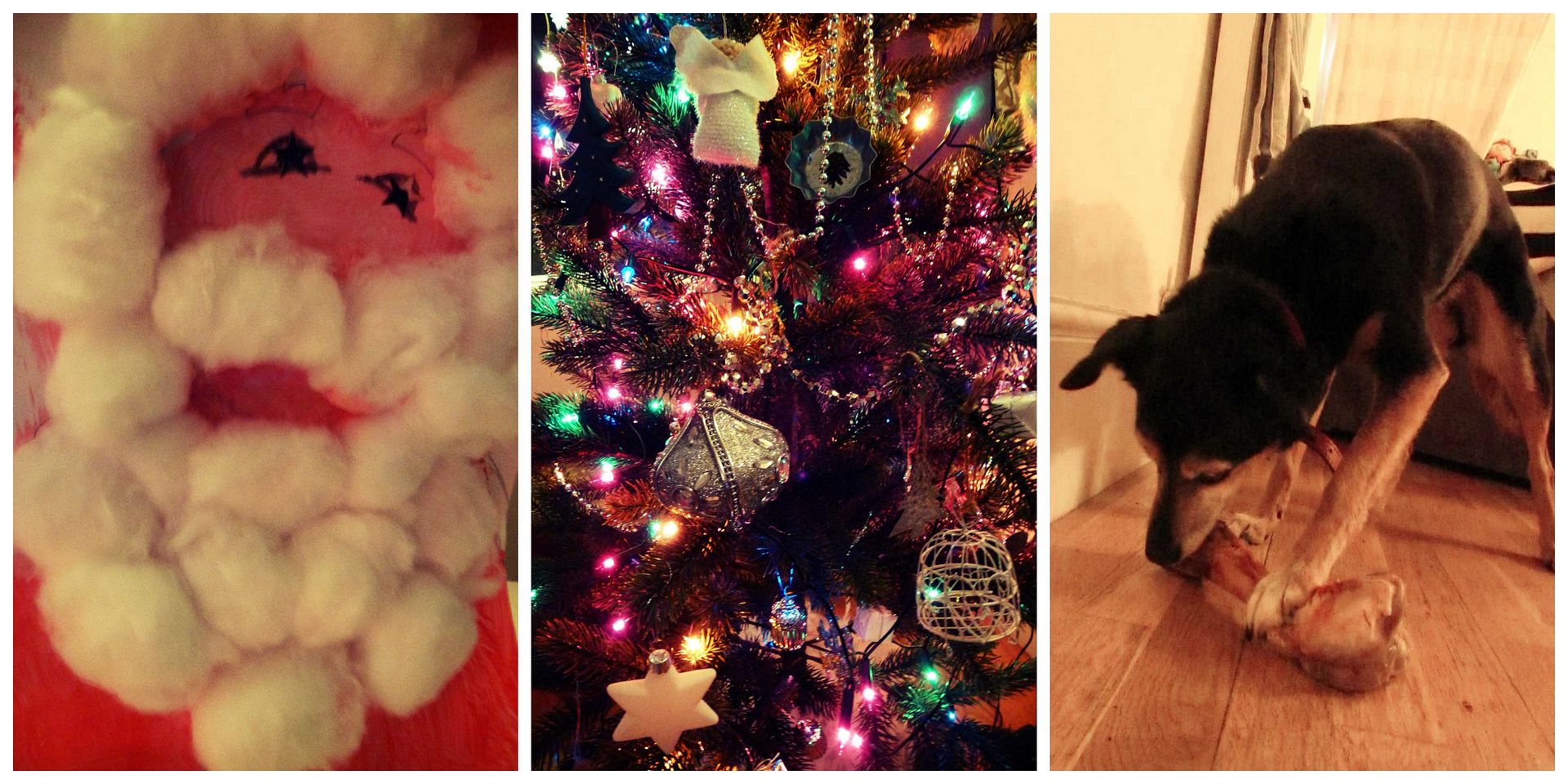 We chat and watch television, all the old favourites - The Snowman and silly Christmas films. My son has round two of present opening and his grandparents are delighted to watch his face, every glint of his eye and smile when he sees yet more new toys. I am proud. I also have lots of new socks and a diary. It's much the same every year, yet so perfect and I wish that time could stop still for we are all here and the feeling I get cannot be compared to anything else.
We have a grand feast of rich, tasty food and at least two desserts - Christmas pudding and my mum's special trifle. All this food and yet I still nibble on peanuts and crisps afterwards. Back to the 1980's for a cheeky Snowball drink as we settle down by the glow of multicoloured tree lights for a little rest. Maybe a snooze, especially my nana. Zzzzzzzzzzzzzzzz! The dogs are settled too after many titbits and dream of chasing snow rabbits and stockings full of tripe chews.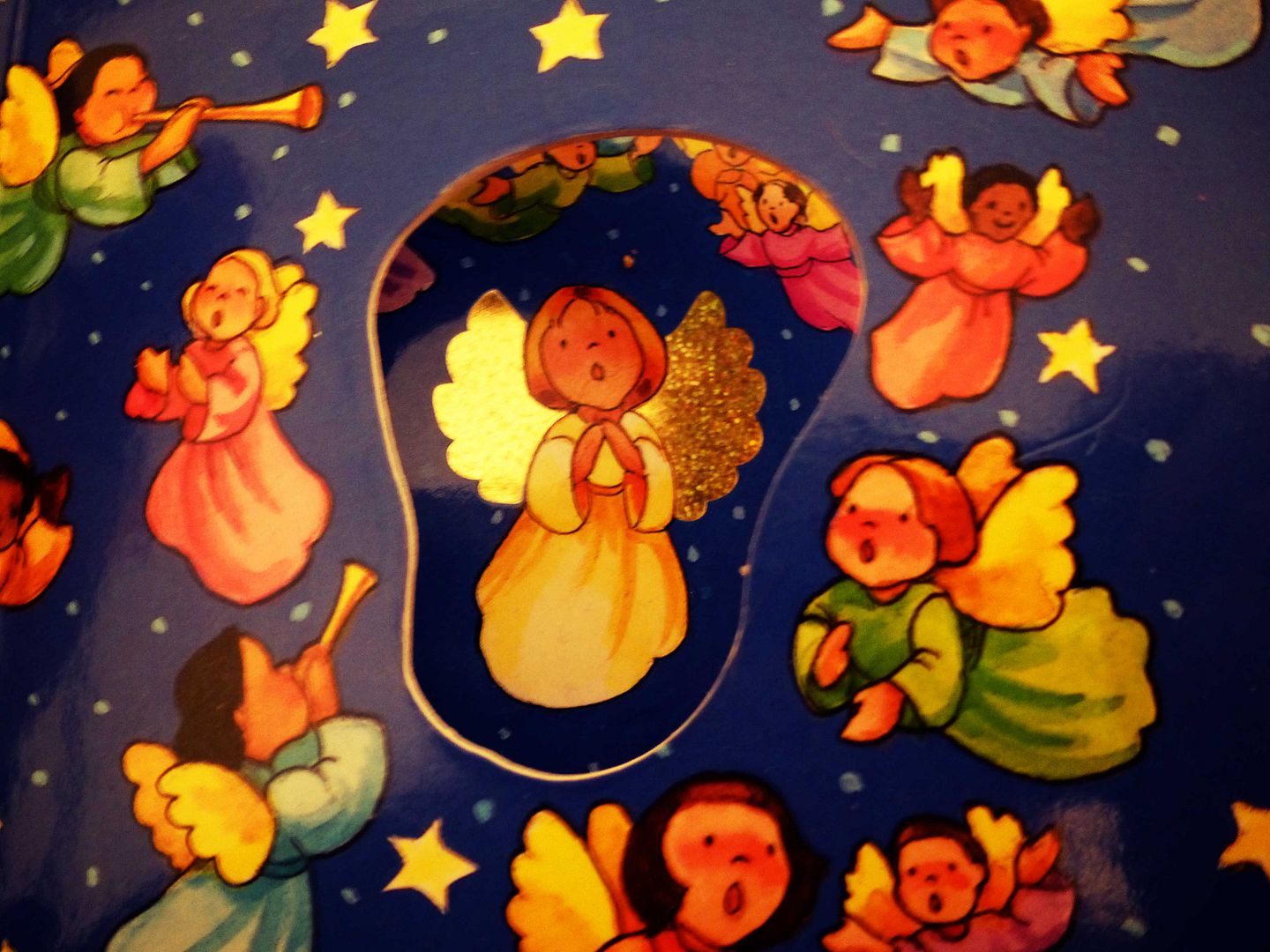 Later that evening we will go back home, by the light of the cold winter's moon, listening to Christmas carols. A car crammed full of goodies, bellies full of food and a head full of more memories. I'll tuck my son up in bed and read stories and poems of fir trees, angels, Father Christmas and wishes that come true. There's magic in the air still, in fluffed pillows and cuddly teddies and as he slowly dozes off to his slumber I hope he dreams not only of his new playthings but of winters of happiness and days with family feeling loved - for that is what is perfect to me.
Merry Christmas! This post is my entry into the Tots100/Argos 12 Days of Christmas competition.