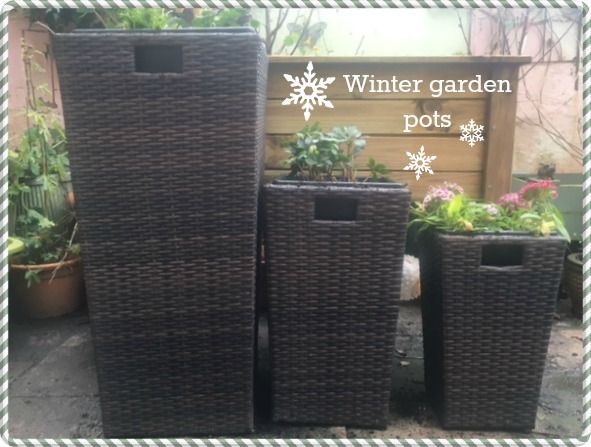 It's started to get really chilly this week and I switched into winter mode. Looking out of the window at the tree branches stark against grey skies, piles of leaves on the ground and frosty mornings I thought I need to start tidying the garden so it looks pretty and sparkling for winter.
Because of limited time I chose to tackle the patio first. The frames I'd grown beans on needed tidying away, my son's outdoor toys putting to rest until spring and a few tender plants needed the warmth of the play shed or wrapping in some fleece - this winter I don't want to lose any plants to the cold. It can start to look a little bare with most plants dying off - but I do still have some
pink roses blooming
! However, everything else was looking a little shabby.
Fortunately I was sent some
rattan plant pots
, contemporary and gorgeous, ready for planting up with some winter flowers and mini shrubs. They are a set of three, small, medium and large, and are in a chocolate brown colour; the largest is actually really tall at 90cm, then the middle one is 55cm high and the small one is 45cm. As soon as I opened the box I could tell they were great quality but then I wondered - how much soil are these going to take to fill....? BUT each pot has a plastic pot that sits perfectly inside and this is a lot shallower than the rattan pot. Then I wondered about drainage holes so my plants don't get waterlogged, no problems as each pot has a small stopper that you unscrew - so neat! That plastic insert pot then rests on a aluminium frame inside the main rattan pot. Easy to put together and then ready to plant up. So.....lets go plant shopping.
I'd popped into Lidl one evening and found a pack of white Hellebores, also called the Christmas or Lenten rose. They are a perennial which is super as it makes more of a bargain investment for the garden and are a pretty splash of festive white for a winter garden.
On the way back from our day out in Shropshire we had needed some wood for the fire at home and there at the little village store was a trolley of pink Sweet Williams for a couple of pounds, so they were added too. Finally some Euonymus in a pack for about £7.99, different varieties and some have gone into the window boxes.
The tallest pot is a bit of an interim planting situation as the height of the pot really lends itself to something more structural so what I want is a small Christmas tree from the markets when we go in the next fortnight. Or perhaps some Christmas Box (
Sarcococca confusa
) would look equally as beautiful and give off a scent too, The three pots look great together and once the rest of the patio is clear I want to have them in a row across the dividing wall. Winter in the garden can be so pretty and there is plenty that you can plant for interest, the
RHS
provides useful advice on what to choose for containers.
My new pots are pretty sturdy so I hopefully won't have to worry about the wind that gusts its way down the side of the house blowing them over. The rattan is a high quality weave in a lovely deep brown colour that will not fade in the sun.
Rattan Direct
also sell all kinds of styles garden furniture in a range of colours - bistro and dining sets, loungers for the distant memory of summer! and conservatory furniture plus accessories. The great thing about synthetic rattan is that it is weatherproof and will not rot in the wet. Perfect for my northern weather!
The three rattan pots are selling for £169 on a special offer, you are kept really in touch with their delivery which is quick and the pots were packaged well. A high quality item to invest in for patio glamour and inspiring me to make our outside area lovely for next year.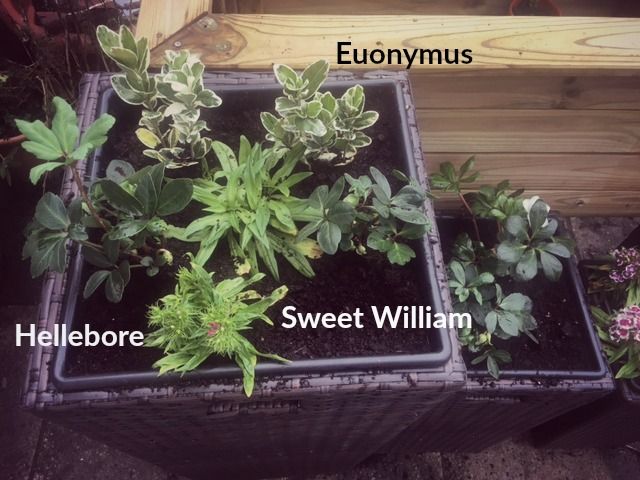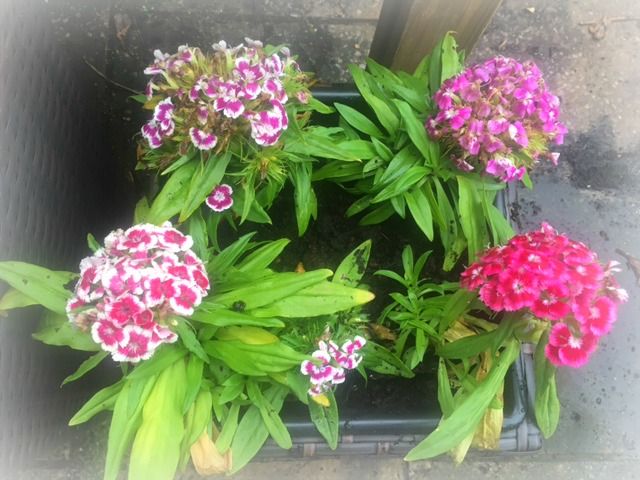 I'm very pleased with the rattan pots and they're a classy addition to the patio. I'm going to pop some bulbs into them this week as I suddenly thought how lovely they'd look in spring with some dark
Queen of the Night tulips
in them and then in summer, growing salad in the smaller pots would look striking with the green against the chocolate brown. Now to admire them from the kitchen door as it's getting even chillier.......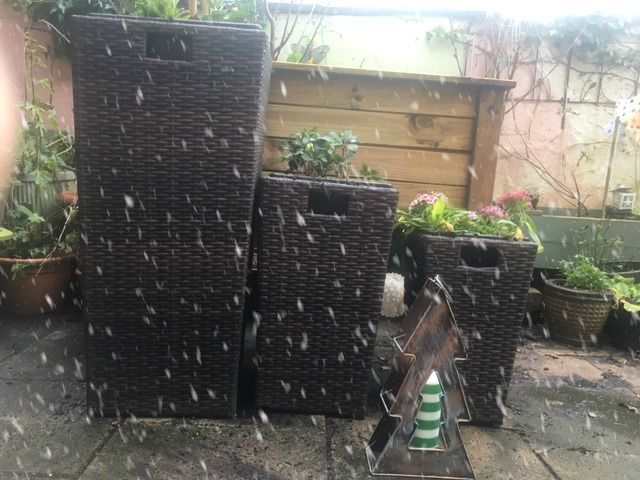 *I was sent the rattan plants pots from Rattan Direct for the purpose of the review, words and opinions are my own honest views.