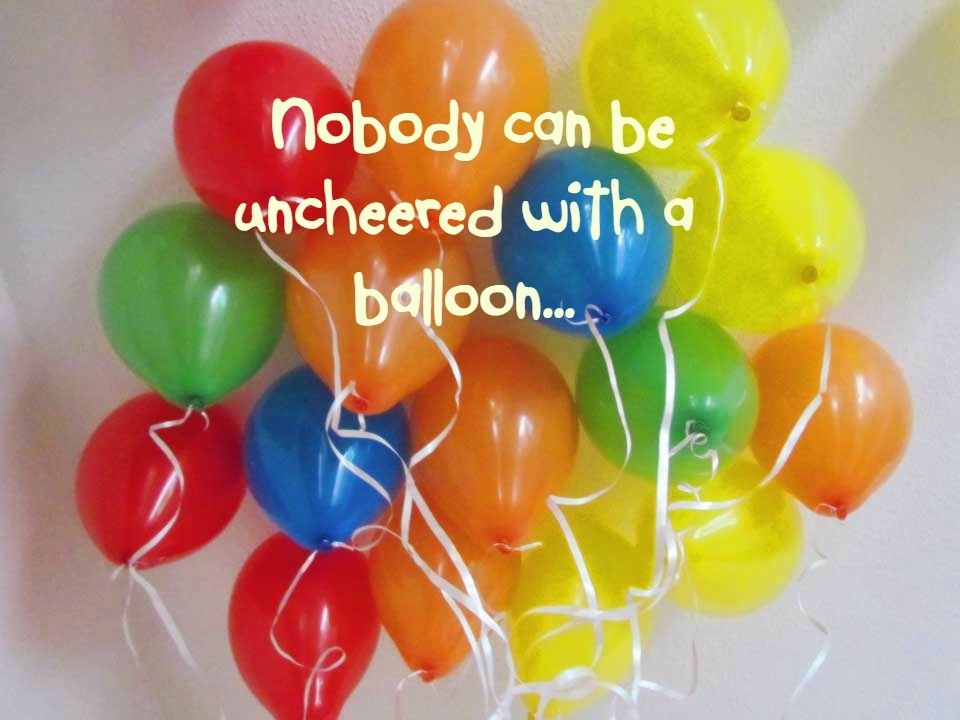 Balloons make a party. Beautiful, colourful cheery balloons. My son loves them and so do I. The perfect decoration whether it be in corners of rooms, above doors, as table centres or fancy balloon arches. However, it has to be said than helium balloons are the best, they float, there's life in them and rather than just hanging there limp, they are bobbing around and are a lot more fun.
As a super easy way to have helium balloons for a party, we tried the Balloon Time kit. Contained in the kit is a tank of helium, 30 colourful latex balloons and ribbon to tie them with.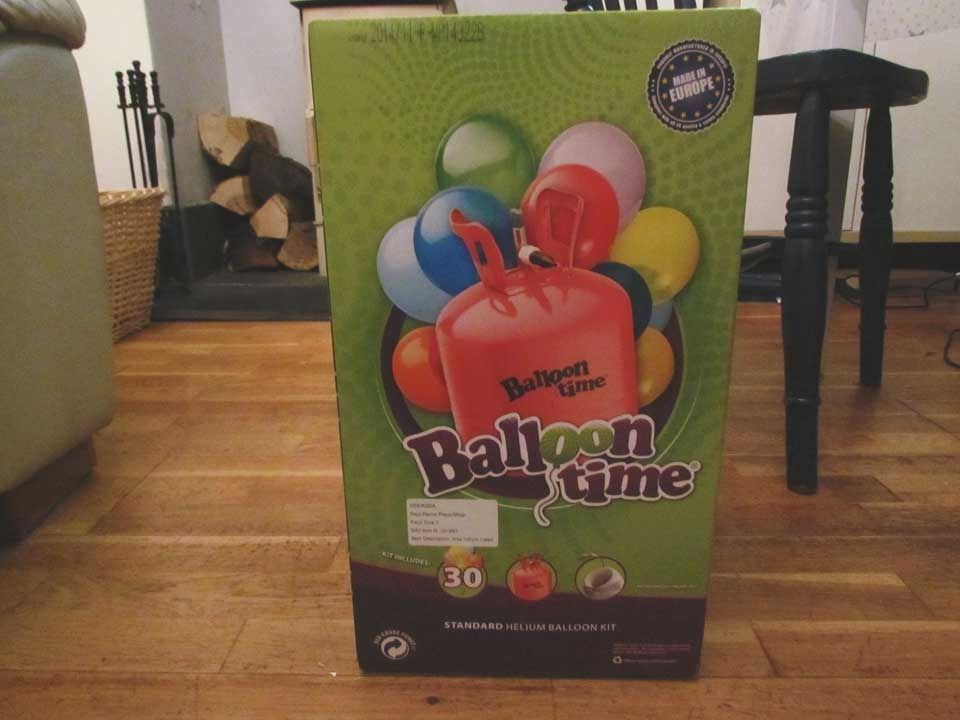 The balloons are really easy to inflate:
Open the green valve by turning it anti-clockwise, four times.
Place the end of the balloon on the nozzle and push down to release the helium into the balloon.
Once inflate, remove the balloon and tie.
We decided to go for it and inflate them all! The kit advises that the balloons will have a float time of 5-7 hours.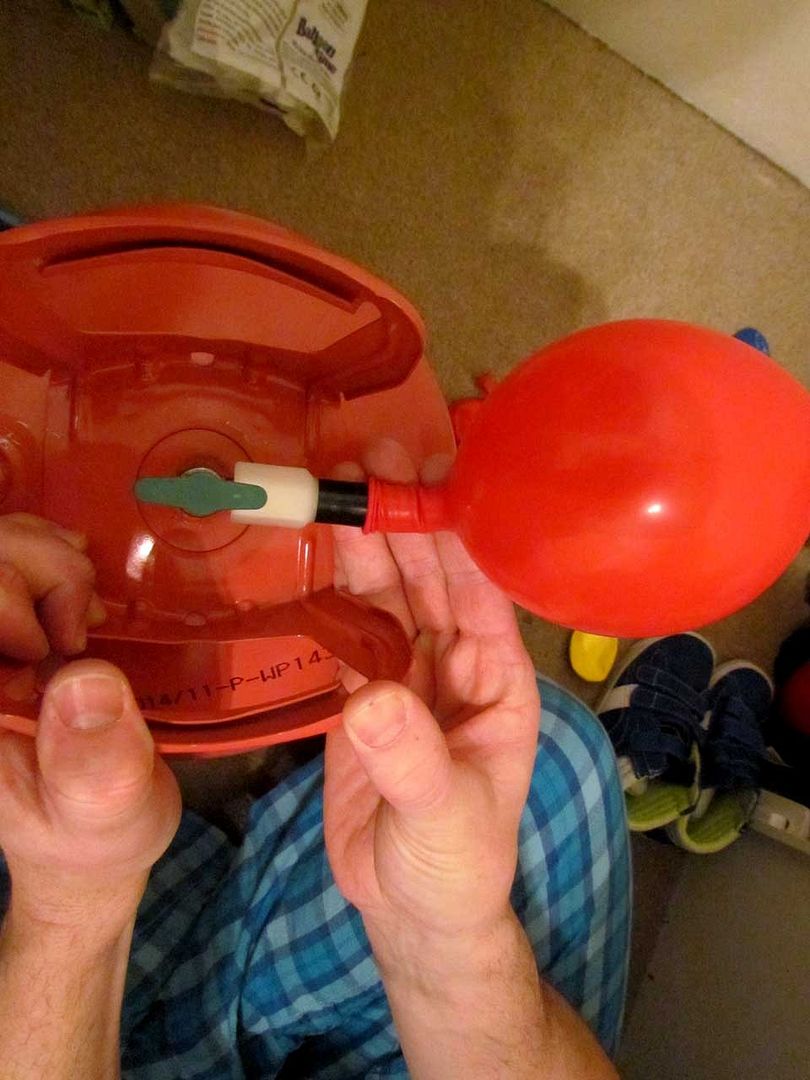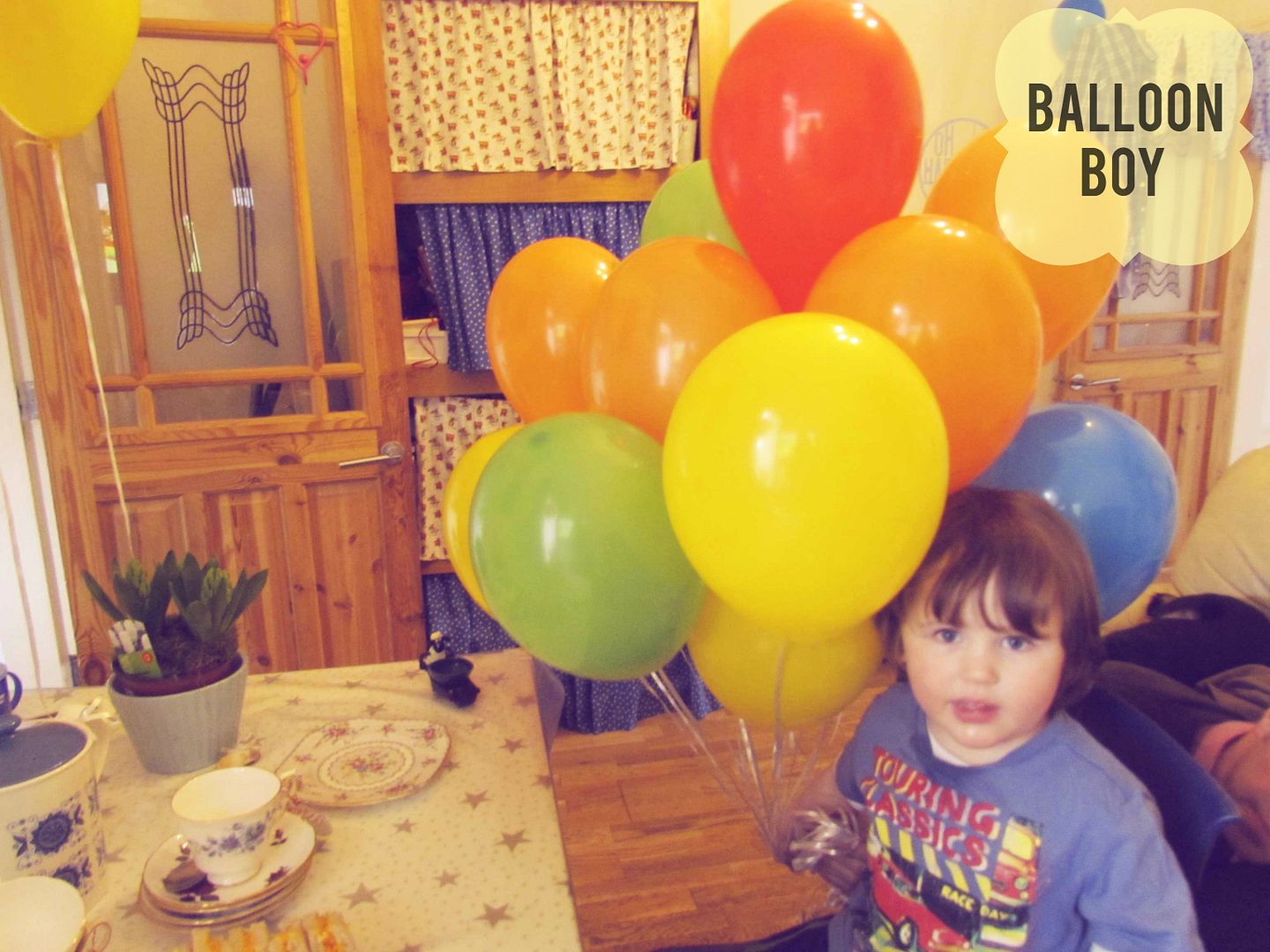 March is a busy party month in our family and of course it is Mother's Day so it is celebration after celebration. Little Bird is not keen on too much fuss, it's confusing for him and can lead to sensory overload so we have a small tea party instead as a spring gathering. He loves balloons though, it's an afternoons activity to tap them about the room creating lots of laughter. Great sensory playtime for him so we used some for decoration and some for him to run around with.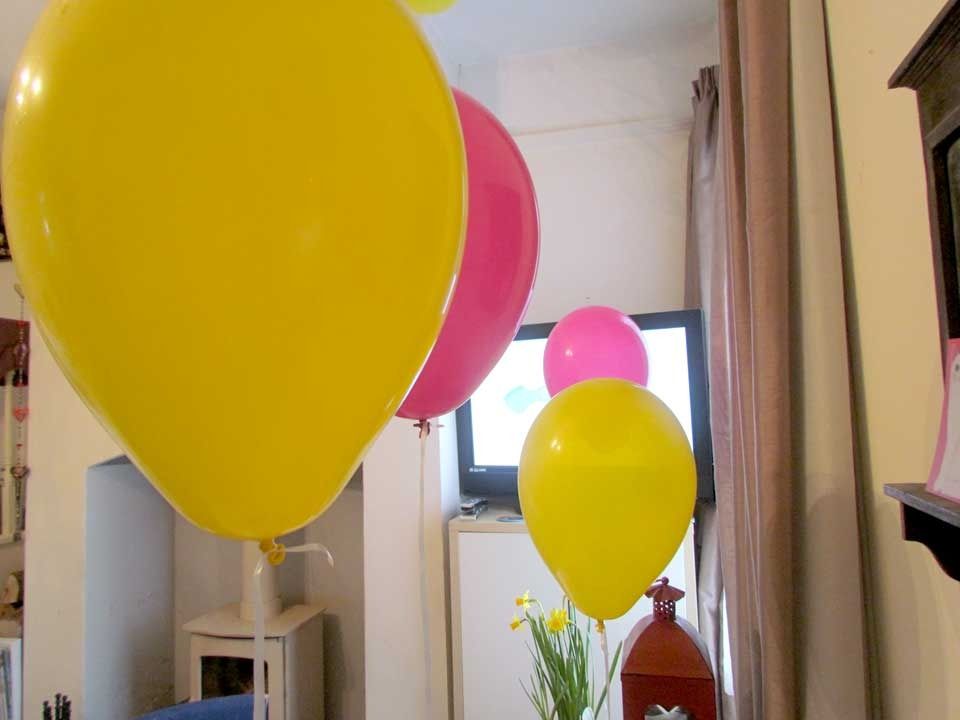 We keep our parties very simple so there are no huge changes to deal with, music is kept low and there is no expectation for LB to join in with everything.
For our table we used pink and yellow balloons to mirror LB's favourite cakes - Angel and Battenberg. I weighted the balloons down by tying them around plant pots of spring flowers. I even tied one to my mum's present bag as a cute addition to make her smile.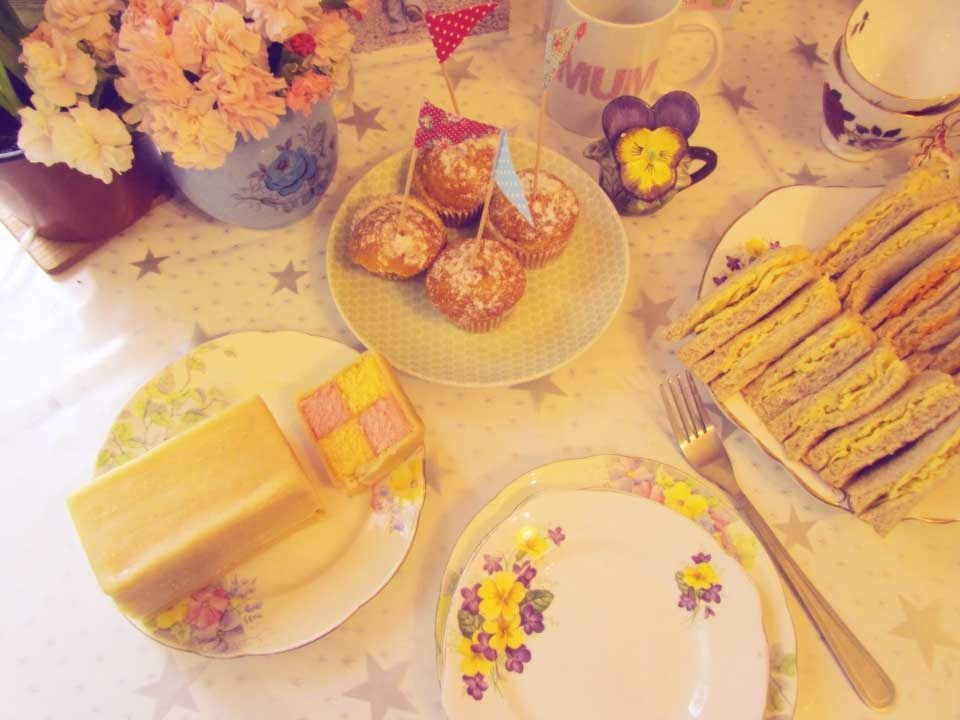 Sandwiches, cake, tea and orange juice. Afternoon tea using my vintage crockery and my old teapot. LB loves our tea parties, especially when there are presents! Even if they are not for him he gets excited, in fact more so because the attention is not on him.
Every time I saw them grouped together, I couldn't help but think of the cartoon film Up :) Luckily nobody got carried up and away.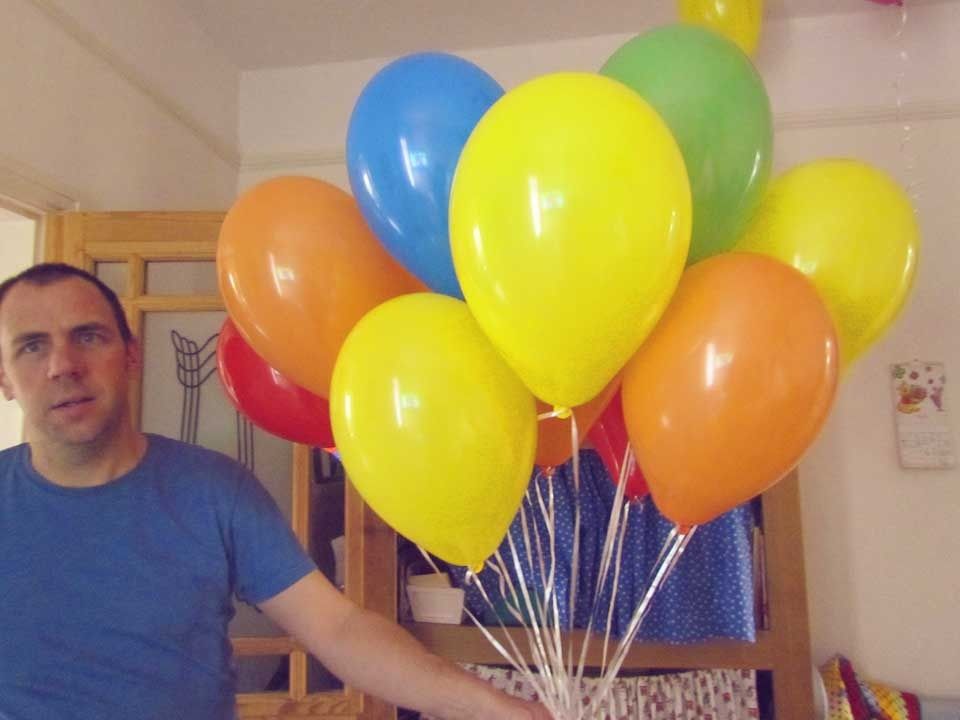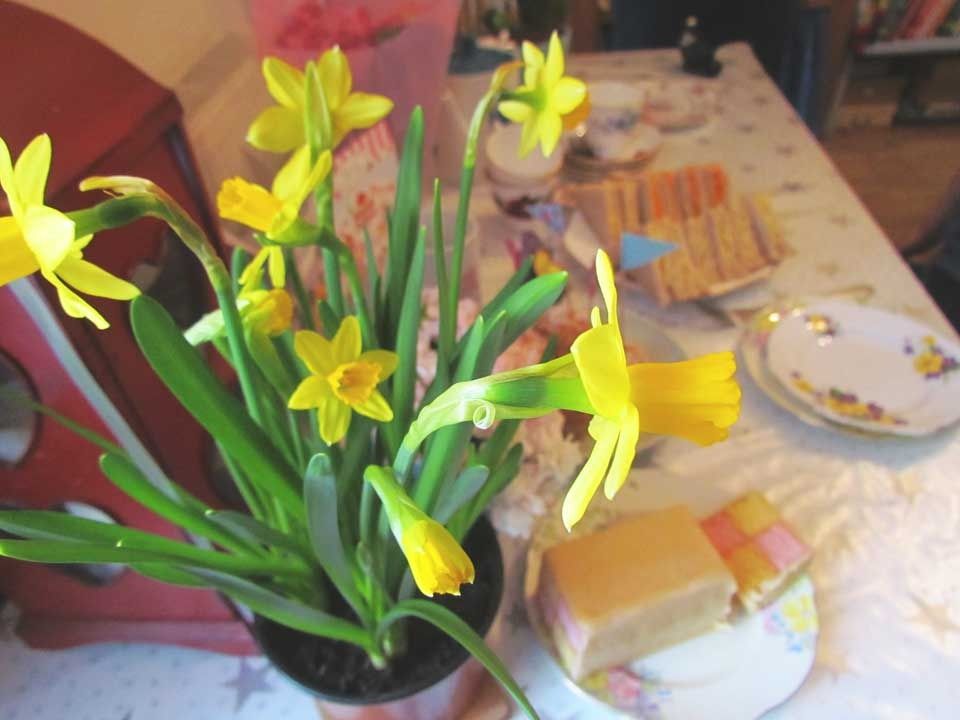 Having autism in the family does change the way we have parties and I had to alter my expectations so that LB was happy and not too stressed out. We only have small get-togethers now and luckily we only have a very small family so it works perfectly. I make sure that DB's usual favourite foods are available and if he wants some quiet time in his bedroom, it's not big deal and the family don't consider him to be being rude. Balloons are also a great way for him to engage with friends and family with him being mostly non-verbal, the social skills of tapping a balloon to and fro with somebody is a huge win for us. Balloons can't help but make you smile!
The balloons were a great addition to the party and made the room look so bright and cheerful. They did indeed keep their lift for several hours. By the next morning, even though they had fallen to the floor, they were still full shaped and entertaining for DB to play with and kick about.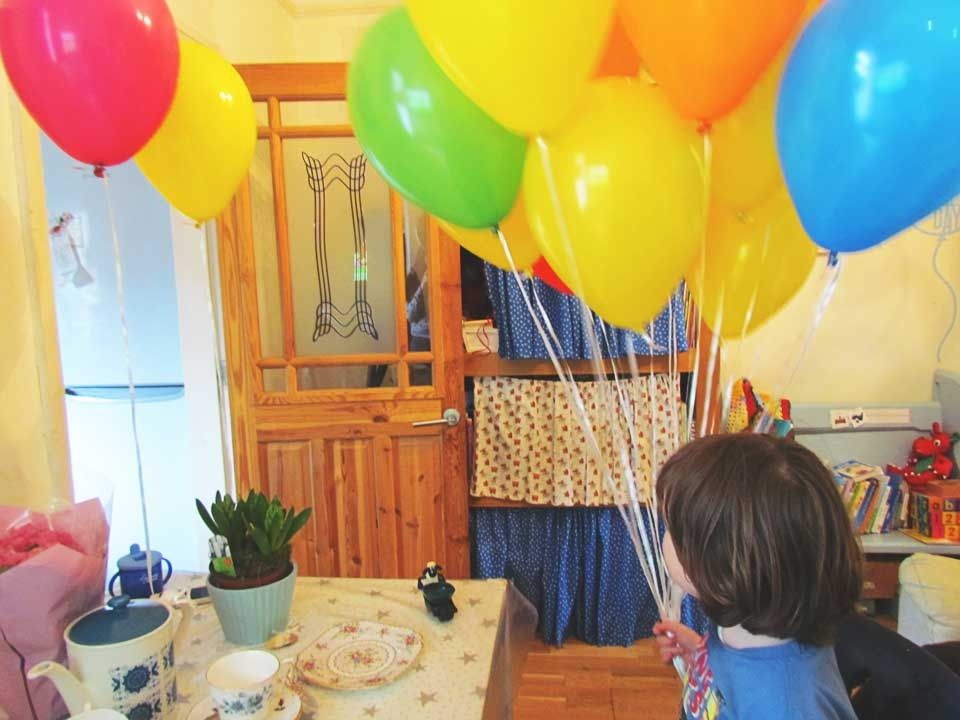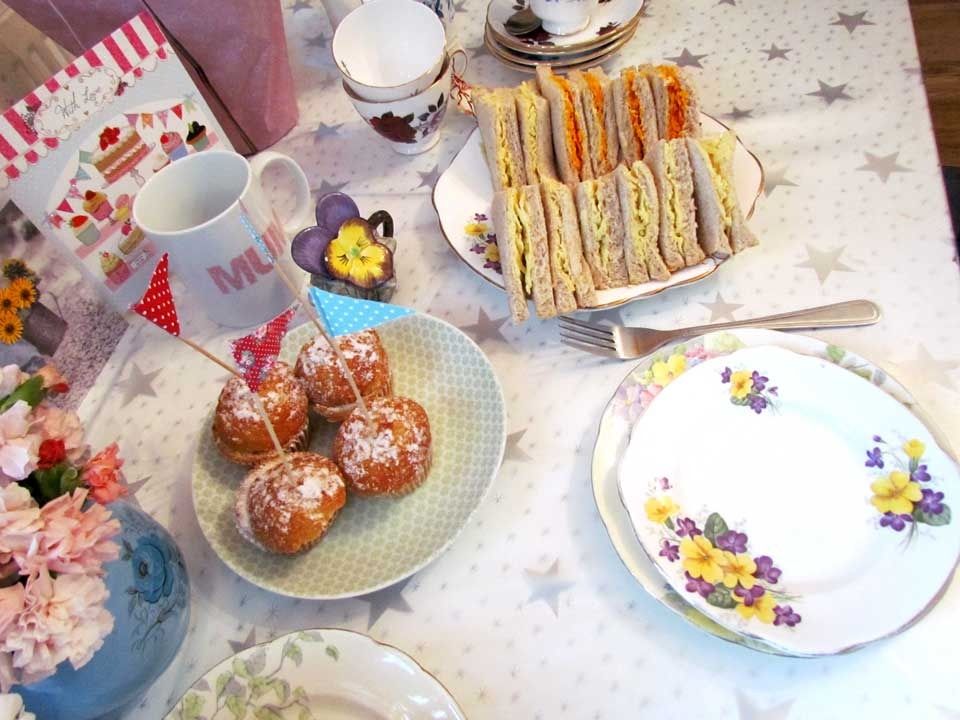 The Balloon Time helium tank can be recycled which is an important factor for us as we like to think of the environment and it certainly makes it an easier option when buying helium balloons. In the past I have had to collect balloons from a party shop on town and have to walk across a busy shopping centre with them (bit embarrassing) and then bundle them into my car. I prefer this option of inflating my own helium balloons at home and would like to try foil balloons next time.
Balloon Time kits start at £22 and the website shows your nearest stockists and also provides some fantastic balloon decorating party ideas.
I'm working with BritMums and Balloon Time as part of the 'Celebration Club' highlighting inventive and fun ways of using balloons. I was provided with a Balloon Time helium kit and have been compensated for my time. All editorial and opinions are my own. Visit www.balloontime.com for more information and party inspiration.