Since I've been a mother, I must admit that a good night's sleep has disappeared. From staying up late to catch up on jobs, having time on the Internet, to worrying and fretting over something until the early hours of the morning. Whilst putting in place a sleep routine for Little Bird, my own routine has gone out of the window - clearly shown by the dark circles under my eyes.
I was set a sleep challenge to test out ways of improving my sleep environment with help from the Web-Blinds sleep guide

to see if I could get a good night's sleep.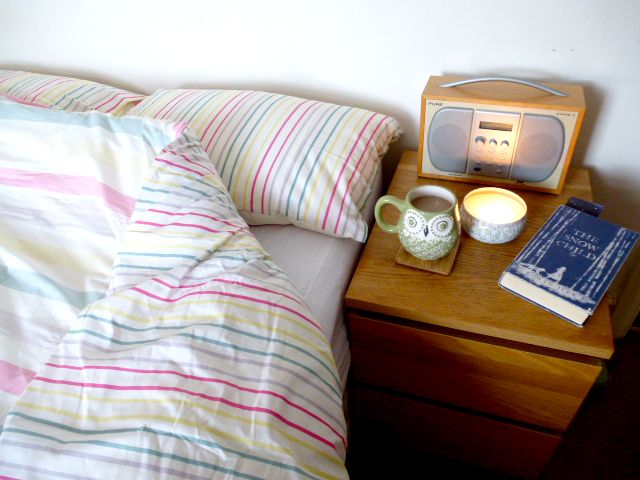 My bedroom has been quite neglected and needs decorating and improving. Furniture is broken, bedding is old and mismatched and piles of clutter have accumulated. It was very hard to relax in an environment that was shouting out with jobs to be done and felt untidy. This of course induces anxiety and not sleep. Firstly I had a good de-clutter and bought a wire storage box to put some of my bits and pieces in, rather than them being on view to me as I lay in bed.
The bedside table was cleared and a lovely scented candle placed there as the flickering light and lovely scent are very soothing.
Of course, I'd only have the candle on when I go to bed early to read as being candle safe I don't want to fall asleep with it on!
According to the sleep guide, the aroma of lavender is one that promotes relaxation so you could have some lavender oils too, maybe a spray of some on your pillow.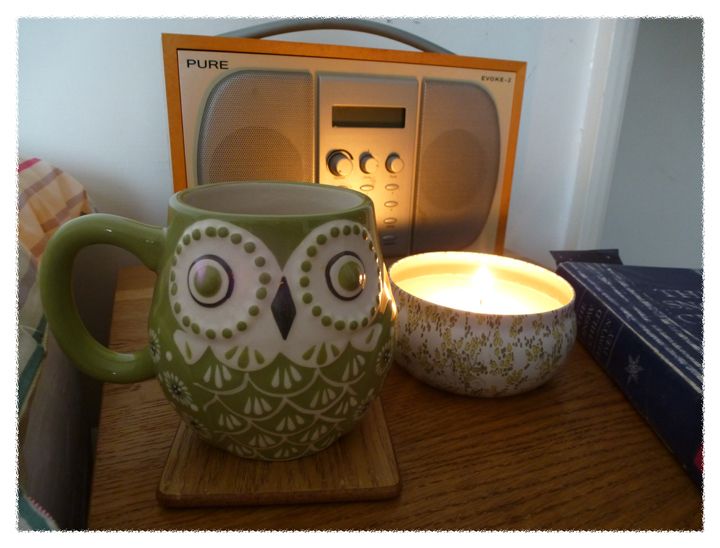 I have also turned over a new leaf with my eating habits, no more late night snacks that will lie heavy on my stomach making me feel bloated and uncomfortable to get to sleep. Likewise to caffeine, as I was still drinking coffee until late at night and then unable to doze off. Silly really. Instead I now have a milky drink in my new green owl mug as a bedtime drink and it is so much better. The milk contains natural chemicals that encourage the production of melatonin that helps you sleep.
More on this in another post but I now do daily exercise (shock!) and this has really helped. The sleep guide details how exercise has been proven to help insomniacs. It has certainly helped me get to sleep and stay asleep. Instead of waking several times through the night and still feeling lethargic in the morning, I have woken up feeling refreshed and raring to go. The exercise also helps you do feel less stressed which I really do need.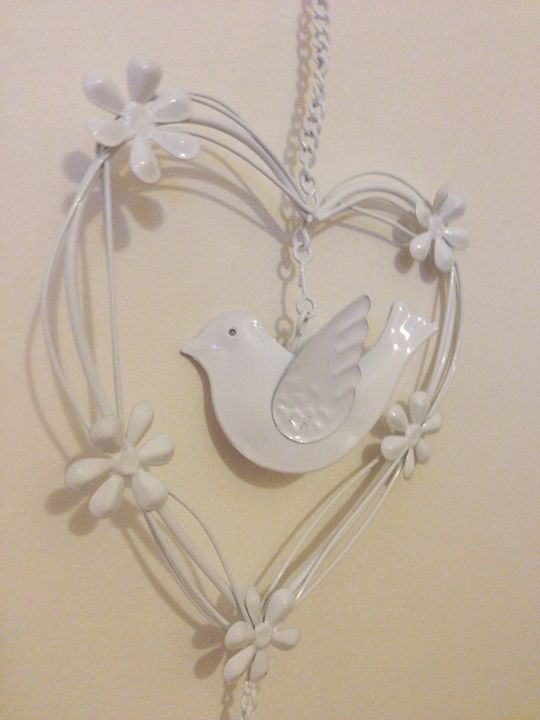 It is important that the bedroom is a restful place and calming colours will help you create a sanctuary for sleep. I am going to introduce more greens into the room as they make me feel at ease and also pretty items that remind me of the garden. Thinking of the garden is something I like to do to drift away so a few flower or bird decorations are what I like around me as I lay in bed.
For me, one of the most important points I read in the sleep guide was how modern technology is keeping us awake. I am very, very guilty of this. The laptop in bed has been firmly put away as has lying there catching up on emails on my phone at 1am (well more often than not). It has been so much better to go to bed and read a little instead, winding me down rather than feeling wired from searching the Internet. I have wanted to go to bed earlier to relax and have better organised my day so that I do not feel there are so many jobs still to do in the house.
The temperature of the bedroom is also important and it is advised that a cooler temperature is better for sleep. I bought some lovely new cotton bedding with a pretty pale stripe in it that felt so fresh and lovely to sleep. Being comfier helped a lot and having bedding that matched rather than odd bits of this and that made the bedroom look lovely. I want to be there, the room feels more pleasant and serene. There's a few more things I need to fix (like the collapsing chest of drawers) but the room is certainly better than a week ago.
Trying out just a few ideas has really helped. All things combined have led to me to have had a better sleep over the last few days. I have woken up feeling less in a brain fog, less grumpy and it is simply through getting closer to the 7 hours sleep. I have even felt less hungry the next day which is great for my diet.
What do you do to get a good night's sleep?
For some great ideas, have a look at the sleep guide by

Web-Blinds.com
This was a collaborative post with

Web-Blinds.com. Payment was received to improve my sleep environment. All words are my own and an honest account.