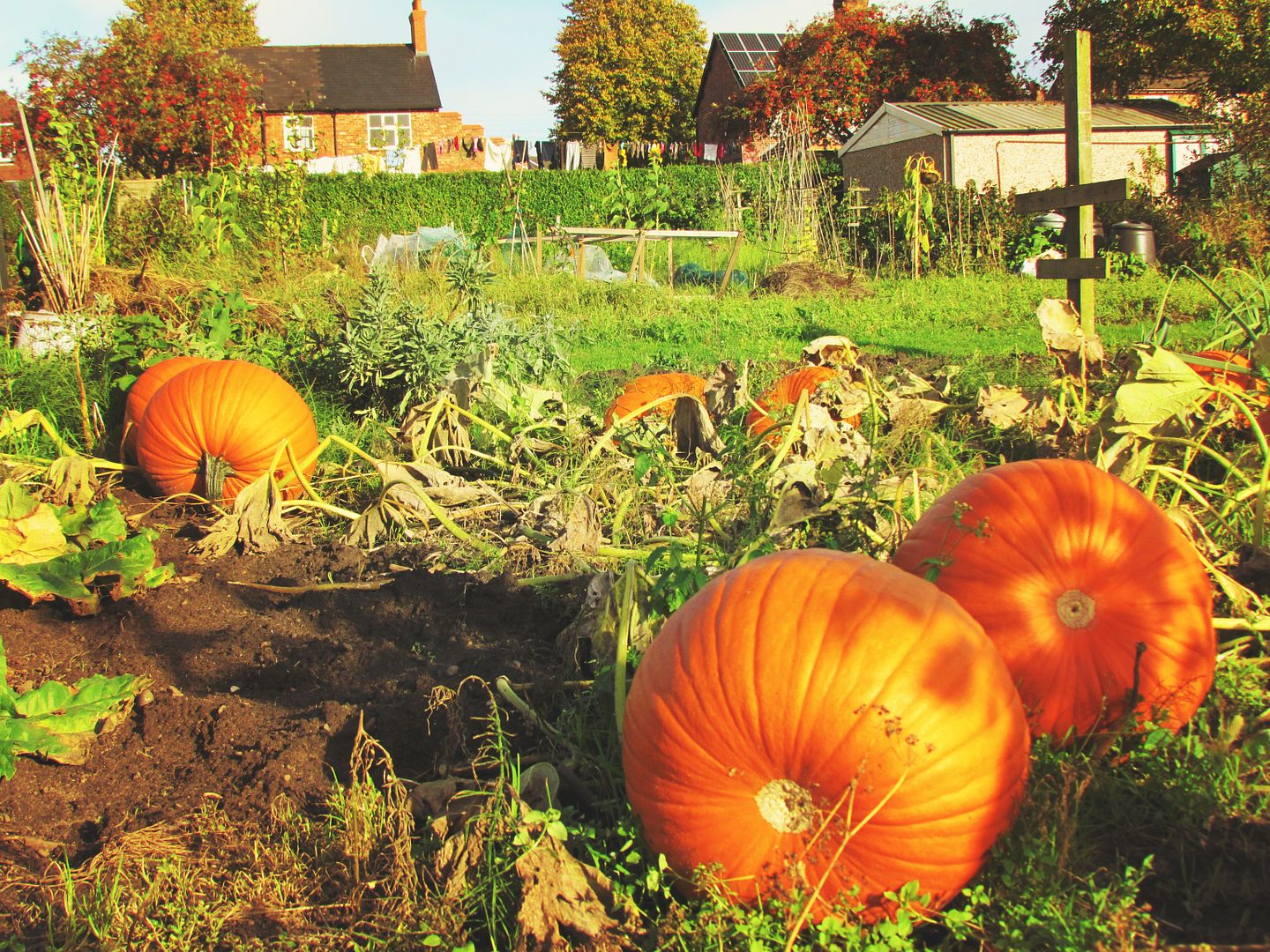 There is a sadness in the air as the allotment season as I see it draws to an end. The air is musty and the compost heaps all seem to be full of overgrown marrows starting to rot. Wheelbarrows are propped up. Left. A few more visits. Goodbye until spring save a maintenance weekend here and there. It belongs to the mist and the winds over winter and who knows what creatures inhabit the plot.
Proud pumpkins, gorgeous colours and varieties. Small. Knobbly. Huge. How do I carry them? I'm sure they come alive and heave themselves around the plot on their prickly, lanky vines. Watching me? Surely not.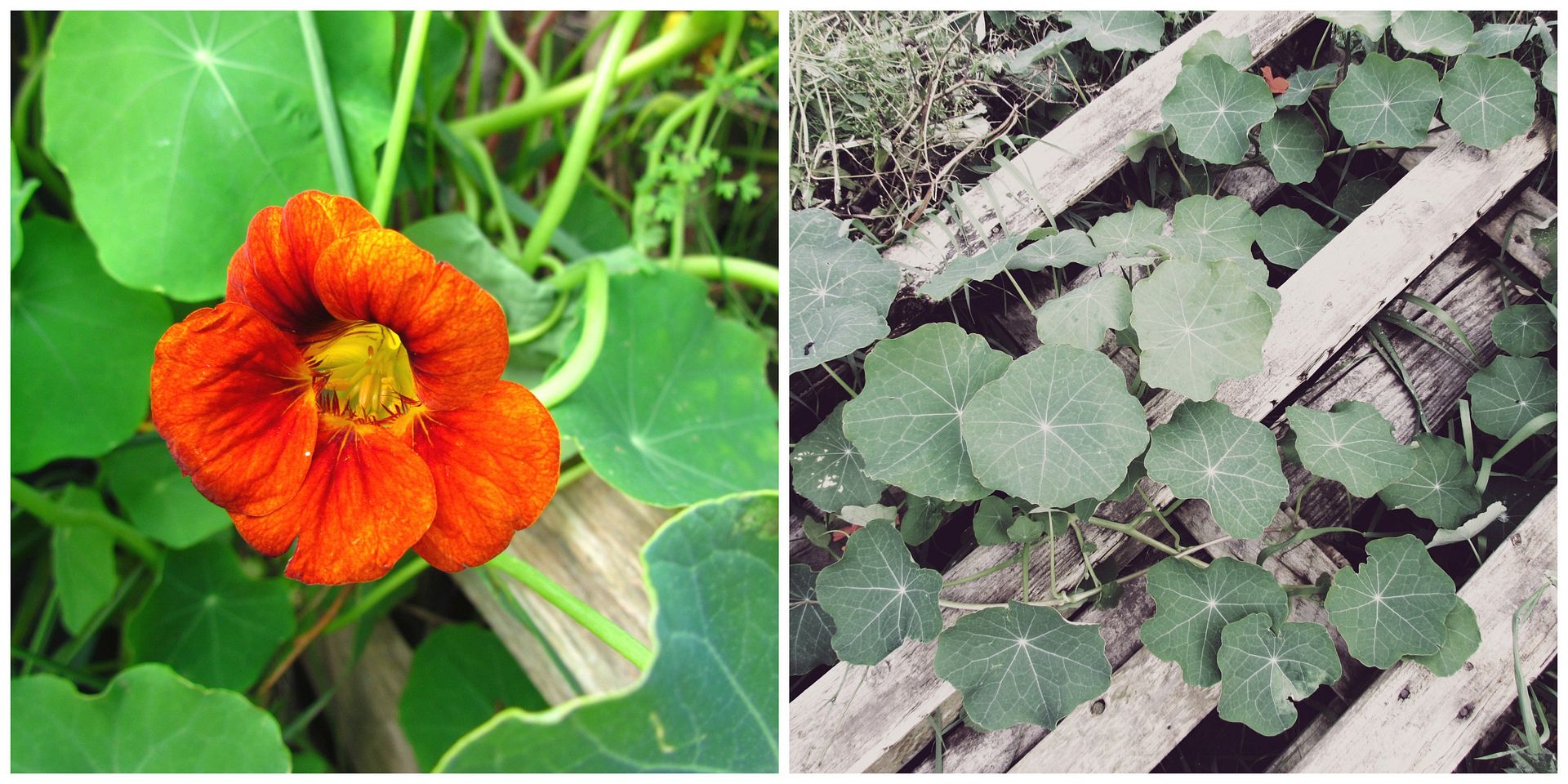 Dahlias still going strong, draining the weak rays of autumn sunshine that tinge the edge of their silky petals. Nasturtiums doing their best. Everywhere. No stopping them. Pickled capers perhaps? Tangling my ankles.
One last apple still hanging on a branch, destined for the fairytale basket. Dare you eat it? Not me.
Items left. Did they leave in a hurry? Did they sense they were being watched too? Did they stay too late as twilight crept in, surprising them with shadows that spring upon your senses and send tingles up your back?
Treading carefully back across the pumpkin patch. I hear movement. Dragging, stirring of earth.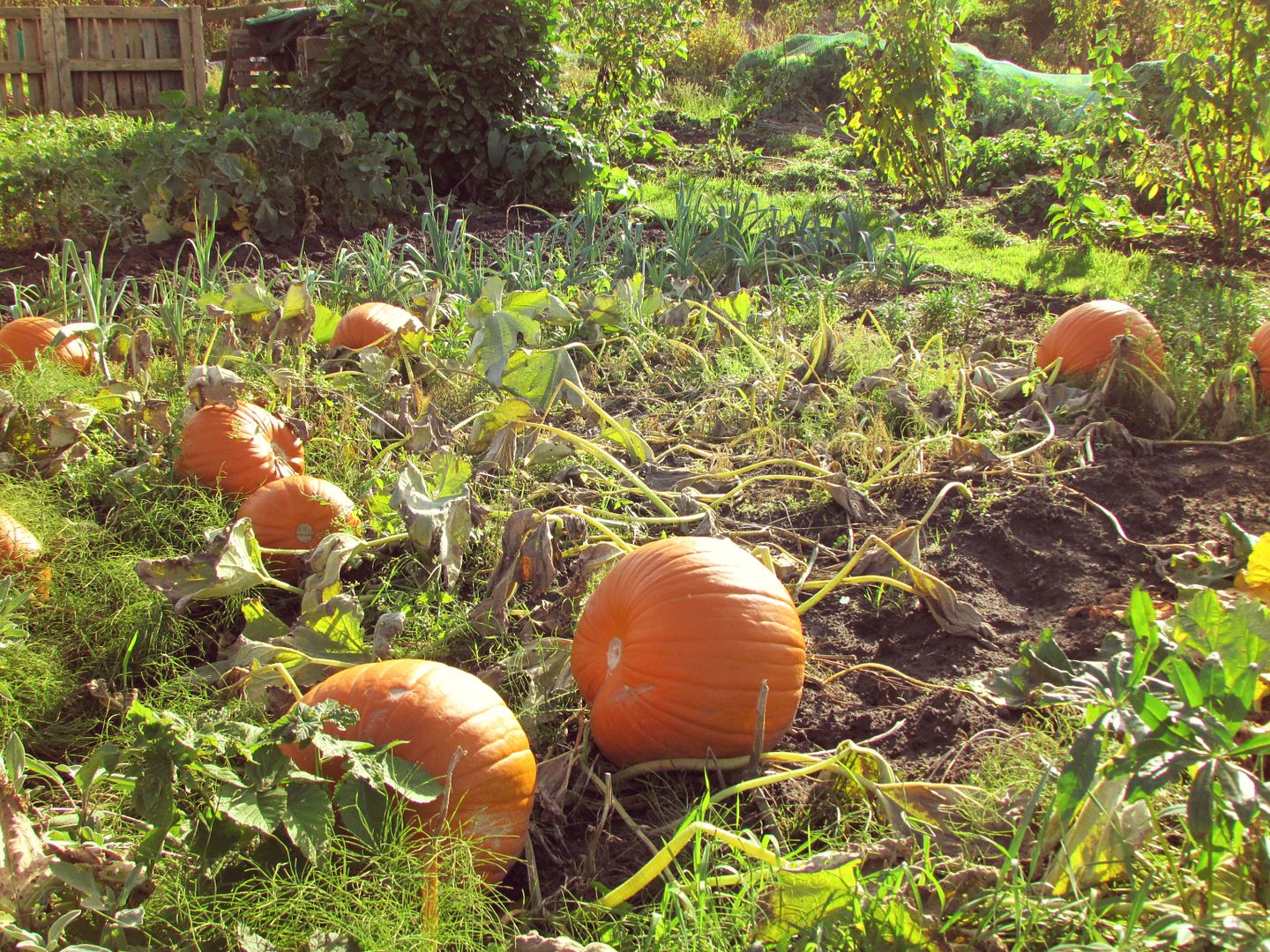 Faces appear on those once friendly summer allotment pals. Menacing. Have they changed? Has the autumn changed their moods? Hungry perhaps? Looking like time I should leave before the gate is mysteriously locked. I hear the clang of a metal pole and my heart races. Drip, drop, drip, drop.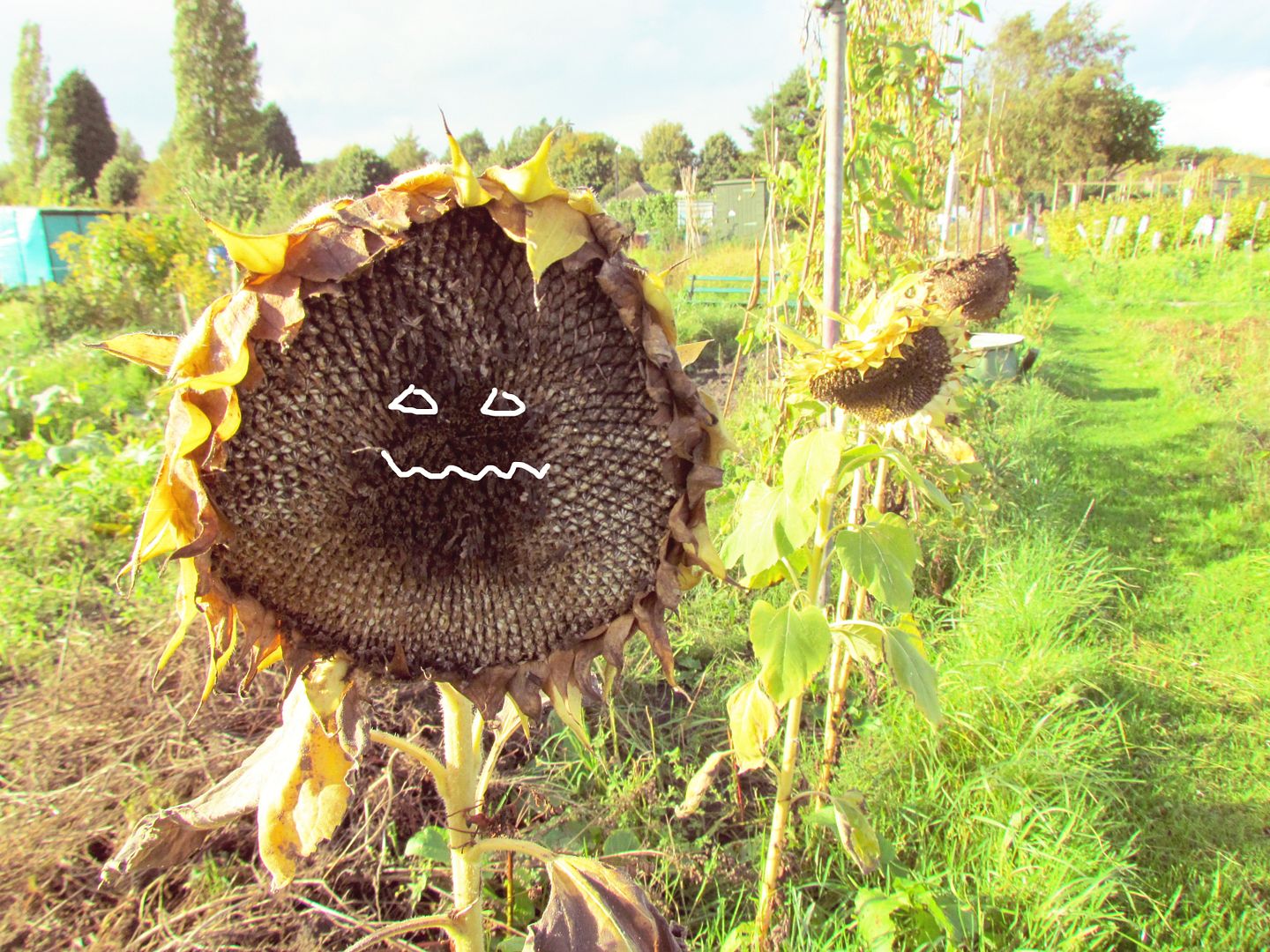 Quickly under the grape vine, by the French Beans and alongside the shed. Creak. Thud. Rustle.
A reflection. Eyes? An apparition? Back garden noises too far away. Too far away to hear me scream!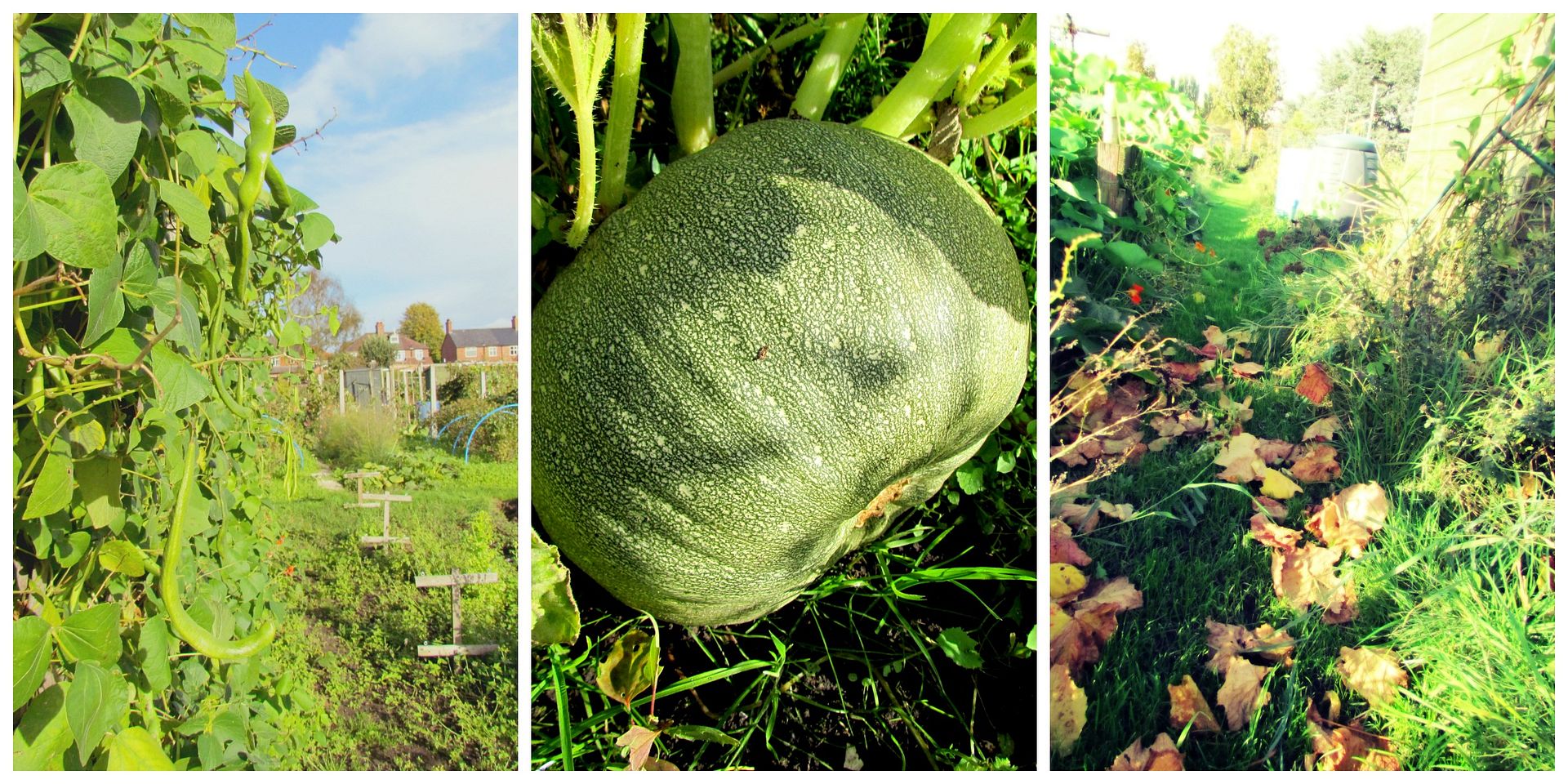 My legs sting as the nettles reach and clamber for me. Driving me towards the water. Panic.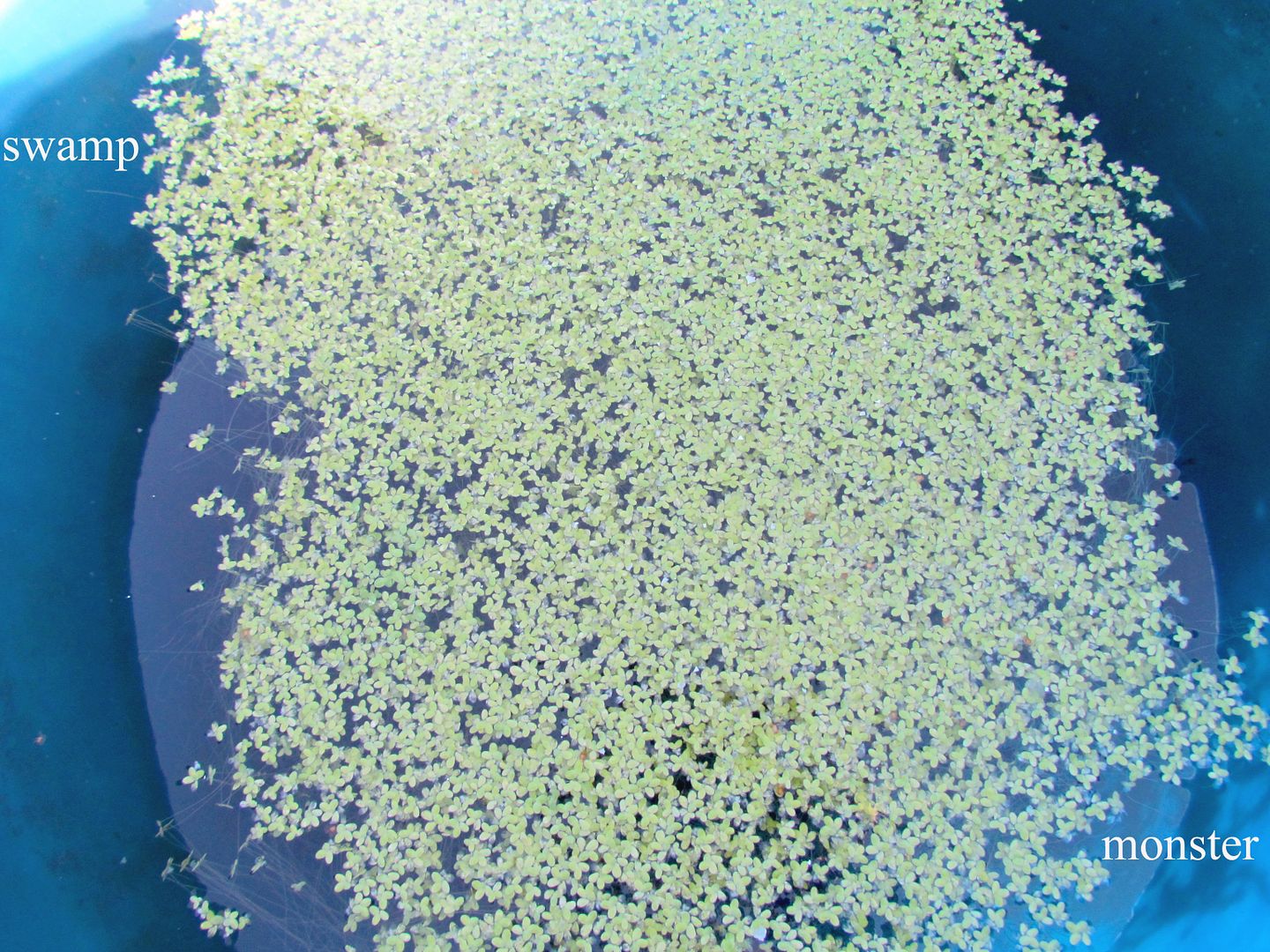 A trick perhaps? Allotment hi-jinx from the old character on Plot 10. But I did not see him and couldn't be sure. I'd not heard his rough cough from too many roll ups or the familiar thud of his work boots.
I did not wait to find out. I scampered through the gate, past the corn field and down the grassy worn road lined by brambles to my car. As I started the ignition, the car coughed and spluttered. No, this cannot be. As I looked into my rear view mirror I saw a twisting green arm and a hint of orange ........
Joining in with
Mammasaurus for How Does Your Garden Grow?
who has the most beautiful photos.