It is time my mysterious friends to leave for the annual Halloween Tea Party, a ghoulish get together for you and I and a few more moonlit chums. A small gathering of only the most elite shadows and fantastical characters. Let us take a stroll, look at the time, we must leave now.
To the churchyard for the precious ones, remembered by stone and flower. Souls and spirits tag along but hush your excitement for some still choose to rest and the few that like to party grasp their dusty invitations in crooked hands. They smooth down their lacy gowns and step forward with boots polished and a glint in their gauzy eyes.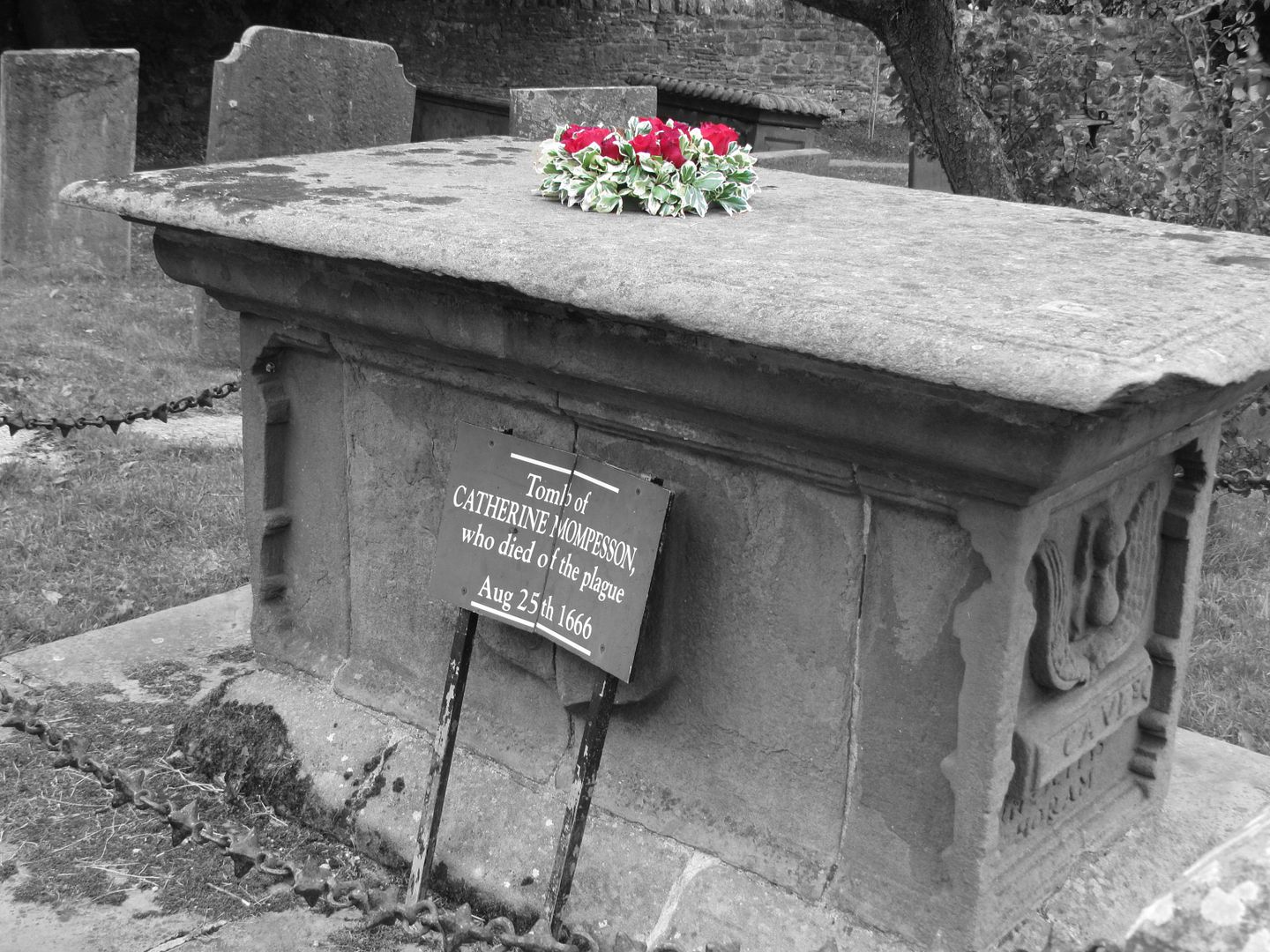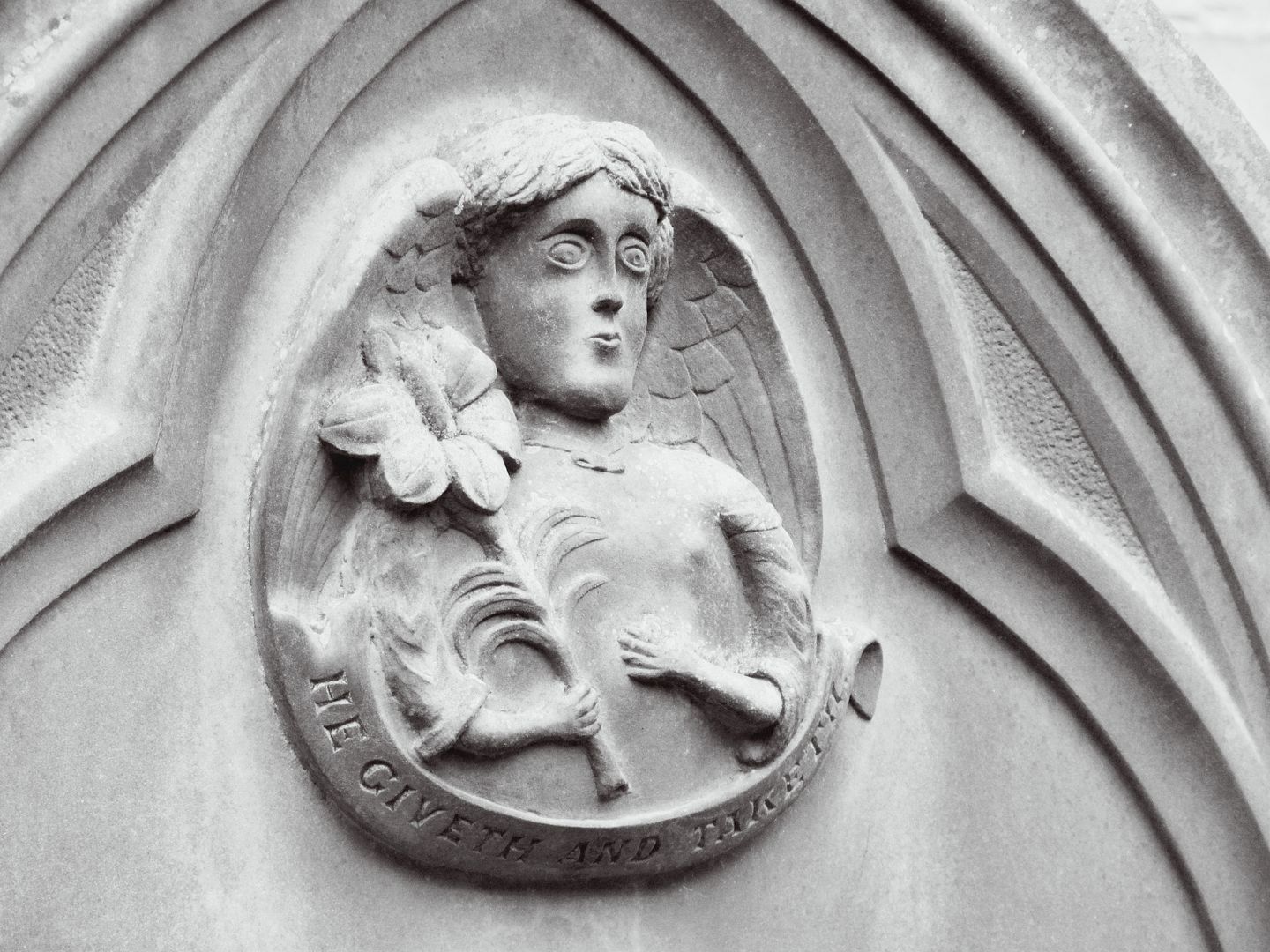 Chilling air that swirls around grass and daisy edged tomb comes to meet our legs, twisting around them like a cat looking for attention. Come along, come along but please be quick for the witch and her coven they will not wait to start the party and their cottages are at the bottom of the village.
I smell them before I can see them. A dark, stifling mustiness that fills my head full of visions of cauldrons brewing contents like the most stagnant of pond water. Knock, knock, hobble, creak - the owner comes to greet us at the door. Welcome all on the All Halllows Eve, come inside my small abode.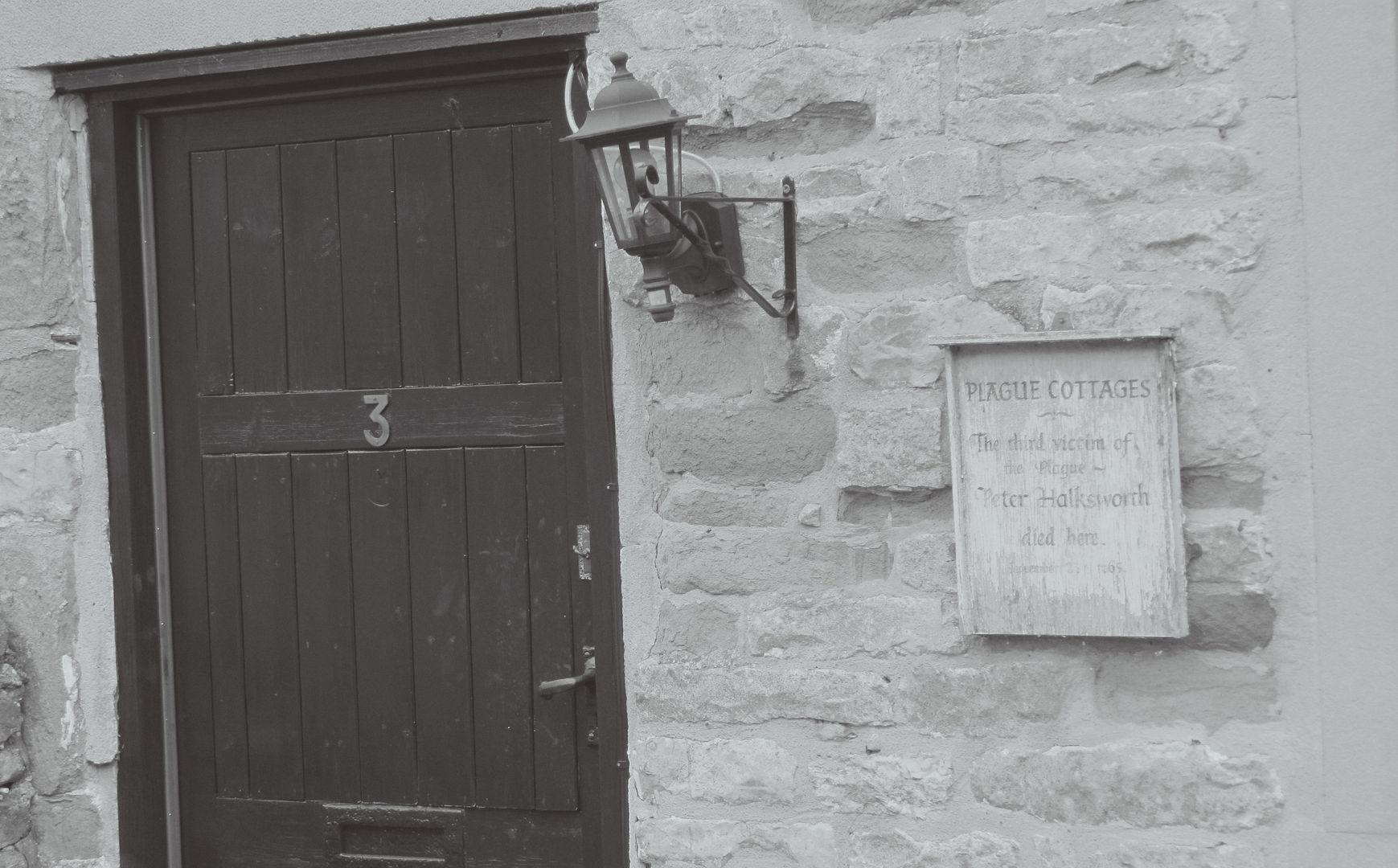 Step forward, come in. Do not be afraid for this will be a glorious party.
Inside is the most colourful array of frothing potions and fireworks. Glitter springs through the air cascading over us and bubbles of magic pop over our head leaving droplets of wishes and promises of mystical futures. The most frivolous of pumpkins dance and jump, too excitable to stop and talk. We all shuffle in.
By the glow of the Jack O'Lantern I reach for the jug of tickleberry juice, a reddish hue that stains your lips and smells like honey and lollipops. Warted gourd stew in a huge pot occasionally bubbles up and splatters the stove with bright green. It smells delightful and a hungry warlock's tummy rumbles like a ghost train passing on ancient tracks. I should grab a bowl before it all gets eaten up.
A collection of potions for the occasion are displayed in frosted jars and bottles, neatly labelled by Agnes the Home Witch, meticulous and created following the book of 'Spell Casting for Shindigs and Masquerades' - a copy of which I have and cherish dearly. A bottle is open and the spell explodes out and whizzes around the room, coating all the otherworldly gatherers in a film of party fever.
Pumpkins make the most awful racket at parties, they get so carried away in the moment. Hopping about the room, they annoy the spooks and with a woosh of a shroud are suddenly swept away under the table with the dust and scolded. The skeletons find this most amusing and fall about laughing leaving a collection of bones - no matter they'll pick them up later.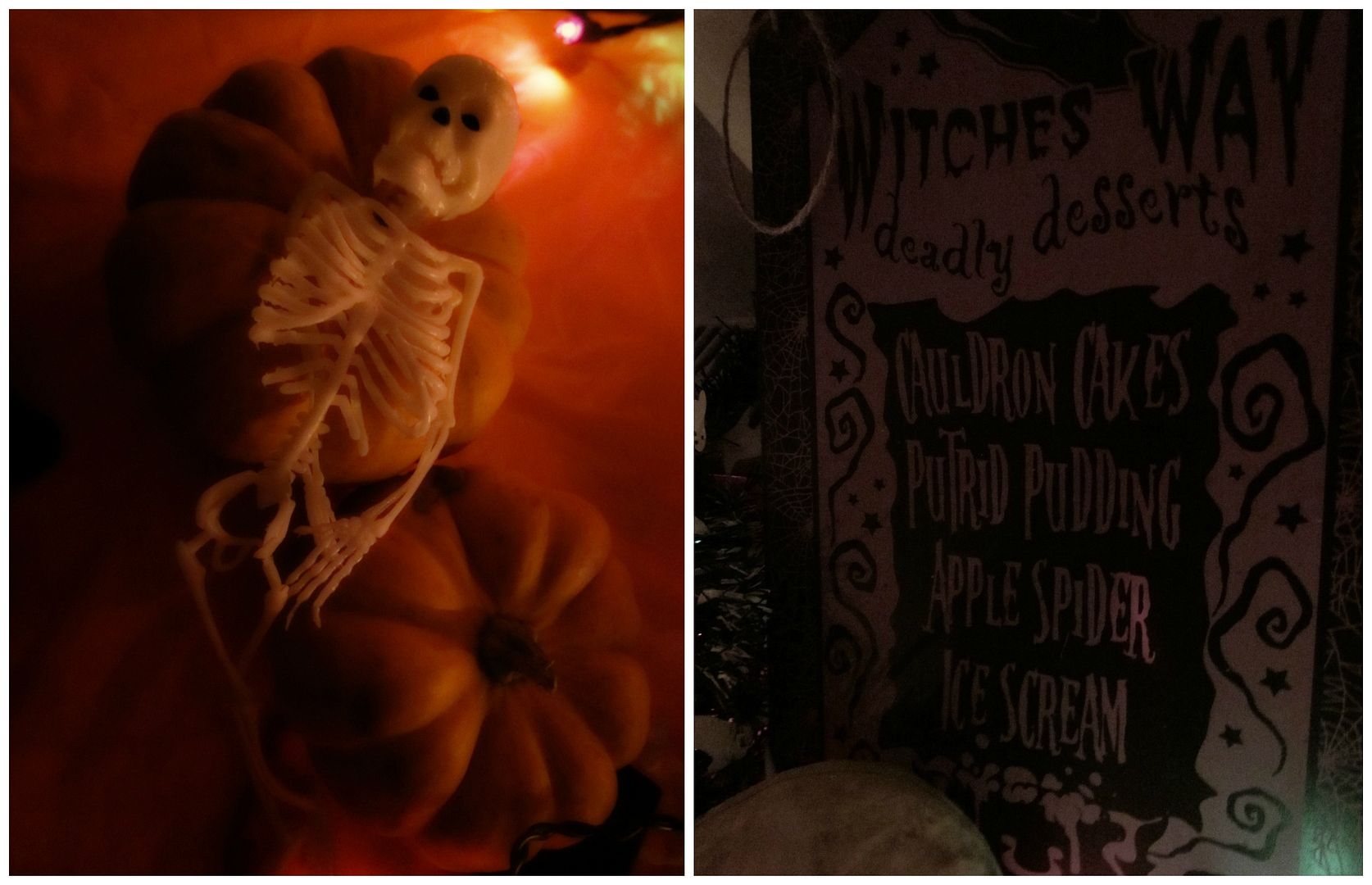 Chatter, chatter, catching up and reminiscing on times gone by, 'so you departed in 1610, how lovely and how have you been since?' Glowing eyes spark with devilish glee and too many bottles of Hobgoblin have clearly been drunk already.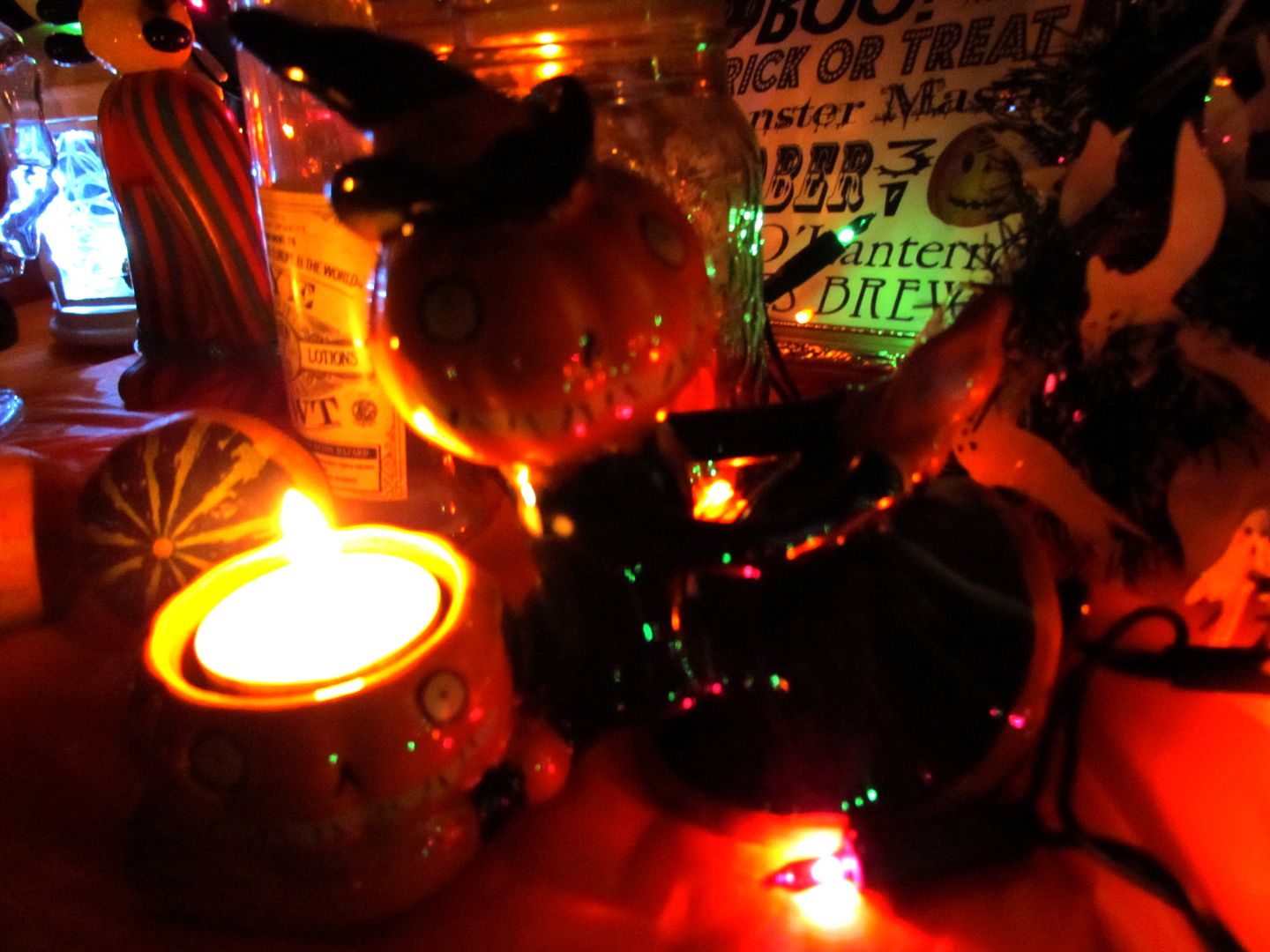 Pumpkin treats filled with oozing globs of tree sap, an explosion sensation and one to savour by candlelight.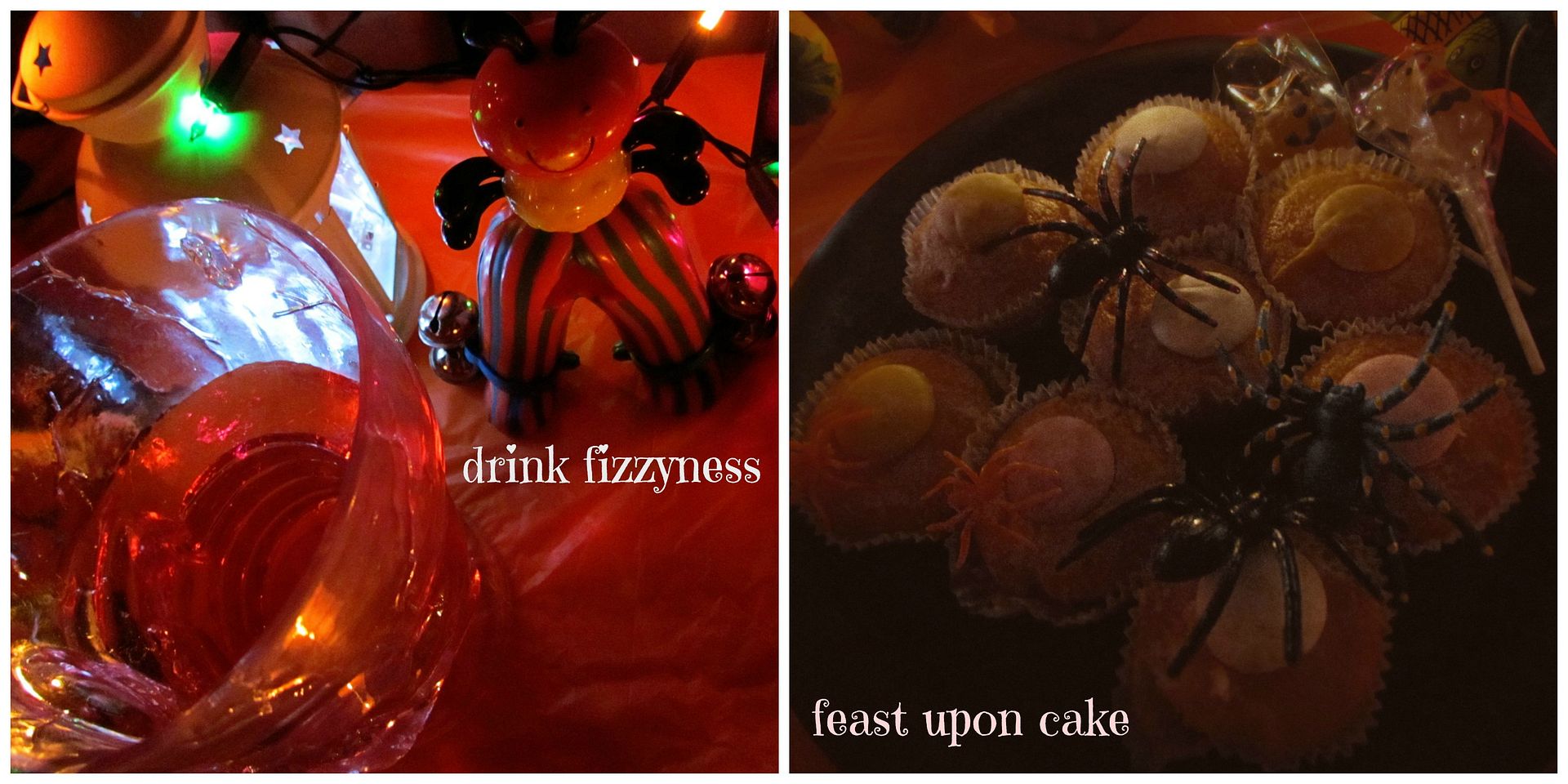 Time for the bogeyman's lament and the witches cackle and throw spiders that scuttle in desperation up the walls and into damp corners. Stardust tickles my nose and an almighty sneeze turns into a friendly apparition who smiles and waves - another party spell I presume.
The members of this household have certainly been busy for all supernatural tastes have been accounted for. Grasshopper bites, a delicacy are offered. Take your pick. Green for sweet and crunchy or mottled sour for the tangy loving Fright Harbringers - that will keep them happy and stop them terrorising the goblins.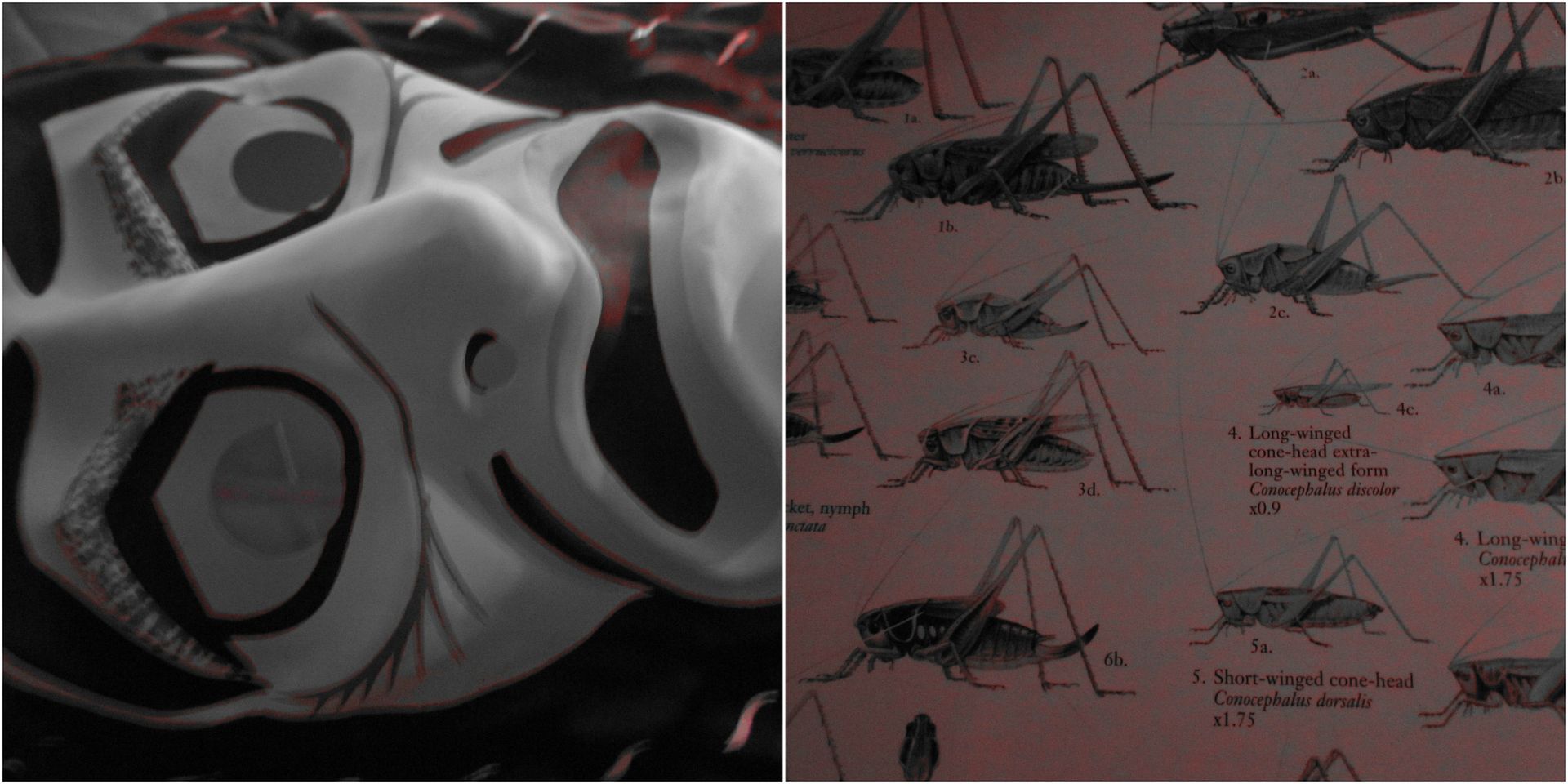 Fairy lights twinkle and flash, games are played and 'pass the head' is won yet again by one of the pumpkins.
Macabre misfits move slowly and nod to each other, no words required by these types.
Have you had enough cake? Surely another piece of frog springer would be hard to refuse.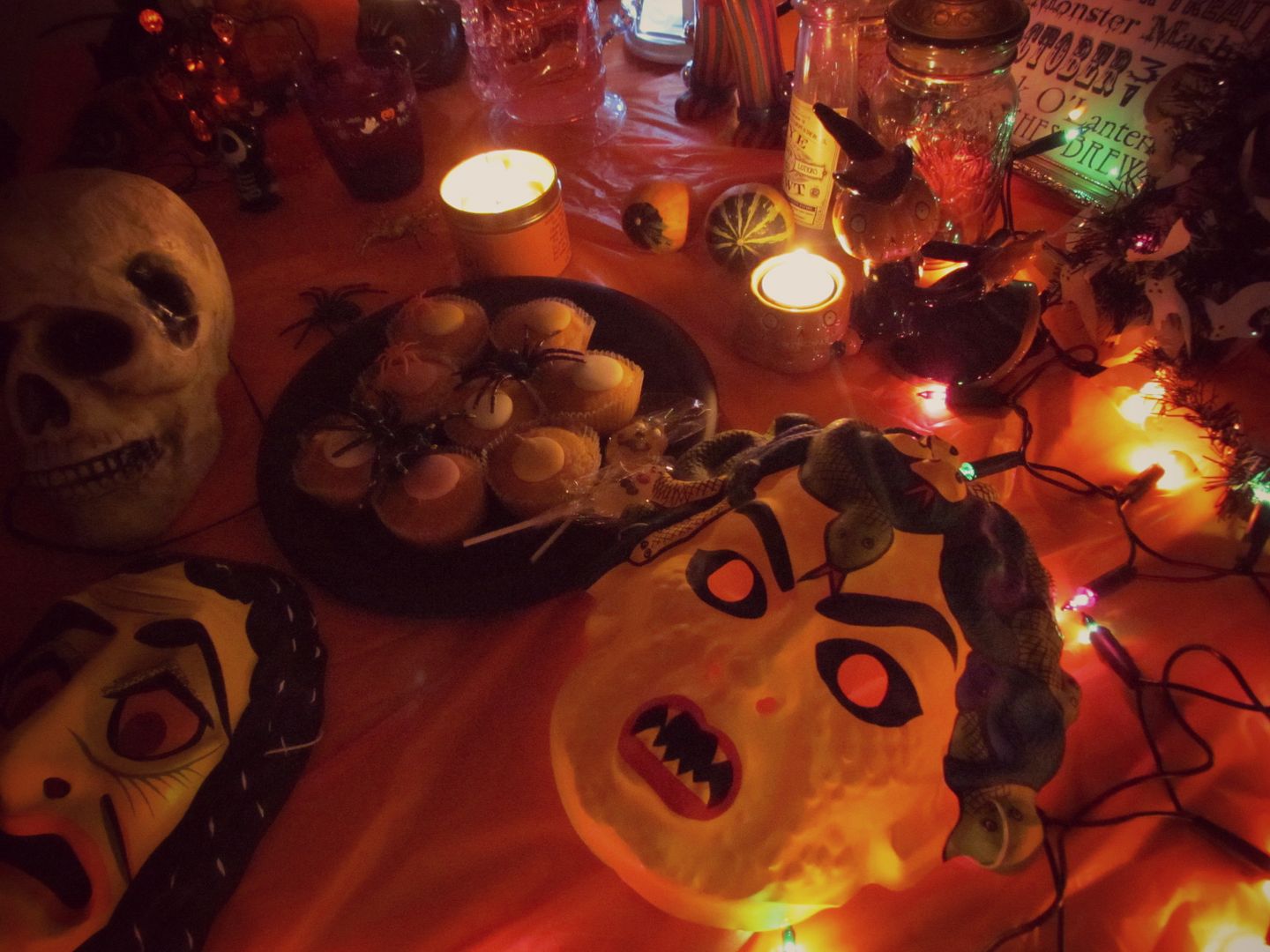 A tiny group of small witches are starting to get tired, yawns of gappy, rotting teeth with the most terrible of hounds breath. One starts to have a tantrum, it must be nearly witching hour now. Time to think about pond bath and resting in one's hay crate.
Fire torches are extinguished and just the Jack O'Lanterns remain, glowing, warding off midge flies and dragon beetles. I take a rest on a huge misshapen arm chair with springs that protrude and snag my cloak.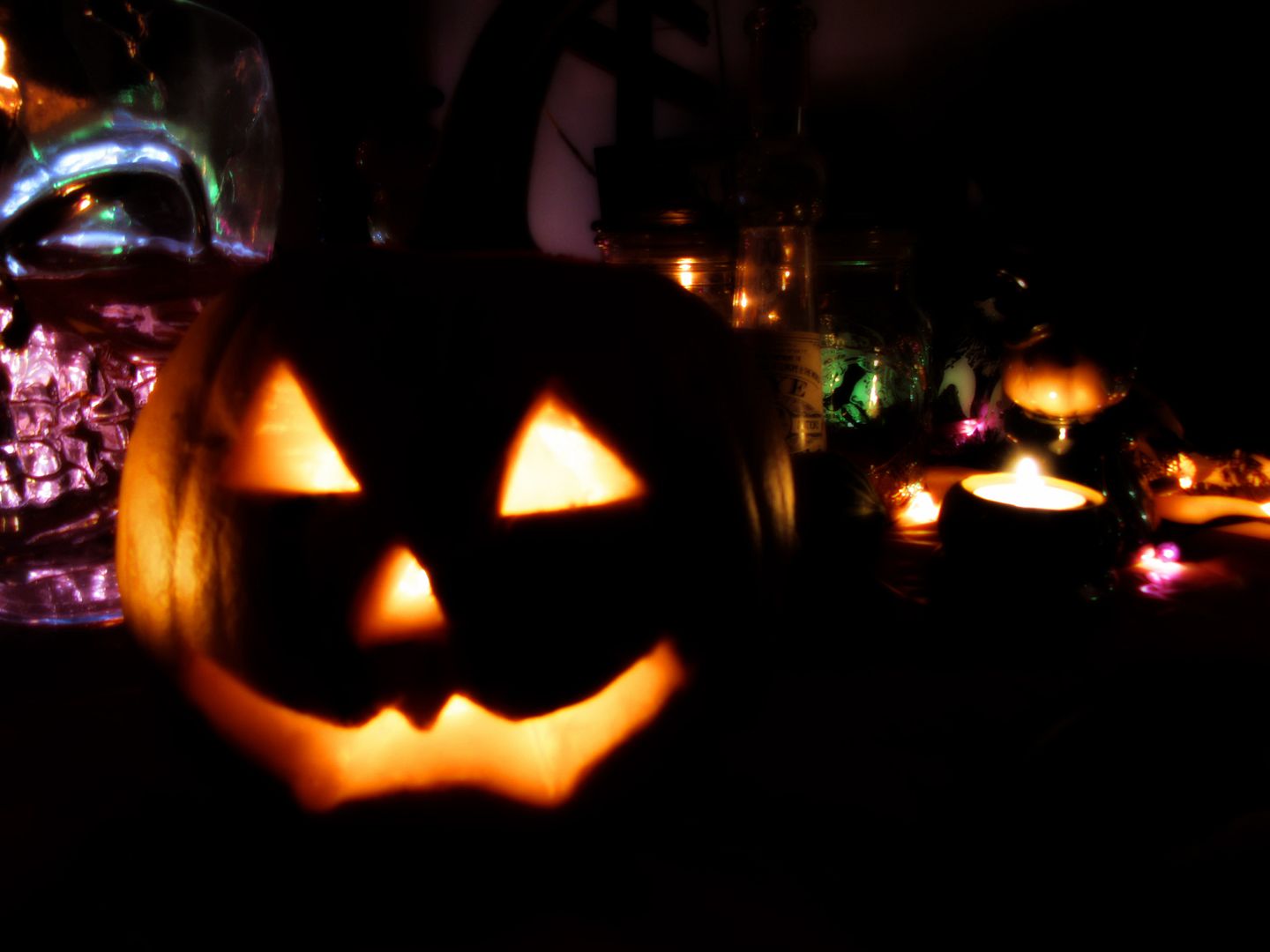 Suddenly a scream raises my attention, a course of fear pushing its way through my veins more than any walk through a quiet cemetery would. Wary faces stare, not blinking and bones are still. Hush.
In walks the Boo. A frightful crypt keeper. Anti social and ready to turn any party into an ending of horror and despair, enough to send a witch fleeing broom in hand or a spook jumping down the drains. Hide.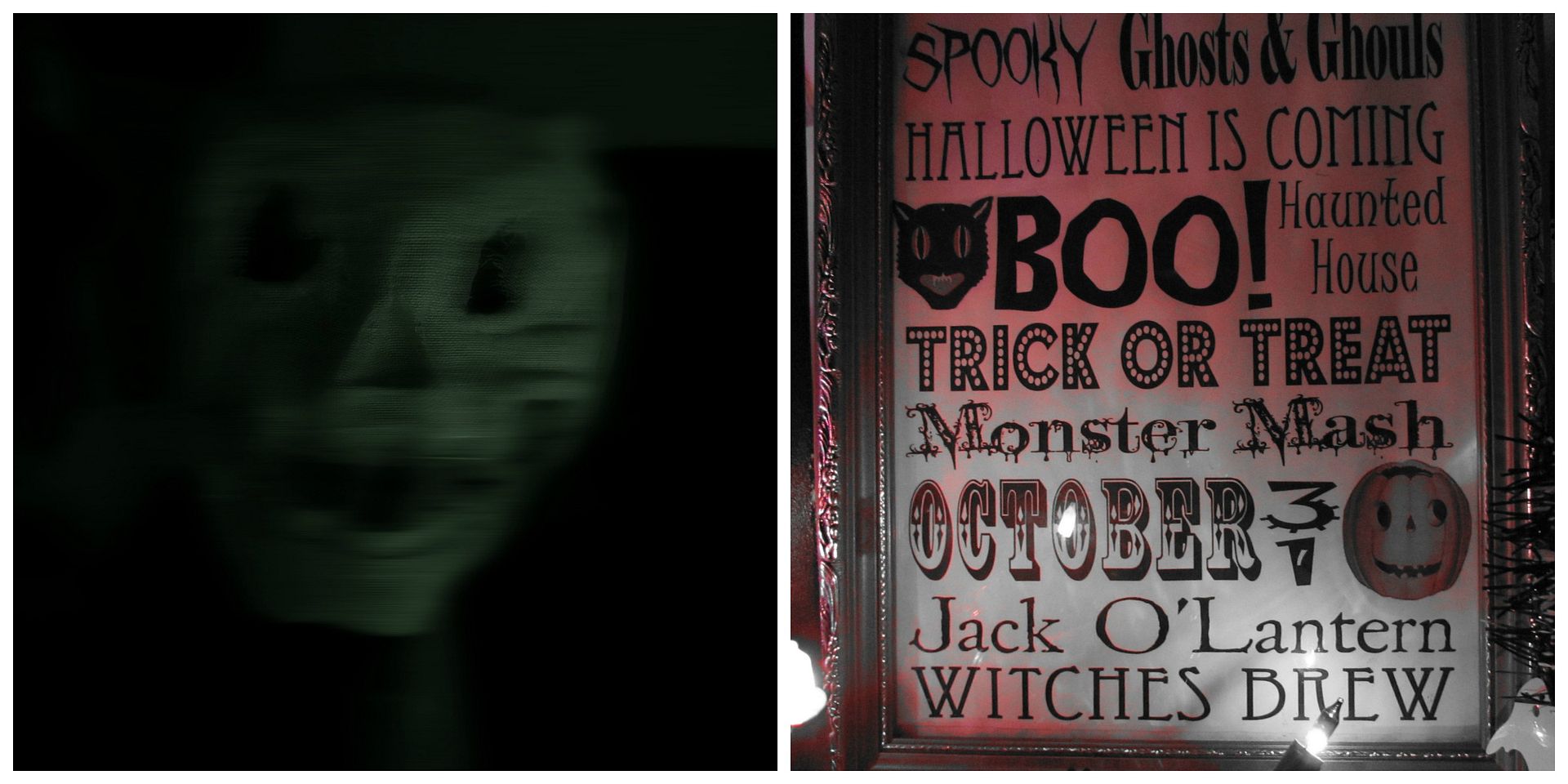 I sit as still as possible watching his menacing face with blank eyes, no soul or no remorse. Will he see me?
Lips curl, froth explodes and a huge box of Halloween poppers bursts open with the force of an almighty thunder clap. Even the stars in the sky shudder and I hold onto a werewolf to stop myself from joining them.
The Boo has gone, reduced to nothing more than a hessian sack and a few teeth. There is nothing more powerful it seems than a Halloween party and as the quiet subsides, the pumpkins are back dancing and I'm going to join them.......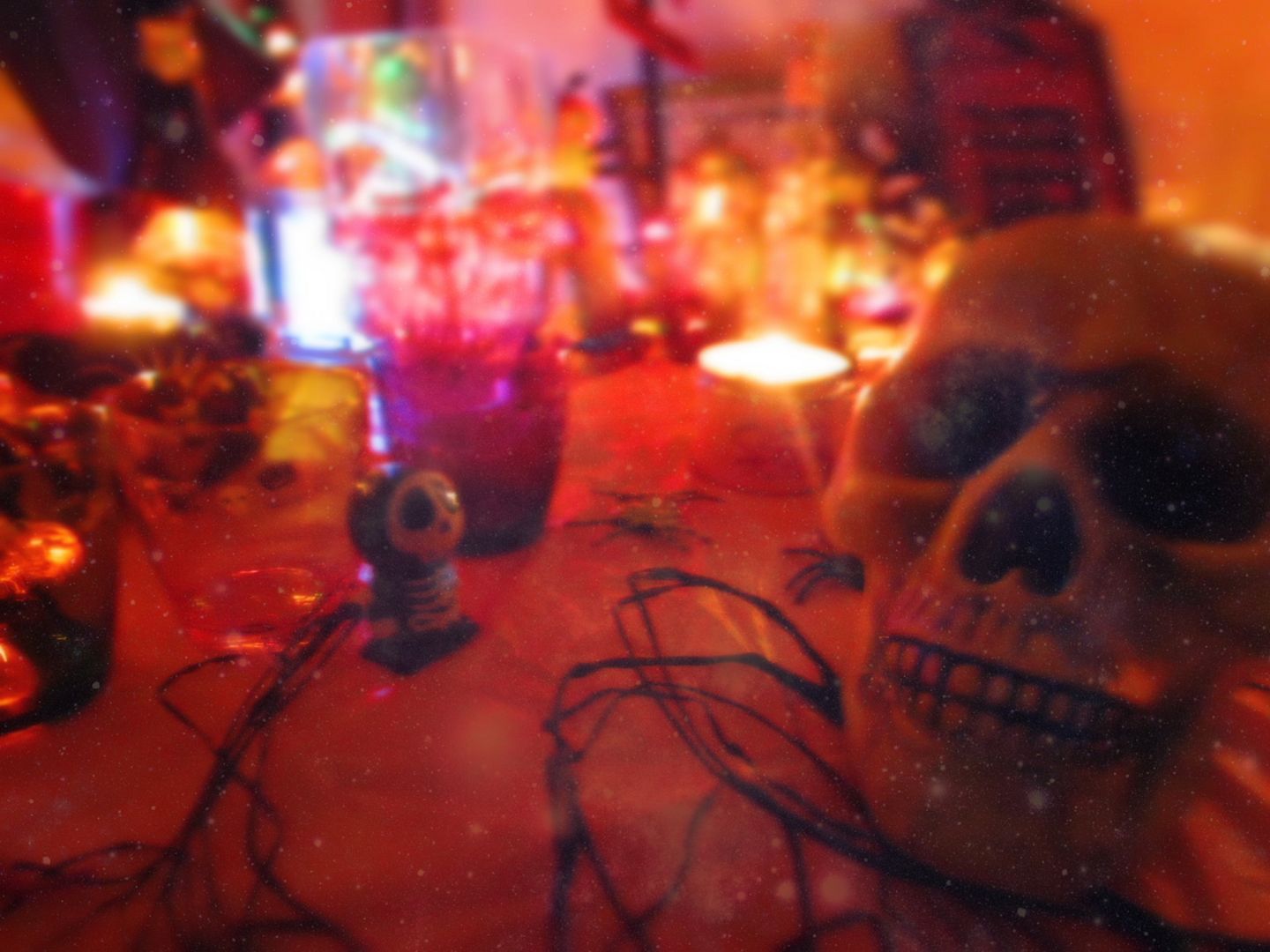 Happy Halloween to all and especially to A Fanciful Twist and our party friends. Please have a look at the other parties and enjoy the wondrous sights.