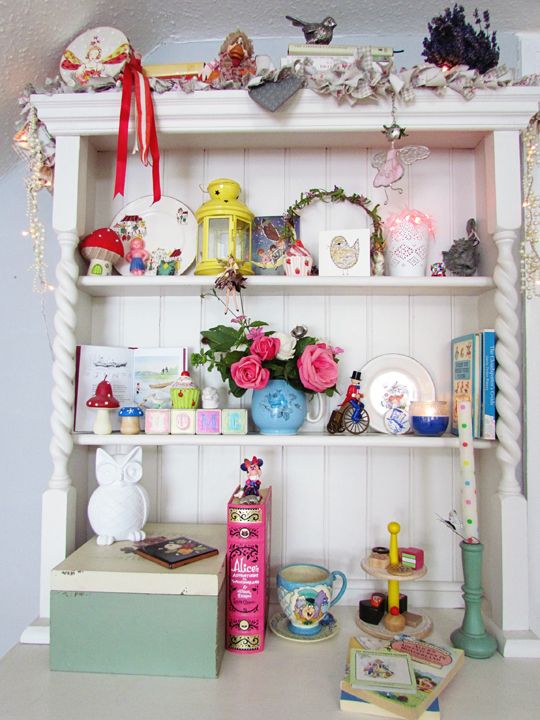 Since I have had my current house, I have always made it very much

MY

house. It is very girly and the shelves of my Welsh dresser are a real reflection of me. So here I present my shelfie.
It's all very pastel-like and my love of fairytales, shabby chic and Alice in Wonderland is reflected in my little items.
There are my toadstools that I cannot resist buying, I'm drawn to them like a fairy on a midsummer's night.
Fairies flutter around these shelves and there is a little bit of magic. Most of the items such as the blue jug and the books I have found in charity shops like my collection of Alice in Wonderland books and children's poetry books. I think the shelves are a bit of inspiration for me. Something to cheer me up every day.
I like to keep the shelves seasonal so a posy of flowers will always be on here. This week it is pink roses from the garden. I also have a cute little book with an illustration and poem for each month of the year that I have displaying for June.
'First Summer is here, the lake so mild. Summer has come to the water-child.'
Elsa Beskow, Around the Year
I love colour pops on a white background with my HOME blocks and spotty Cath Kidston candles out. The blue candle is a scented Skittles candle in blueberry and it smells just like a toy I had as a child, Blueberry Muffin who was Strawberry Shortcake's friend. Remember?
I love childhood and my shelves have lots of items that are toy-like. I even 'borrow' Little Bird's toys for my shelves sometimes. Elmer was from a broken snow globe and he's very happy that he now has free reign of the shelves and didn't end up in the bin!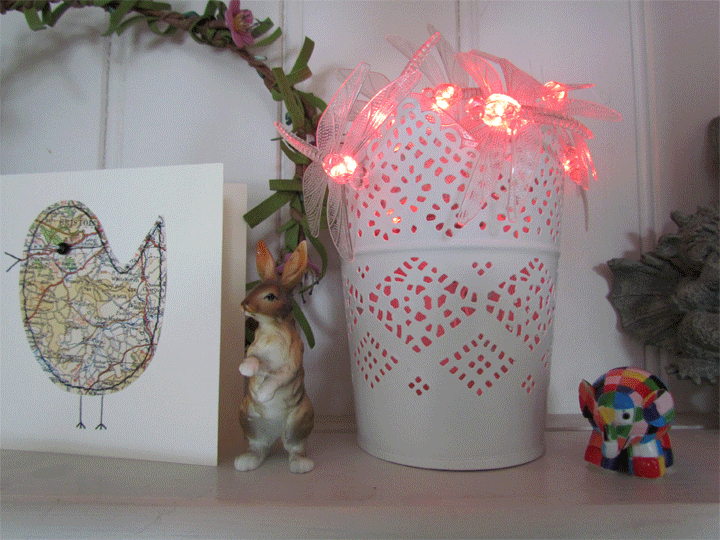 Fairy lights of course to make it all sparkle. You cannot have shelves without a twinkle at any time of the year.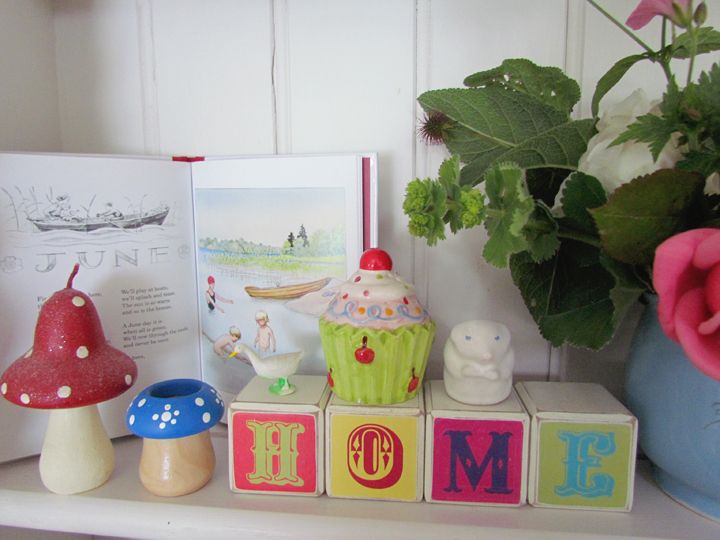 Little creatures and plates found at car boot sales. Small friends that need a home.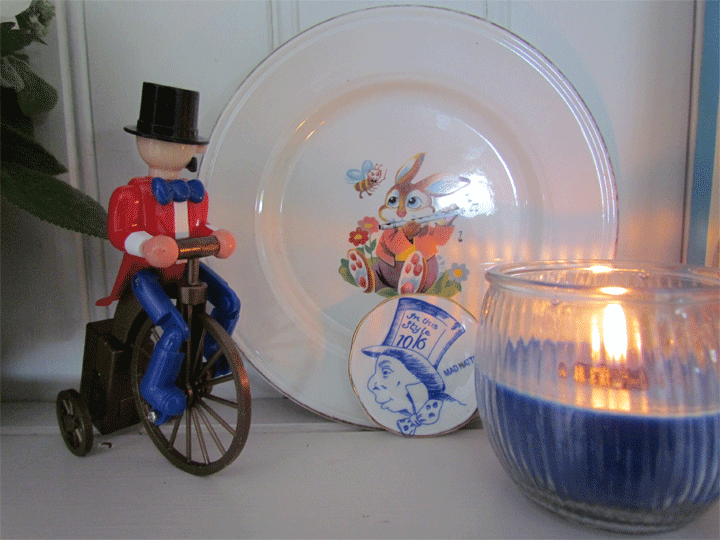 Cherished mementos. A reminder of my favourite city Bristol on a card that I picked up at a craft fair. The rabbit is from a collection I acquired from auction - a huge box of rabbit paraphernalia. I sold some of it on eBay but the old rabbit still hops around here.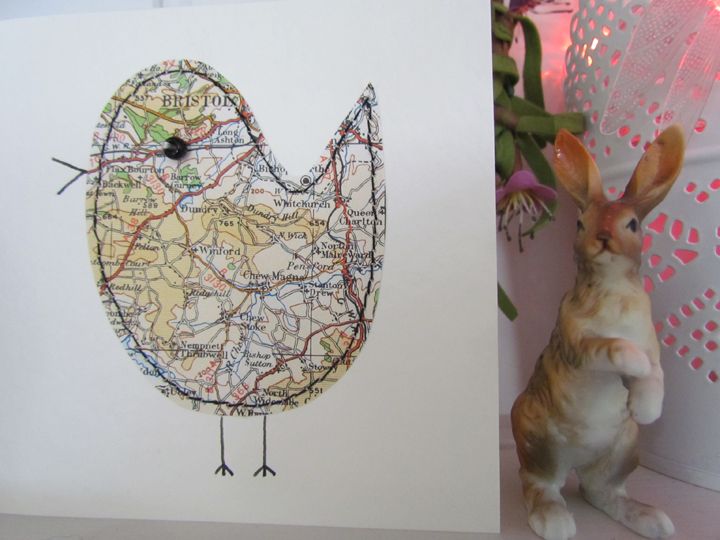 More auction items from when I had a cabinet selling items in an antiques emporium. My cheery circus/fairground Alfred Meakin plate and an old toy doll. Cards I have received usually end up here and some never leave, especially if the illustration is beautiful like my 'A Sail in a Moon Boat' card. In fact some of these items inspire me for projects I have yet to do and seeing them everyday reminds me that I mustn't give up on those dreams.
So from following white rabbits, falling down rabbit holes, I generally like spending time sat on the sofa by these shelves. It can really change your mood having items that you love on show and although it may get a little dusty, it still make me feel happy.
What sort of home style do you have? Try the Victoria Plumb Great British Home quiz to find out.This time I took the quiz I seem to have gone from the quirkiness of Jess from New Girl to the glamour of Sam Faiers from TOWIE.
I have to say that I think I'm more Jessica with her eclectic warehouse :)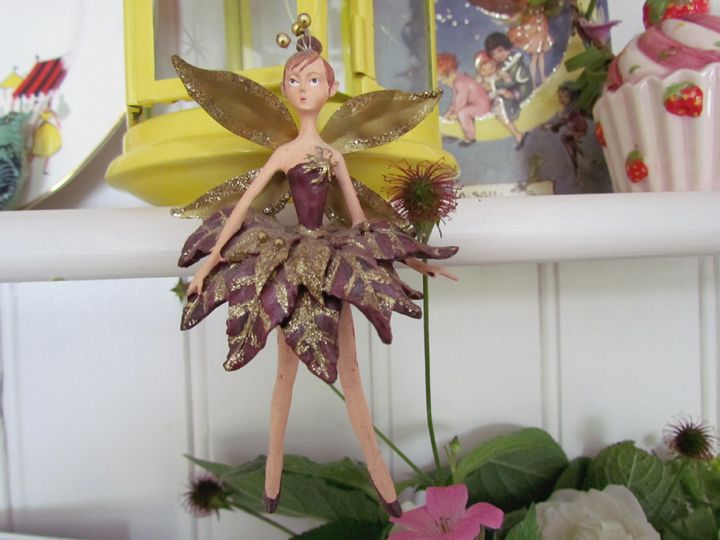 This was my entry into the the Tots100/Victoria Plumb #shelfie competition.