We are all on holiday at the moment in the idyllic harbour of New Quay, Wales having a lovely sunny time and I have been enjoying looking at all the coastal gardens here and further afield along the Cardigan coast. From rambling roses to pot plants nestled around steps and towering Monkey Puzzle trees, I am loving it all.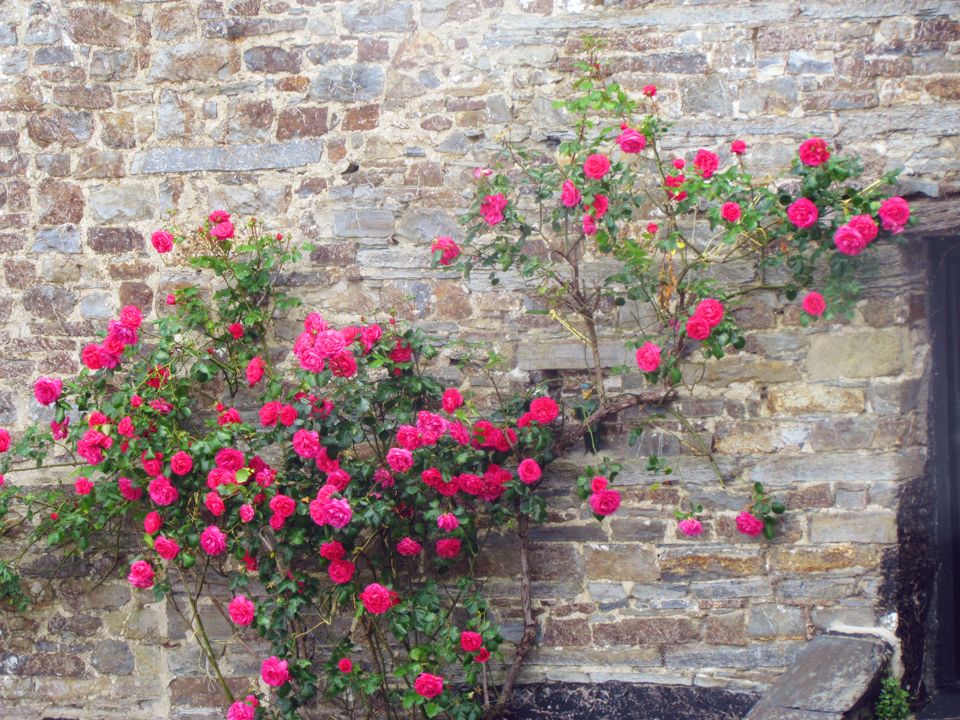 There are many pastel coloured terraces houses here and in the sunshine they look stunning especially with a tub of rich red geraniums on the window sill or a pink rose scrambling around a doorway. I tried to take some pictures of the coastal gardens that I've come across in an inconspicuous fashion but I sure wish I had a free pass to look at the back gardens of these fine houses and sweet cottages. A quick check that nobody is looking and snap, snap....
Red valerian is prolific in these parts and every time we go on holiday I want to grow this pretty red to pink flower at home. It is growing from walls, on corners, through rusty gates, in glazed pots, from nooks of cottages and basically everywhere. A couple of years back in Dorset I looked around at many garden centres to buy it to take home. I eventually found some but alas it did not obviously like the northern weather and has hence disappeared from the pot it was planted in. I suspect that it got water logged over the winter and the roots simply rotted.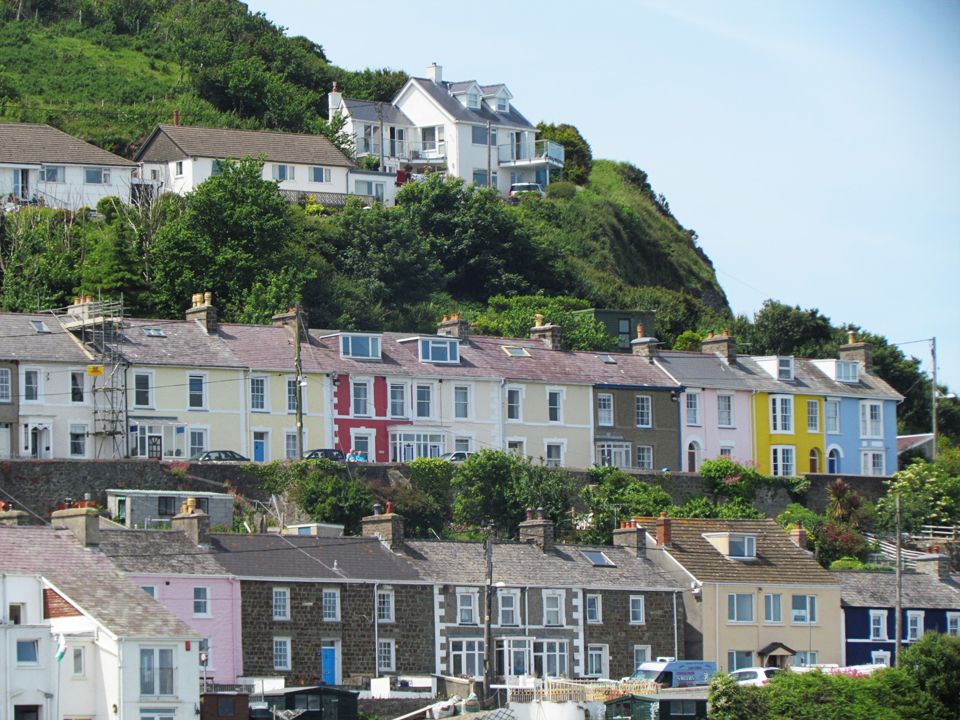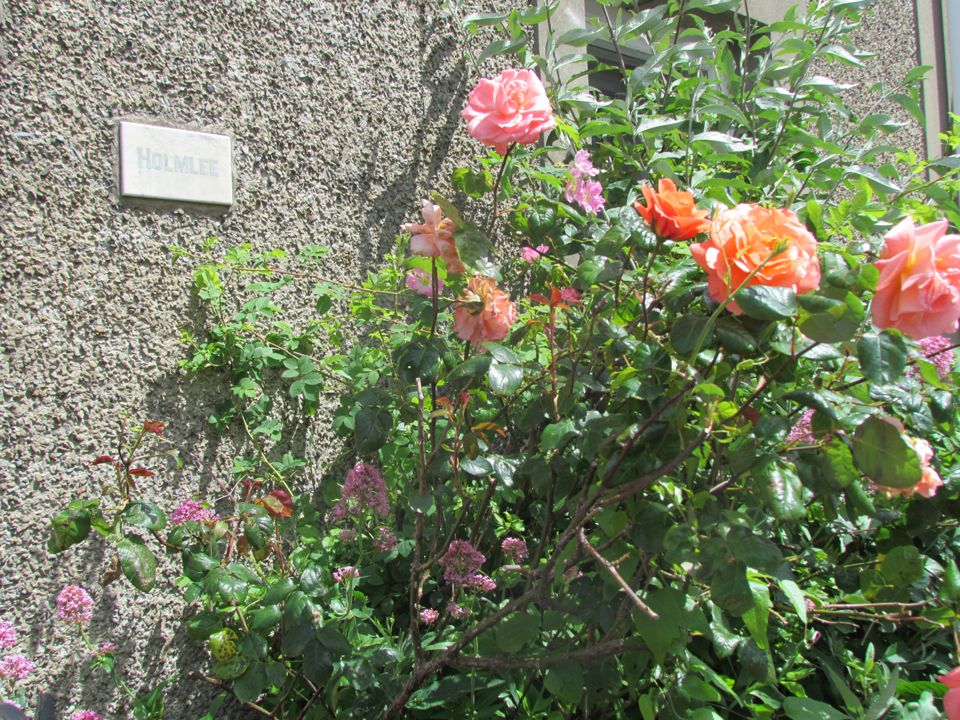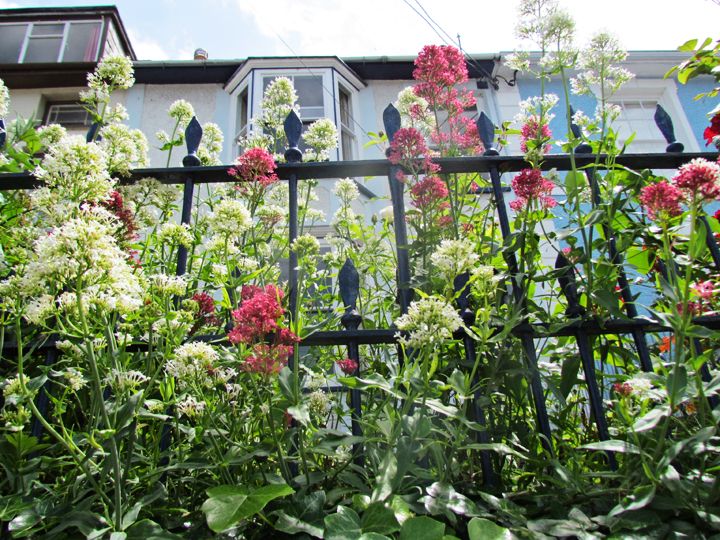 Roses seem to be very popular but of course it is rose month, since June to me is when most are blooming like my pink fairy rambler at home. The sight of a pretty reddy pink roses scrambling up a stone wall against a blue sky makes my heart sing. Also in full glory at the moment are the majestic foxgloves (Digitalis purpurea) and the lime green Lady's Mantle (Alchemilla Mollis). Hanging baskets are starting to flourish with petunias and honeysuckle is spilling over walls and fences everywhere with the bees most grateful.
I loved the little snippets of gardens that I saw. Even haphazard collections of pots look delightful and in keeping with the quirkiness of the houses they surround the entrances of. I am enamoured by walls with valerian and small rockery plants peeking out of cracks and crevices. A whole row of snap dragons (Antirrhinum) in the brightest yellow was a reminder that I love this plant and for the nostalgia it brings me. Who can remember pinching their fingers together in the petals and making that snap? I must grow some as I'm sure Little Bird would find them quite funny. They are actually a Mediterranean plant and frost tender so you have to be careful about when they get planted out.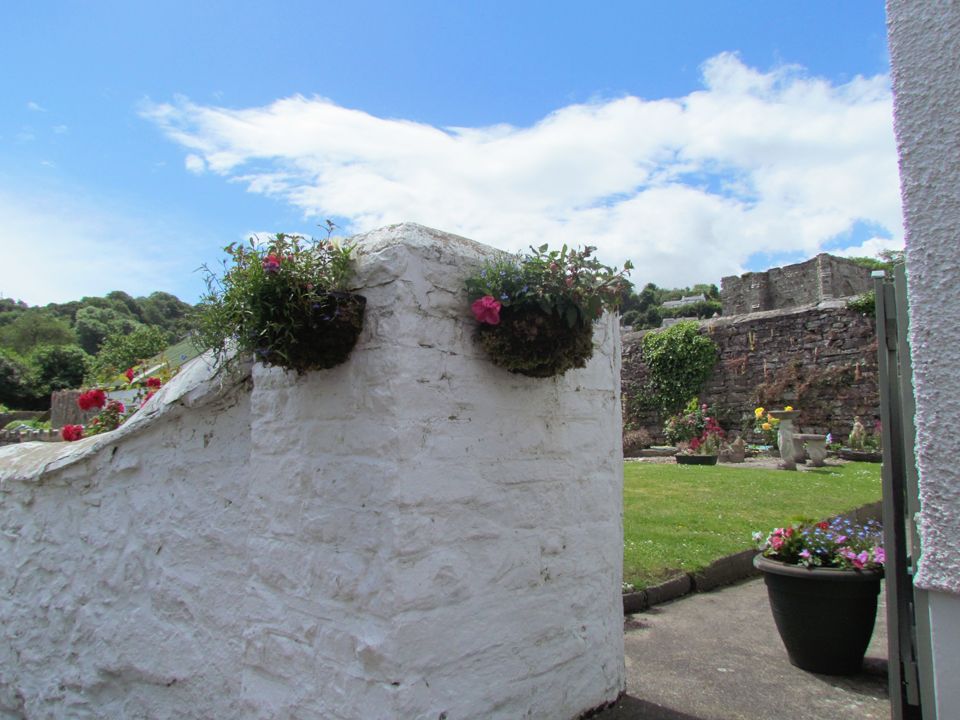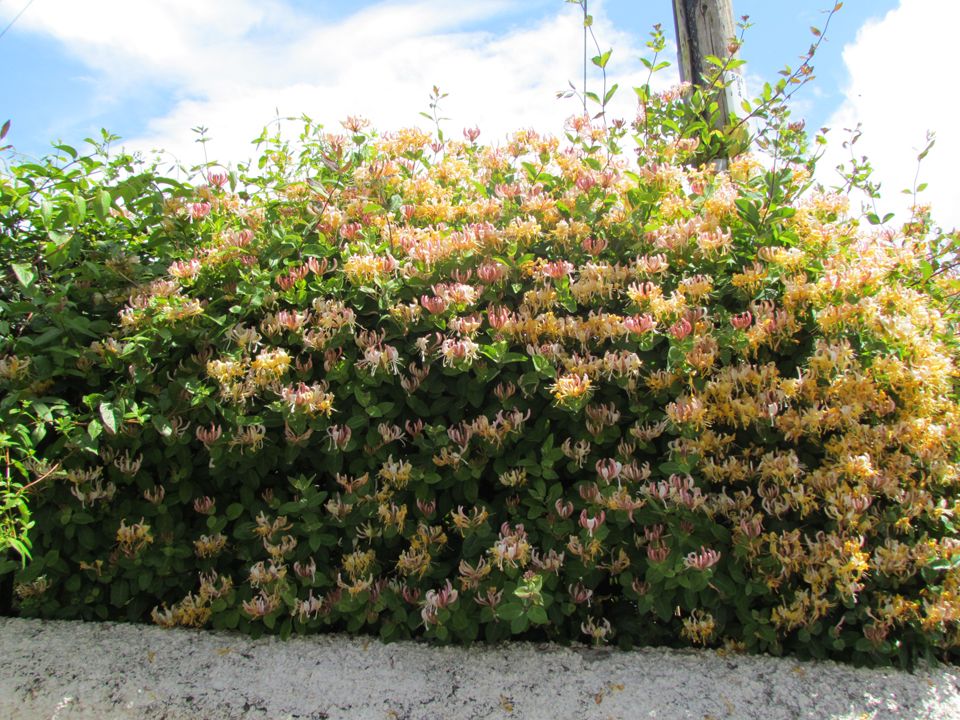 What I love about the gardens I have seen is that many of them have an air of make do and mend. Pots that don't match and makeshift planters filled with any mix of plants gives a certain charm and higgledy piggledy fashion that matches the houses and their character. Balconies and verandahs overlooking Cardigan Bay have an array of plants and I've seen veggies growing on them too, a clever use of a small space. What a view though. I think the beaches of Cardigan Bay are some of the most beautiful I've ever seen.
We visited a wonderful coastal village called St Dogmaels where there are the ruins of an abbey and we happened to time our visit well with a local producer's market. Opposite there is a large duck pond and we were treated to a gentleman playing the saxophone at the back of a garden by a jumbles looking summerhouse. It was all just so perfect and even as we were drenched in a quick cloudburst of rain, the man started to play 'Singing in the rain' A moment I will treasure in a corner of my mind forever. After pottering around the market we had a nosy at the ruins and the churchyard. The fringes of these areas seemed to be decorated with sweet smelling roses draped over coloured or white washed walls and brightly coloured gates. Seaside towns are so colourful and I'd love to take a little bit of this home and think about painting parts of the garden more brightly instead of the usual shades of green. Bright glossy yellow and sky blue would be a happy sight. Accessories too such as old nets pinned to walls which I have tried to do at home and need to complete my inland seaside garden in the small alleyway at the back of our garden. Usually tat shops are the best place to find items for seaside themed gardens so I hope to buy a few items on our travels. Don't you just love holiday shopping?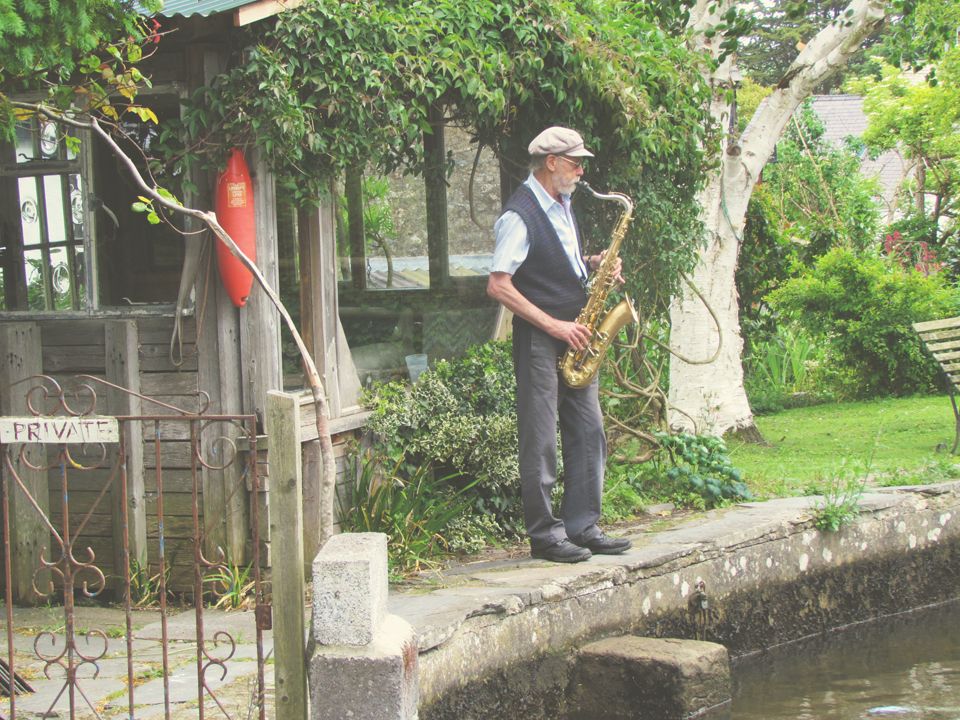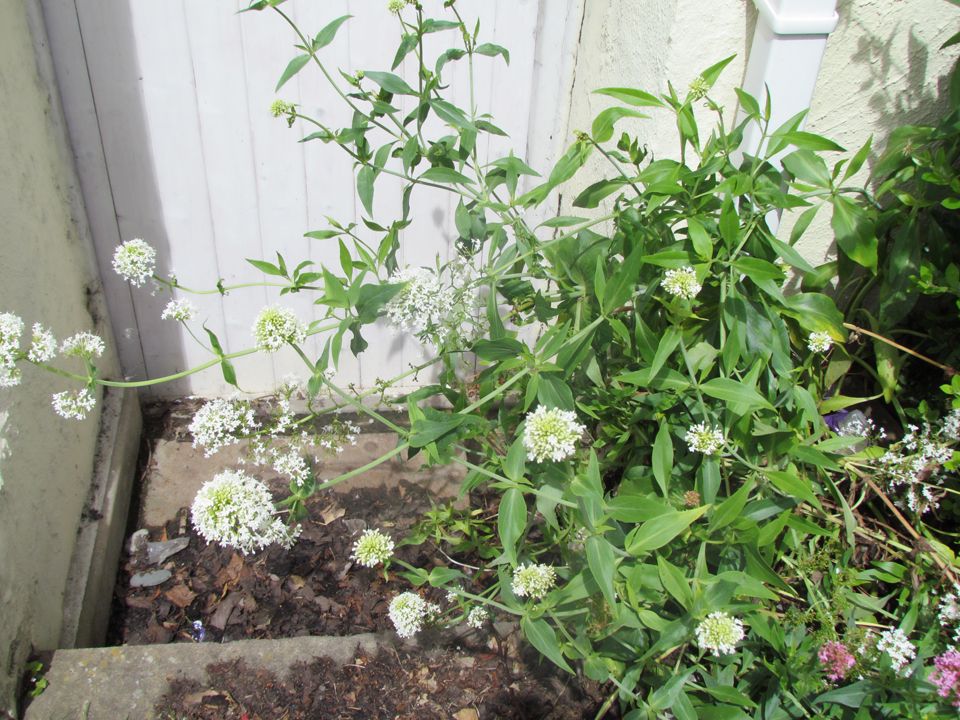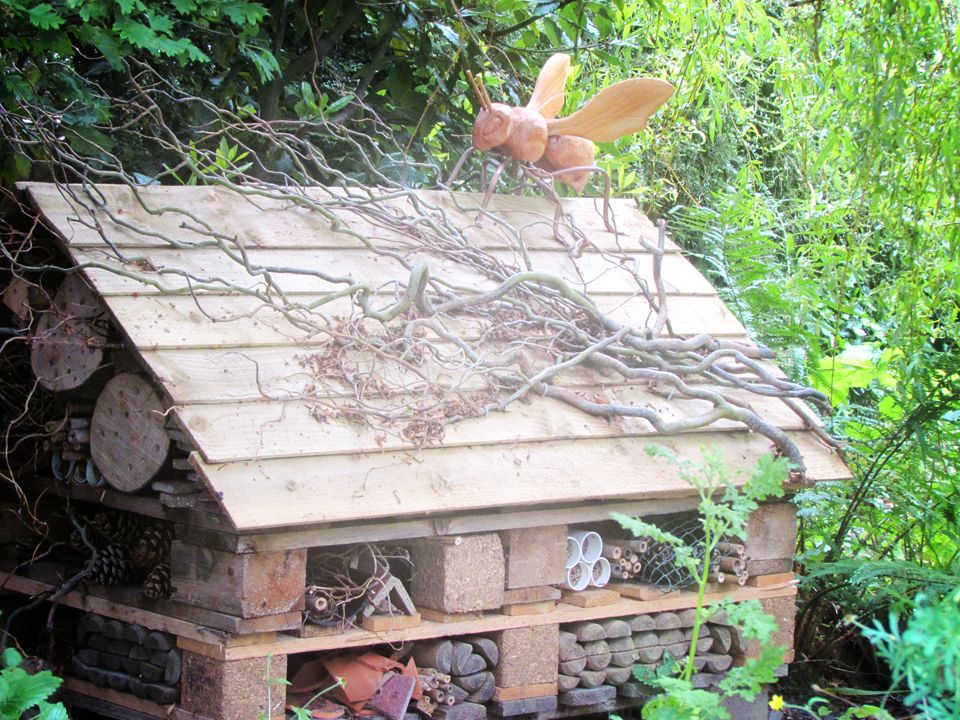 It is Day 4 of the holiday today so plenty more coastal gardens to hopefully photograph over the next few days to report back with next week. Hoorah to snippets of gardens seen through gates ajar and over walls as you come down a hill. Great little peeks. The caravan site we are staying at also has a little vegetable patch and a garden that I'm going to explore too.
Joining in with Mammasaurus for How Does Your Garden Grow.