After our Welsh holiday where we stayed in New Quay, West Wales I am now smitten with seaside houses. We did a fair amount of day tripping during the week from the scenic Ceredigion coast to a trip to St David's and Tenby on the Pembrokeshire coast. On our travels I saw so many beautiful homes and gardens in the picturesque villages we visited. Here are some delights I saw for a bit of coastal inspiration.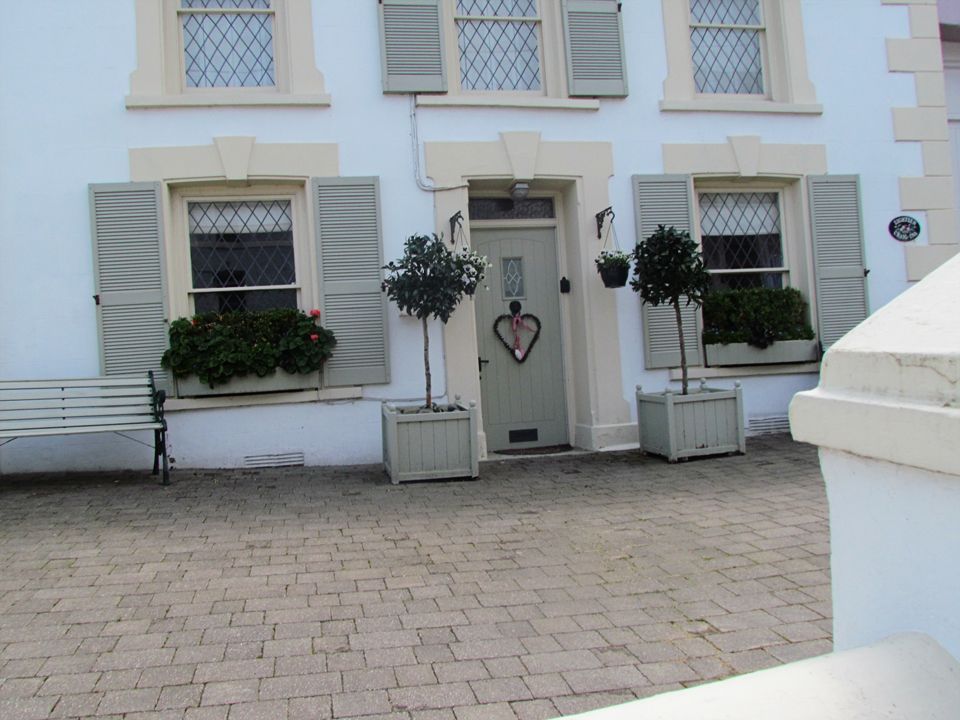 Pretty colour-washed houses with flower filled window boxes. Rows of rainbow coloured terraces that remind me of Balamory. I feel the desire to paint my house pink or yellow now but not sure if that would be ok with the neighbours and would look a bit odd in Cheshire. Why do seaside towns tend to have brightly coloured houses? I have read that it was so that sailors could recognise their houses from sea as they came back into the harbour? Maybe? I also read that it was once to cover the cheap local stone that the houses are made from and to weather proof. Probably.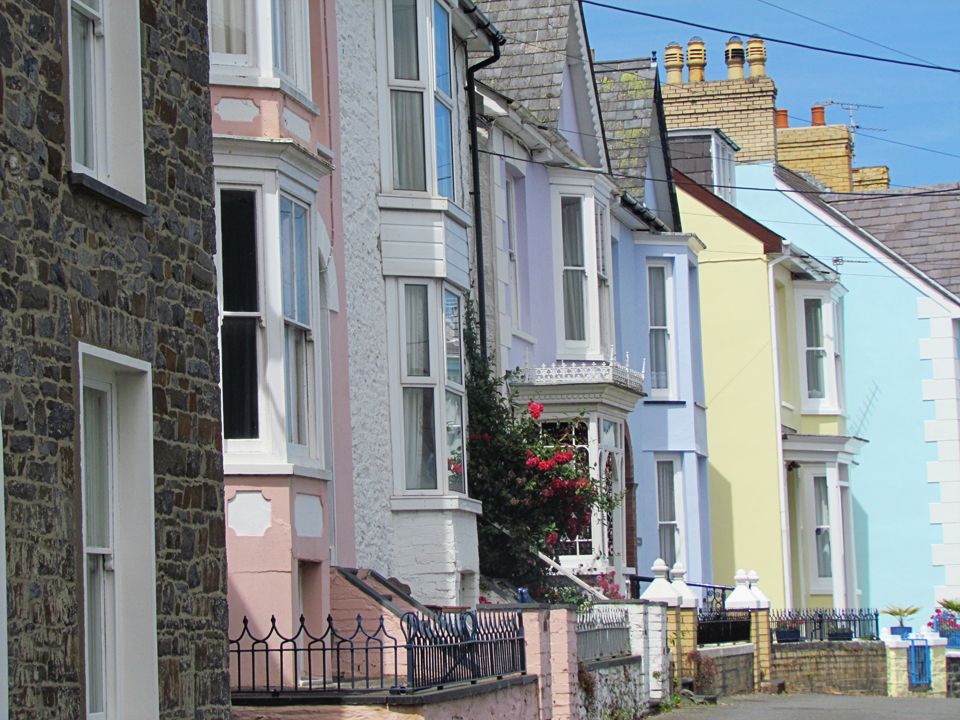 Perhaps a compromise for suburban Cheshire would be a bright pink door like this house which is actually a holiday cottage. You can see their web address in the picture, I had a look and there are so many pictures of the interior too which is superb. I also now want coastal inspired rooms too! I love the box topiary cones in matching pink planters. I would like to try this at home and paint my plastic plant tubs up.
Traditional cottages with a quaint charm and quietly tucked away homes were found on coastal walks. These gardens were separated from their houses by the Wales Coast Path which is a public right of way. Dragons, gargoyles aplenty and gravel gardens with tall daisies, valerian and bright red geraniums. I also loved the nautical themed gardens with crab pots used as garden decorations with pebbles and shells - an idea I will most certainly steal and I've a little collection already of different types of seashells and smooth pebbles. On the lookout for a used crab pot now on my next travels….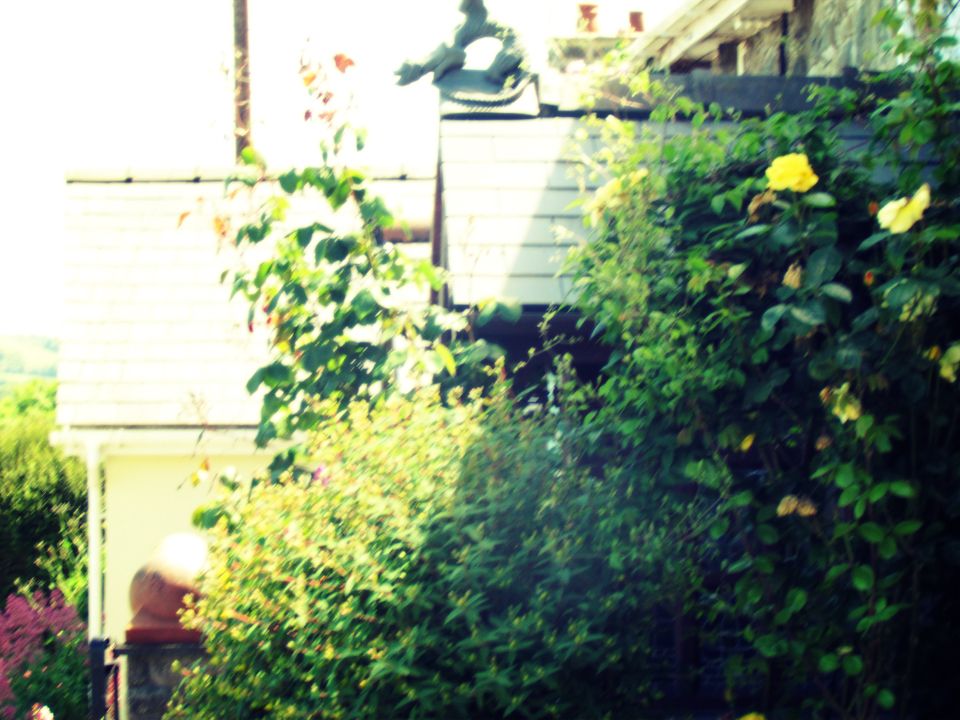 I love the front gardens of these Period properties. Many had benches at the front and I saw plenty of people sat there enjoying a glass of wine in the evening. That would suit me perfectly, not the wine but the community aspect. I'd say hello to passers-by and watch people go about their business. The back gardens were quite often a small yard or patio with a table and chairs and potted plants. Who needs a large garden though when you are all but a walk away from the beach.
Some grew vegetables in the front gardens. Runner beans grew up canes and there were pots of tomatoes. Decking terrace gardens with dining areas for entertaining with chimineas, bunting and lavender spilling through iron railings – this is all just bliss to me. Palms and spiky cordylines in many gardens as is the norm in UK seaside resorts.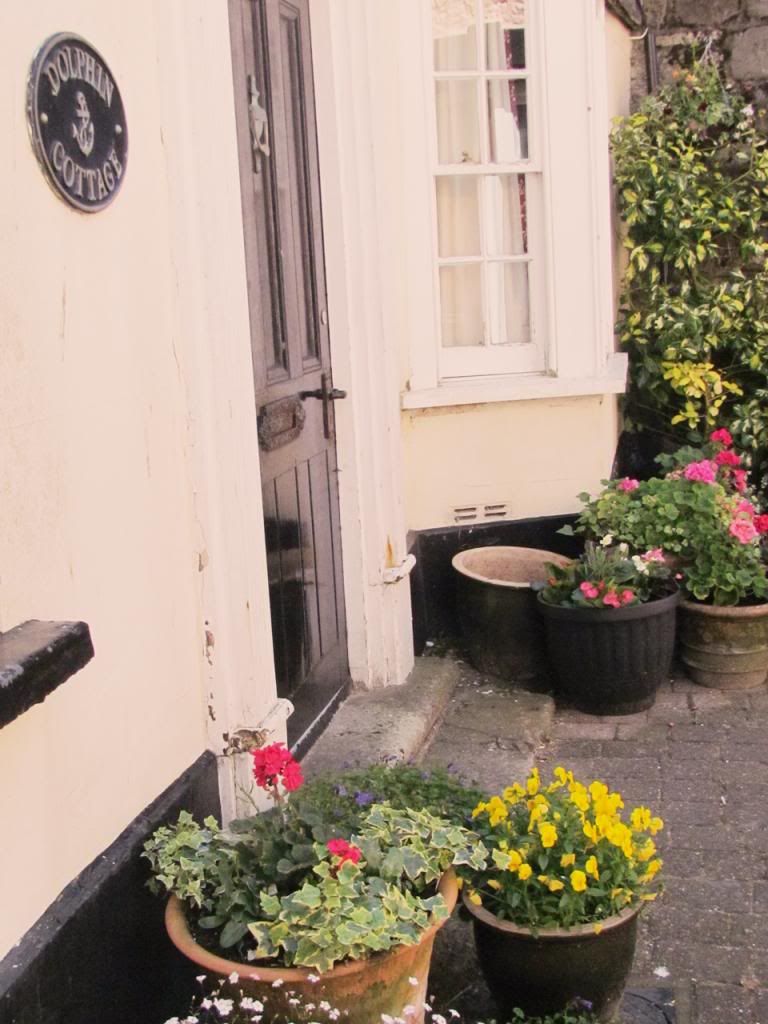 Houses nestled into the hillside with amazing sea views. I could easily imagine waking up and looking out of my window at all the fishing boats bobbing about. I'd have a telescope and some binoculars as there are bottlenose dolphins regularly seen in Cardigan Bay. We were fortunate to see some from the elevated view on a coastal walk at Mnwt. Two playful dolphins could be seen having fun by the rocky shore. A magical moment although I was slightly on edge with a firm grip on my son. We were not near the edge but he picked this moment to have a huge tantrum and the height and the crying then made me worry.
Grand villas with gardens on different levels.
Pots everywhere! A perfect looking hosta - does the salt air keep the slug population down? :)
Houses and their gardens in coastal towns are so quirky. I love the bright colours and the wide range of artistic expression. I adore the house names that they all seem to have and even the curved lettering. The orange of the nasturtiums is a great clash with the purple door and I love the rustic gate. Looks very spiritual here.
Blue paint details and pinky geraniums are perfect. Geraniums are one of my favourites; cheap, don't get eaten and last all summer and beyond. They also withstand the heat well and are tolerant to drought. If I forget to water them, they don't keel over.
The Georgian harbour town of Aberaeron had very smart coloured houses with respectable pots filled with pansies and the like outside. All very symmetrical.
I loved this house in Borth, which is north of Aberystwyth. It is a wonderful wood panelled house and I think the painting they have used, purples, whites and blues goes so well. At the side they had a shed and a woodstore painted up in whites and blues so very beach hut like.
This old coast guards cottage certainly has a garden area with a fantastic view. How do you fancy having morning tea overlooking the bay. For sale at the moment!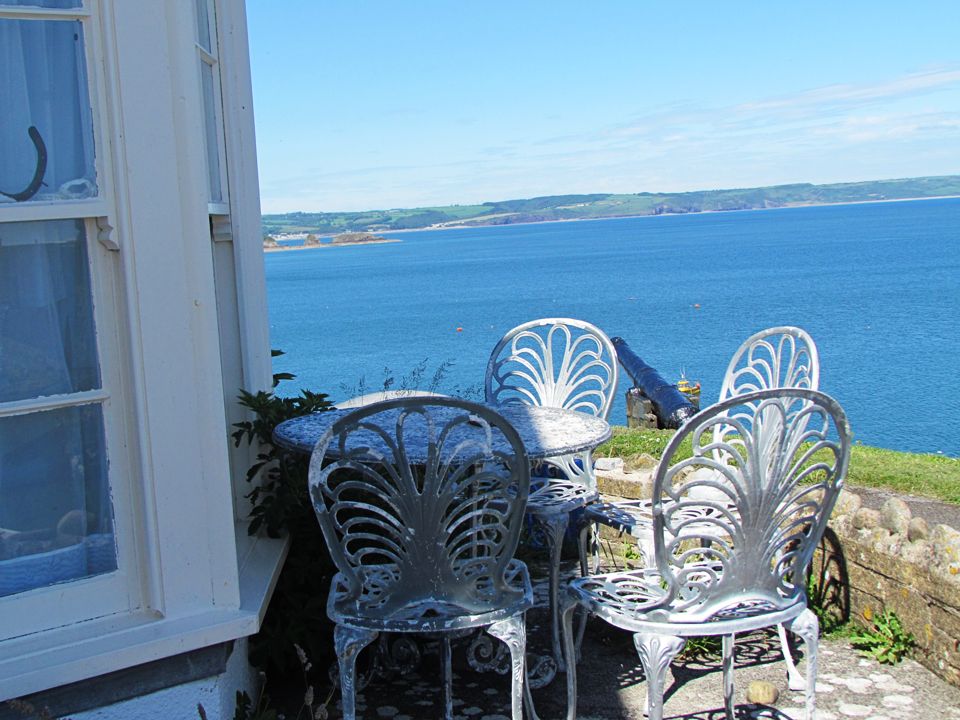 Joining in with Mammasaurus for How Does Your Garden Grow?