The pumpkin fairies told me that they'd quite like a party this year to celebrate the spooky season. Of course I obliged and they set about with their mischief and lantern making.
I left them to it as they carved and cut and glued causing spices and pumpkin juice to be spilt everywhere as they weaved their magic from one room to the next. I didn't want so many decorations but who am I to argue with precocious pumpkin fairies.
Invitations were sent to the local spooks with the promise of food and a bit of a Monster Mash.
Quickly, I got out my broom to give the house a good clean before the skeletons came round - they don't like cobwebs on their bones! Just my pointed hat to find now.....
The evening arrives, lights are flickering and there's stardust in the air. The pumpkin fairies weave their magic dance welcoming all spooks over the threshold.
A welcome to you too, my mortal friends.............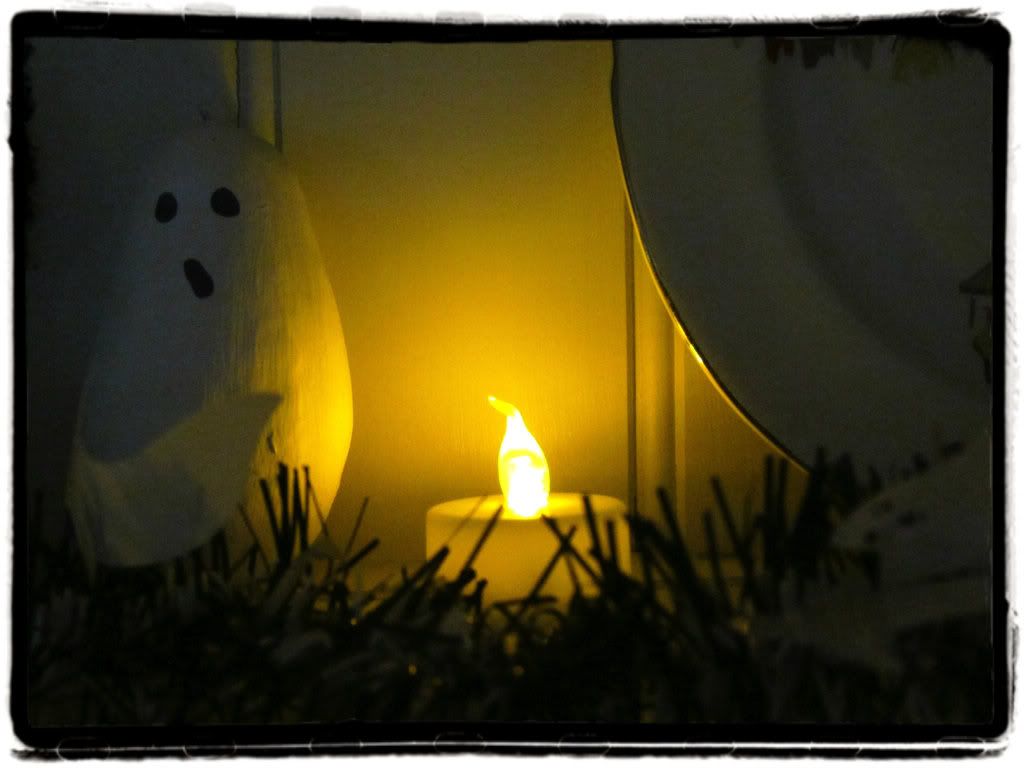 Mummy and Warlock began the dancing, throwing shapes to the music of the vampire disco.
At one point Mummy had her bandages trodden on and was most angry with the Warlock - he really should control his clumsy left foot. Grrrrr!
Pumpkin juice flowed, providing much merriment to our grisly gang. The ghosts being so transparent should learn to take it easy on the juice as a few were quite ill and passed out causing the pumpkin fairies a real headache to sort out.
Cake, biscuits, crisps and candy were devoured. Not a crumb was left.
There were gatecrashers trying to get into the party, creeps skulking outside, enticed over by the magic sparkles flowing from the doors and windows. They were drawn over from far and wide but this was a small party and they were quickly sent on their way - sometimes with a scuffle or two from the magic of the pumpkin Jack O'Lantern door guardians.....
Jack O'Lantern power is strong and they soon sorted any menacing spook pests from causing a disturbance. Always wave hello to these protectors sat outside weathering the storm on Halloween night. Look carefully, they might wink back
.
It was time for the annual story telling competition - who would tell the scariest? Witch, goblin, gnome or bat? Last year the skeleton won with the story of the Not So Funny Bones but this year we had a new winner.
Big Frank won with his gruesome narration of the Werewolf''s Mistaken Identity ( based on a true story) I actually thought it was amusing but not to the Werewolf who had his coat clipped and treated to a shampoo and set and was thus taken home, called Fifi Trixabelle and given a bone, errrrr I mean a tin of Hills Science Diet. Sorry skeleton.
I was urged and urged by all my kooky guests to find my book of spells - an old tome handed down to me by my great grandmother. I'm a bit rusty so who knew what might happen. I collected the ingredients - hair of a dog, slime of a frog, earwig's tail and a pinch of ground up gourd seed. To complete the party I thought I'd cast a spell to create the most wondrous creature to entertain us all. Pow, kazza, wizzam wazzam woohoo woo......
It was all too much for some to bear and shock resonated across the smaller members of the party clan.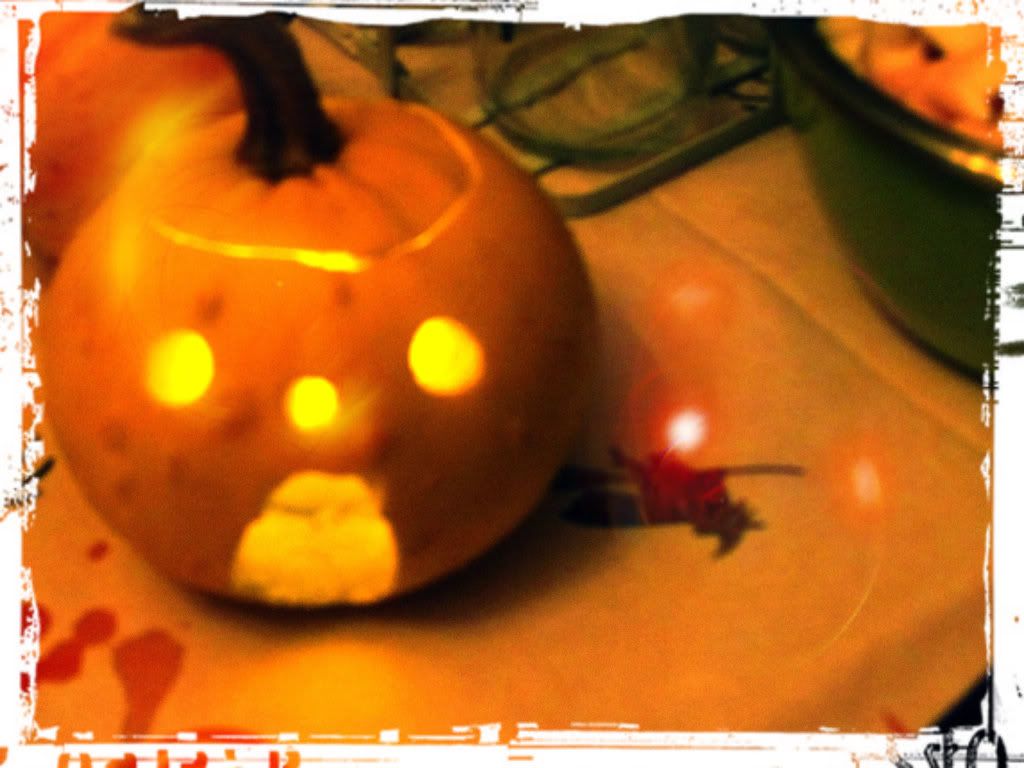 In a flurry of flowers and into my arms appeared the most beautiful golden haired child.
The whole of the group cooed and cuddled this mischievous imp, chasing him around for the rest of the evening, picking up his toys and dancing him around to ghoulish rhymes and songs.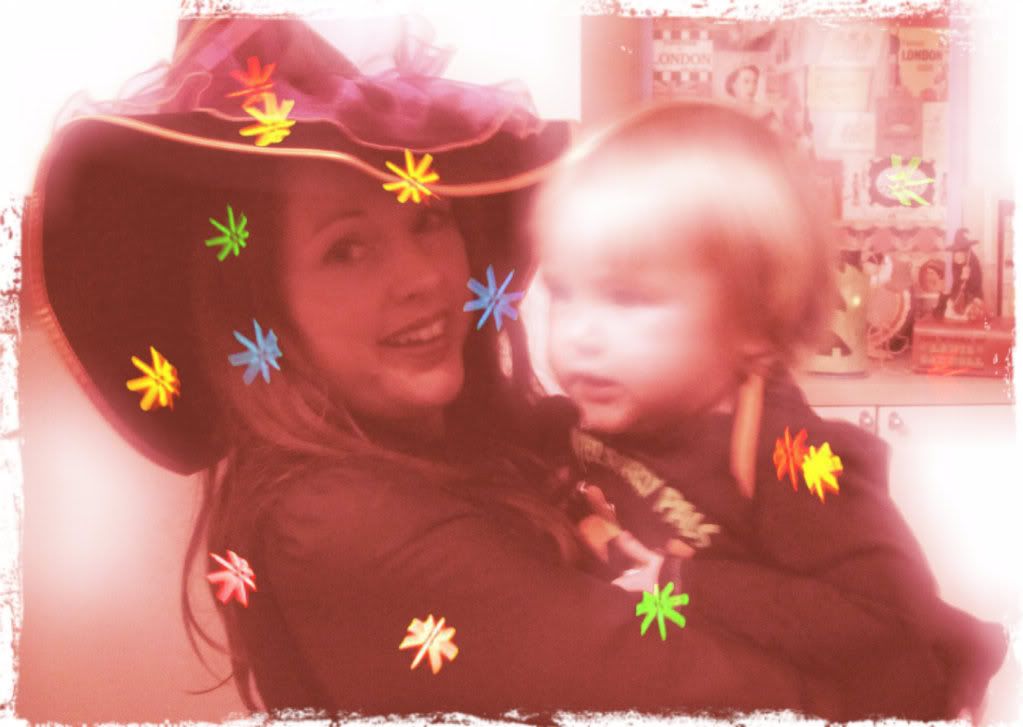 With a jingle jangle of keys, our party pooper was skeleton, still upset by the thought of being offered to the werewolf to chew on, he had decided that it was time for the spooks to all go home to their graves/coffins/belfry/covens......
Tired out, the party goers were happy to leave, especially since there was so much mess and they didn't want to get roped into tidying up - nothing new there. Chief pumpkin bid them all goodnight and they went on their wicked way home. Not all made it as I found one of the gourds asleep in the hedge but I just left him there and covered him with an eiderdown of Old Man's Beard as he was happily snoring.
I bid you all goodnight and Happy Hauntings to one and all.
{Please see all the other party goers at A Fanciful Twist who is the Queen of Halloween}