The April garden was the start of my gardening attempts ramping up again. Plans made, seeds bought and renewed enthusiasm. The Amelanchier lamarckii (snowy mespilus) came into blossom in the second week looking gorgeous with white against bronze leaves, it's a lovely tree for a small garden and the birds like the late summer berries too.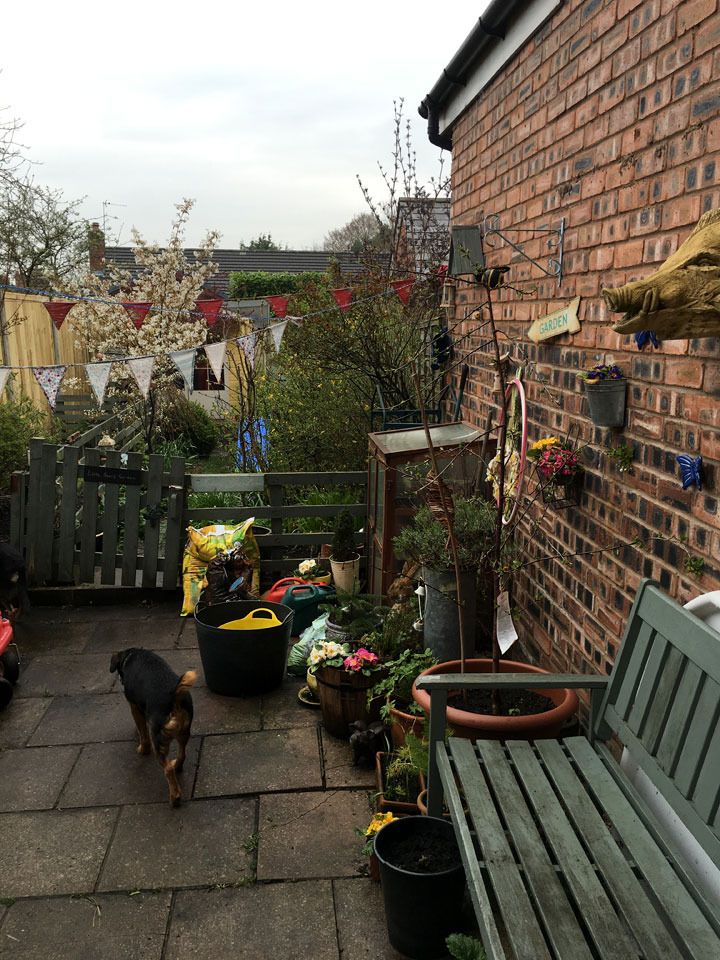 On the patio area is the mini greenhouse and the area where I do all my potting up and seed planting. In the summer months the bench will become my favourite place for a cup of tea but for now it is some extra space for seed trays and pots. I've planted mostly everything now - well first succession anyway, broad beans, French climbing beans, pumpkins, squashes, courgettes and sunflowers. There are some onion sets there too and lavender plugs from a the 72 plugs I ordered of cottage garden plants. The rest are in my kitchen as the mini greenhouse seems to attract every slug and snail in the neighbourhood and I want all my plants to grow so the garden is filled with delphiniums, carnations and coreopsis.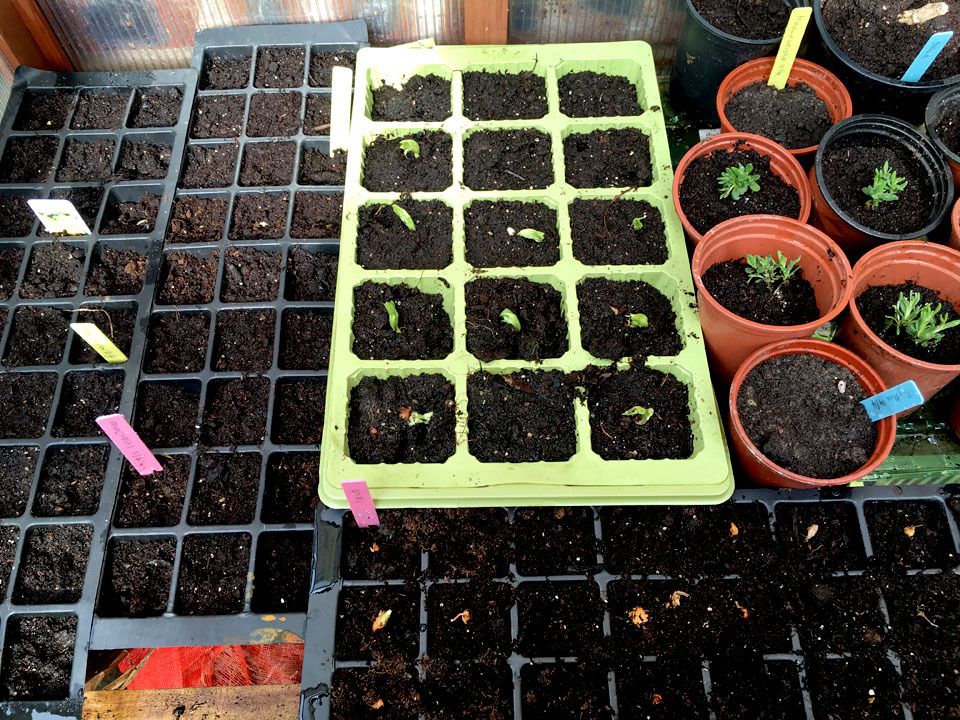 I start moving plants around and creating new tubs of primroses. herbs and other plants I find lurking. I've been dividing perennials such as Lady's Mantle and moving strawberries. The strawberries from the allotment are to be dug up and moved into pots in the garden instead so I can keep a closer eye on them, at the allotment they simply get eaten by birds, slugs etc.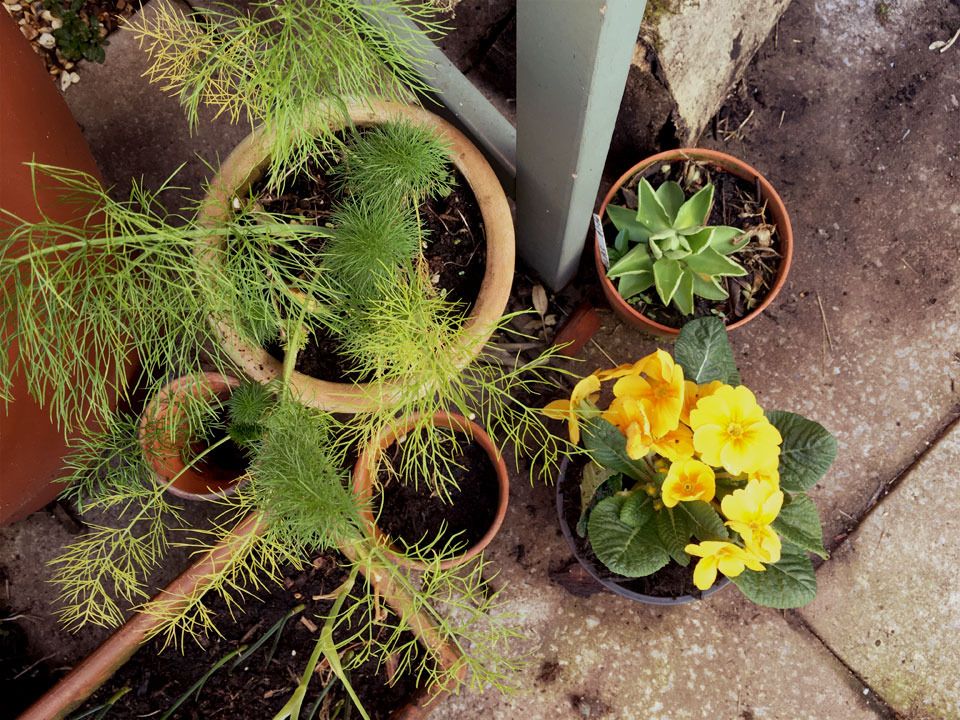 A primula I moved into the potager style bed I'm creating.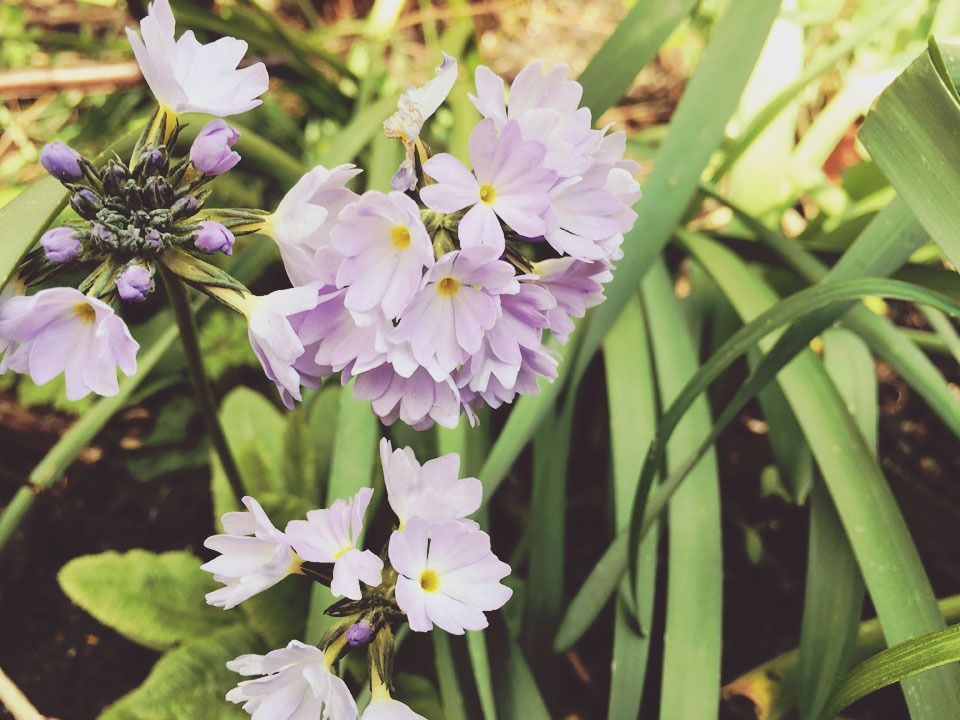 The terrier who wants to help but does little aside from trampling seedlings and plants or rolling in dead worms or slugs.
I have lots of plants reappear which is great and saves money so hopefully tubs should fill up nicely for a pretty look on the patio. I'll be buying plants throughout the season, adding to the collection but really I don't want to spend a lot at all. I usually pick extra plants up at Aldi as they are reasonably priced and it's nice to buy new plants on our travels, honesty stalls, farmer's markets and garden nurseries.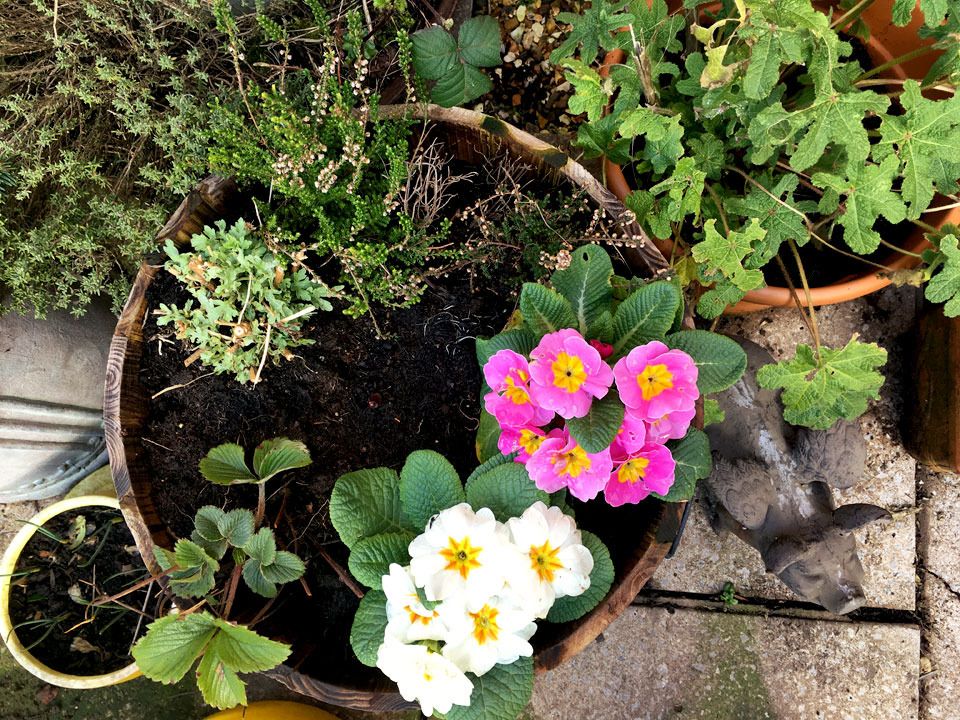 Of course Little Bird loves the garden too, he likes to sit on our rocking bench further down the garden by the honeysuckle, often standing on there to peep over into next door. We bought him a new water table to replace the one that broke, lots of scoops and pouring going on. Really need to tidy out his yellow play shed and find old favouites in there such as the red wagon and market stall. No doubt there will be plenty of spiders in there and mildew to wipe away. LB likes to enthusiastically water all my plants :)
April was a flurry of activity and May will be the same, more seeds to sow to replace any lost to slugs and plenty of potting up of my cottage garden plugs - some lost to damping off which is really annoying. The tiny bit of lawn needs re-turfing and the pathway relaying and I can't wait to compare to see how much everything has grown.
This is my favourite view over the rooftops and mine and my neighbour's garden. Some gorgeous sunsets over the last few weeks and it's a great spot for cloud spotting.