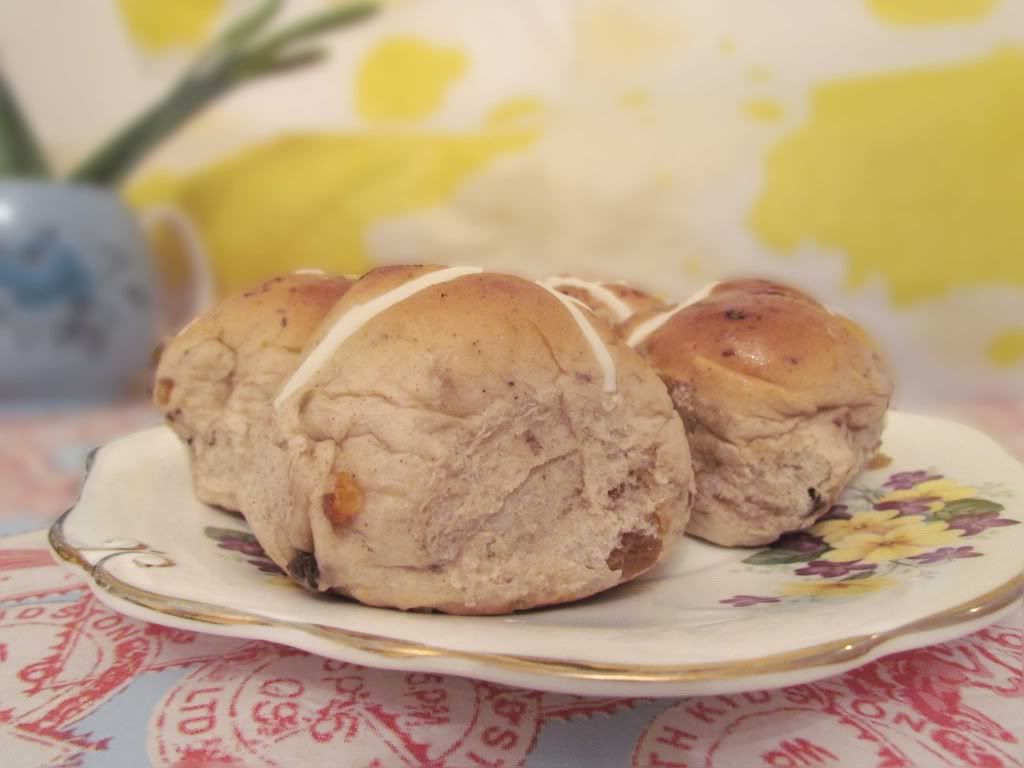 A

chilly

weekend but rather more ice than soft fluffy

snow

. The sledge still remains in the shed - I suspect for another year. I love snow but alas we just had the

icy

hail that made the footpaths hazardous and the roads not pretty.
We did our usual trip to the library where I found the My Daddy Cooks book and have been poring over that during the weekend. Foodie books are the best, I have a collection of some lovely ones, even if I do resort to the web to get a recipe every time!
A quick trip to the supermarket for treats -

hot

cross buns,

hot

chocolate and lots of massively reduced meat for Daddy Bird to throw into the freezer (not for me, I'm vegetarian) This is going to be a new Friday night ritual, we got a smoked gammon joint reduced from £7.49 to £1.89! Bargain!
As usual I spent a long time reading blogs - I do this through Bloglovin now, especially since Google Friend Connect will be just for Blogger blogs going forward. I seem to always have about 500 blogs to read every time I check in and it's really stressing me out. I follow a fair few in addition to all your pretty blogs that are heavy going - techie, design, photography techniques and Photoshop blogs where I like trying out the tutorials meaning that I'm not commenting as much as I'd like. Forgive me. I'm being a student at the moment, learning as much as I can about coding and design.
I have two
great
blogs to recommend for blog help and
trinkets
etc. you may know them already:
Pugly Pixel and A is for Ampersand. The latter is where I got the bunting in my banner from.
Finally, the weekend ended with watching The Wizard of Oz, recorded from over Christmas. I had never watched it before, I mean I know the songs but I had never sat and watched it straight through. Some great parallels with Alice in Wonderland, do you think so too?
Thank you for telling me about your wedding flowers, they all sounded lovely!
Oh and I put
fairy lights
back up - the kitchen is all aglow and
cheery
again.

Back to my beloved Photoshop this evening as the world outside is shrouded in fog and looks like a spooky film scene.