I've always had dogs, grown up with them as family pets bounding around the house and have them now - two scruffs that sleep on my sofa and want to have copious amounts of cuddles and belly tickles. Both my dogs are older, I take on dogs age 6+ from the dog's home and have had a few seniors now. With age in mind, I like to make sure they are as healthy as possible and treat them to great products. With that in mind I have had a look at the new website Bob Martin Vetcare to see what they offer.
Bob Martin is a well recognised name for pet health care that I have used products from before for my dogs. In fact Bob Martin have been running for over 120 years and now has their new website as the go-to place for cat and dog care from flea treatments to shampoos and combs.
An easy to navigate website helps you find the products that you require and there is a handy search facility too. The categories make sense and you can quickly find what you are looking for. I would say there isn't a huge product range under grooming but there is enough, sometimes having too much choice of dog shampoo for instance gets overwhelming. Conveniently Bob Martin have their own grooming products in handy packs so you buy Cleansing Shampoo and Ear and Eye Wipes together.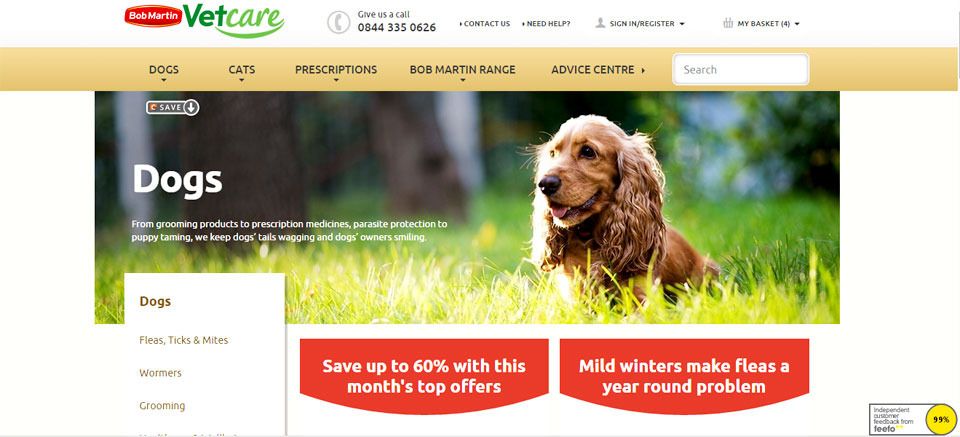 The site has lots of articles and videos in the Advice Centre. I enjoyed reading one on making healthy snacks for your dog and an article around arthritis in dogs which I've experienced before with one of my older dogs. You can request free advice from a vet by filling in a form but this is for general care and not for anything urgent of course but nice to know that the company does have this expert professional input.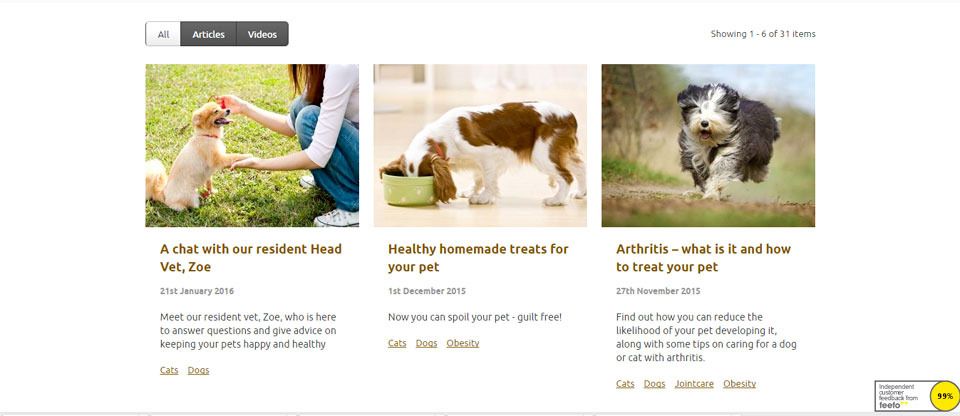 I was interested to see that you can order your pet's medication through the site too under Presciptions, they have a list of available one in alphabetical order. This is something I didn't know was possible as for anything more complex than ordinary medication I've always taken it away with me from the vet. But I have learnt, after all these years of having pets that you can in fact ask for a prescription for your dog or cat's medication and obtain it elsewhere such as this online service from Bob Martin. My old arthritic dog had Metacam drops so I could have obtained a prescription and ordered them here. Simply scan or photograph the prescription, a vet from Bob Martin checks it over and your important order is dispatched straight away. A quick check online showed me that Metacam would have been cheaper this way than buying from my local vets.
Checkout is extremely easy and what's brilliant is that there is f
ree delivery when you include any Bob Martin product in your order or spend over £25 -
standard delivery is by Royal Mail 1
st
class and takes 2-3 days.
I was surprised at the huge amount of Healthcare and Wellbeing products available - digestion products, dental care like Plaque Off which I have used before, all at reasonable prices. There are some great offers on products I've used with my dogs before and with the free delivery I'd really be making a super saving.
* I received some dog care products for the purpose of the review, words are my own honest opinion.