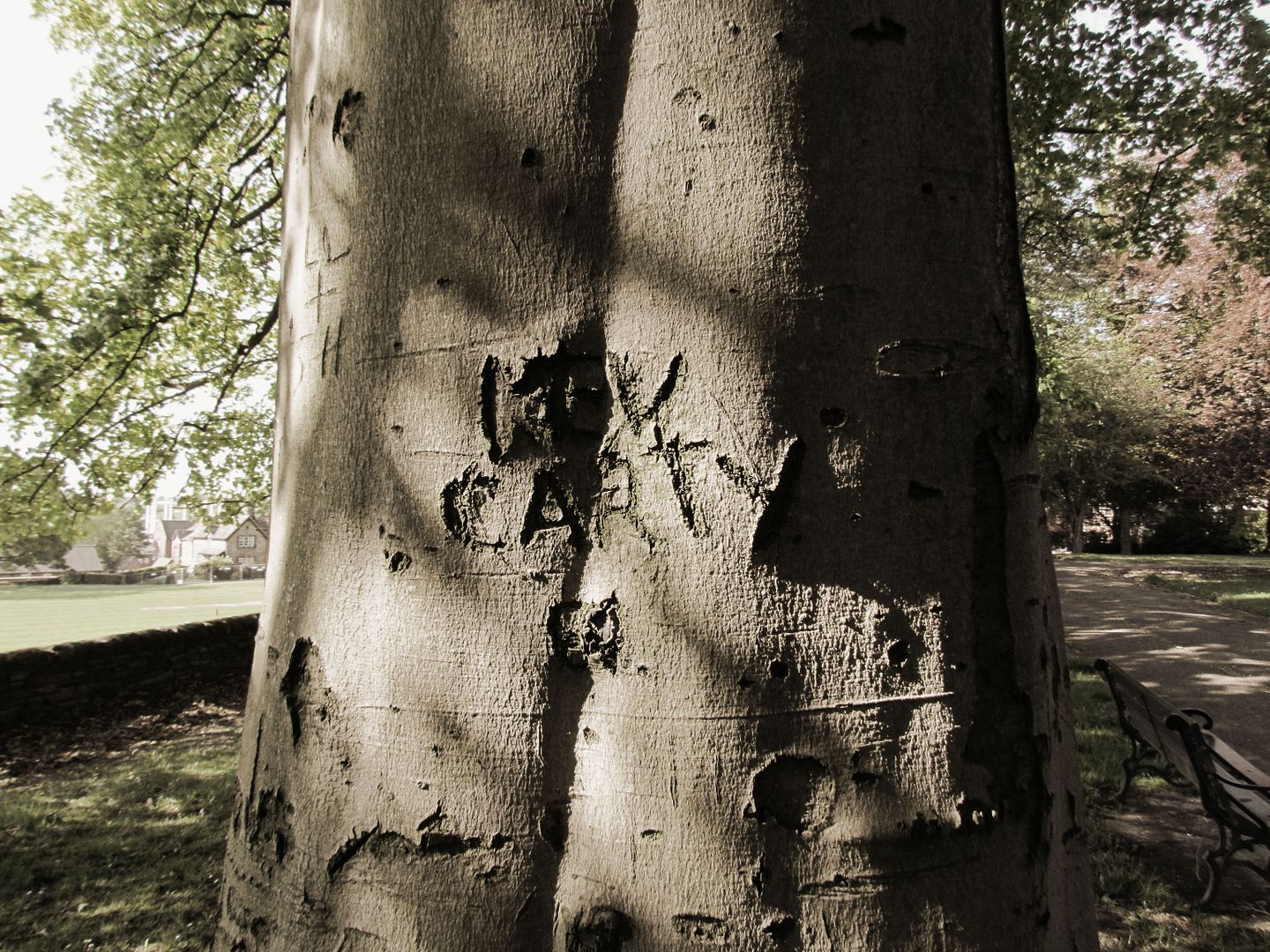 We had a stroll around Daddy Bird's childhood park. A typical Victorian park opened in 1894 with tree lined paths and a bandstand. A little quiet now compared to DB's memories. A little ghostly. He lived in adjacent flats, huge flats with hundreds of people living there. Now demolished and houses in their place. The park served as the play area for all the children in the flats of which DB was one. Child of the 70's and 80's, full days spent at the park, turning up back at home before dusk for your tea. How times change.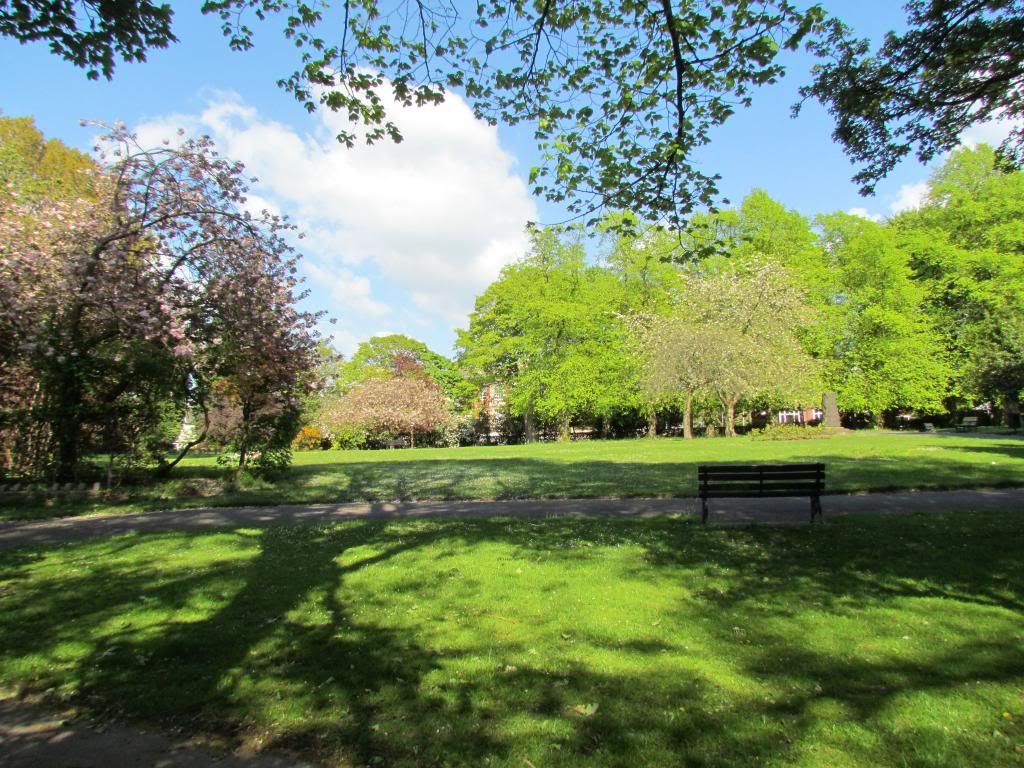 Running across the bowling green as a dare so the park keeper (parky) would chase you. Tee hee he. Knock a door run on the poor old man 'Jobby' that lived in one of the bottom flats and would hobble out with his stick. DB is slightly ashamed of this.
Looking for red squirrels, no chance of that now - only a few places with them in the UK. Murders happening, DB remember the body bag being taken out. How awful.
Making dens in the shrubbery and conker heaven in the autumn. The silver birch that in order to be a 'proper' lad you had to climb. Football matches between the different flats that lasted all afternoon. One of DB's friends called in for his tea every night by his mum blowing a whistle.
We strolled to the bandstand, a bit dangerous at the moment with one side of railings missing. Tut tut council. Obviously a park enjoyed by dog walkers, shame they don't all pick up. Yuk. I think I preferred DB's nostalgia. *Scrape, scrape*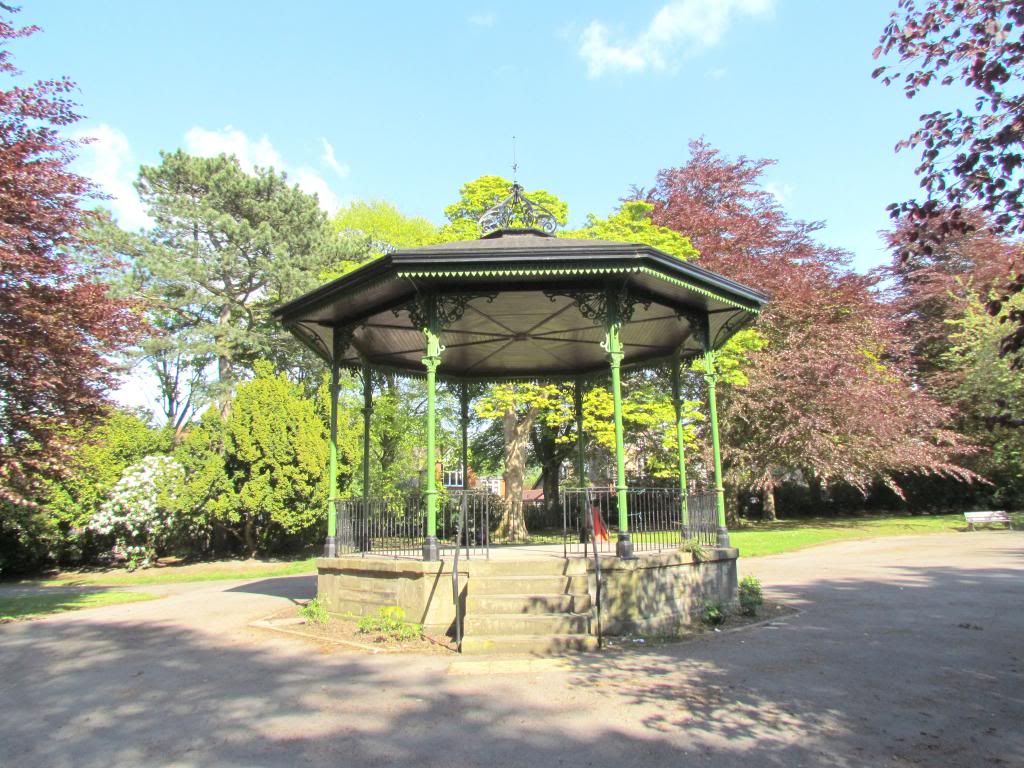 November bonfires in the 80's that got out of control every year, with the fire brigade having to turn up. An out of control dog knocking the firework display over so they all fizzled to nothing.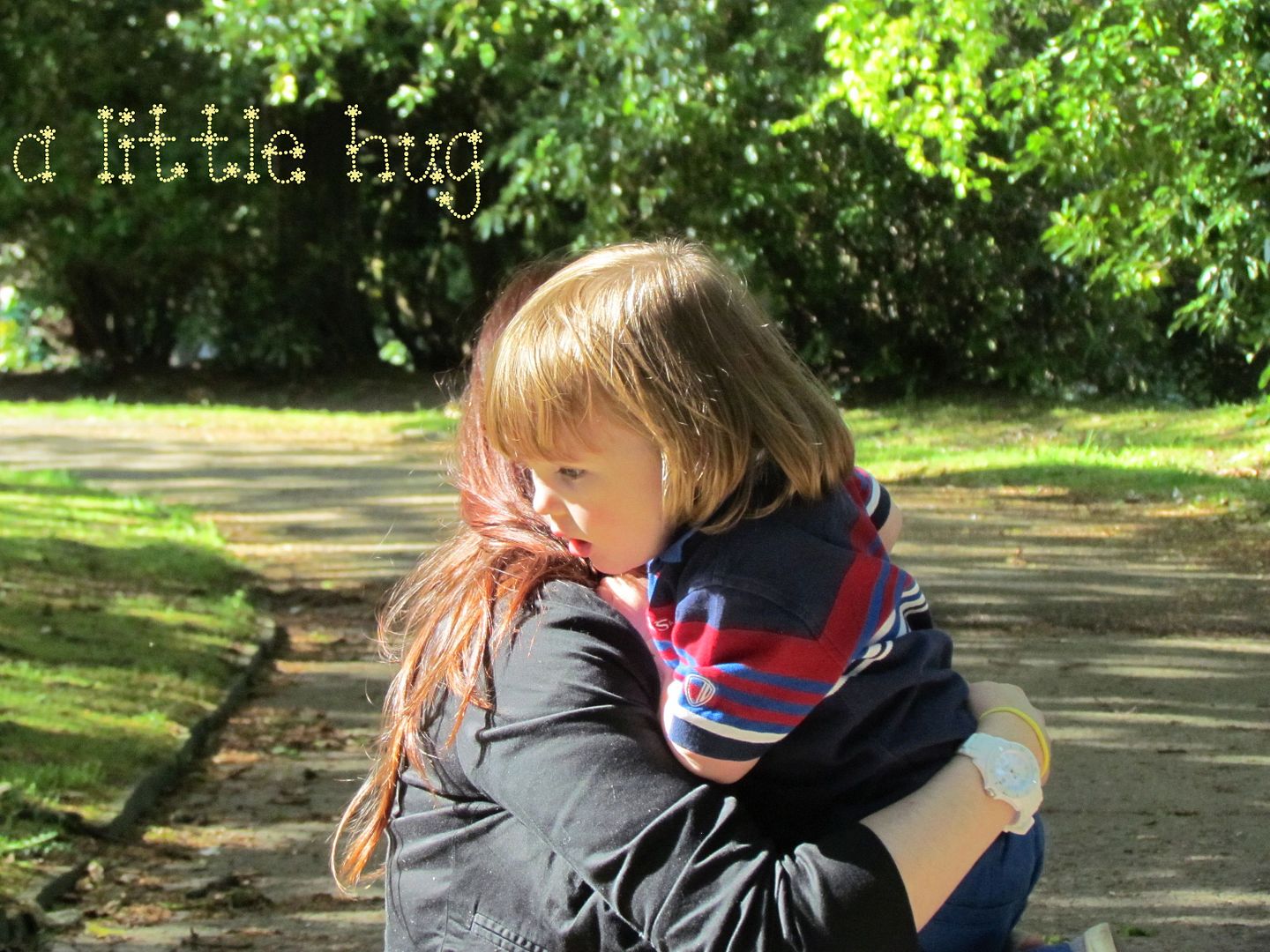 Full of daffodils and kicking footballs at the cherry tree so the blossom fell down like ticker tape. DB's sister sneakily smoking in the park and being caught.....Tennis tournaments, bike races and playing British Bulldog.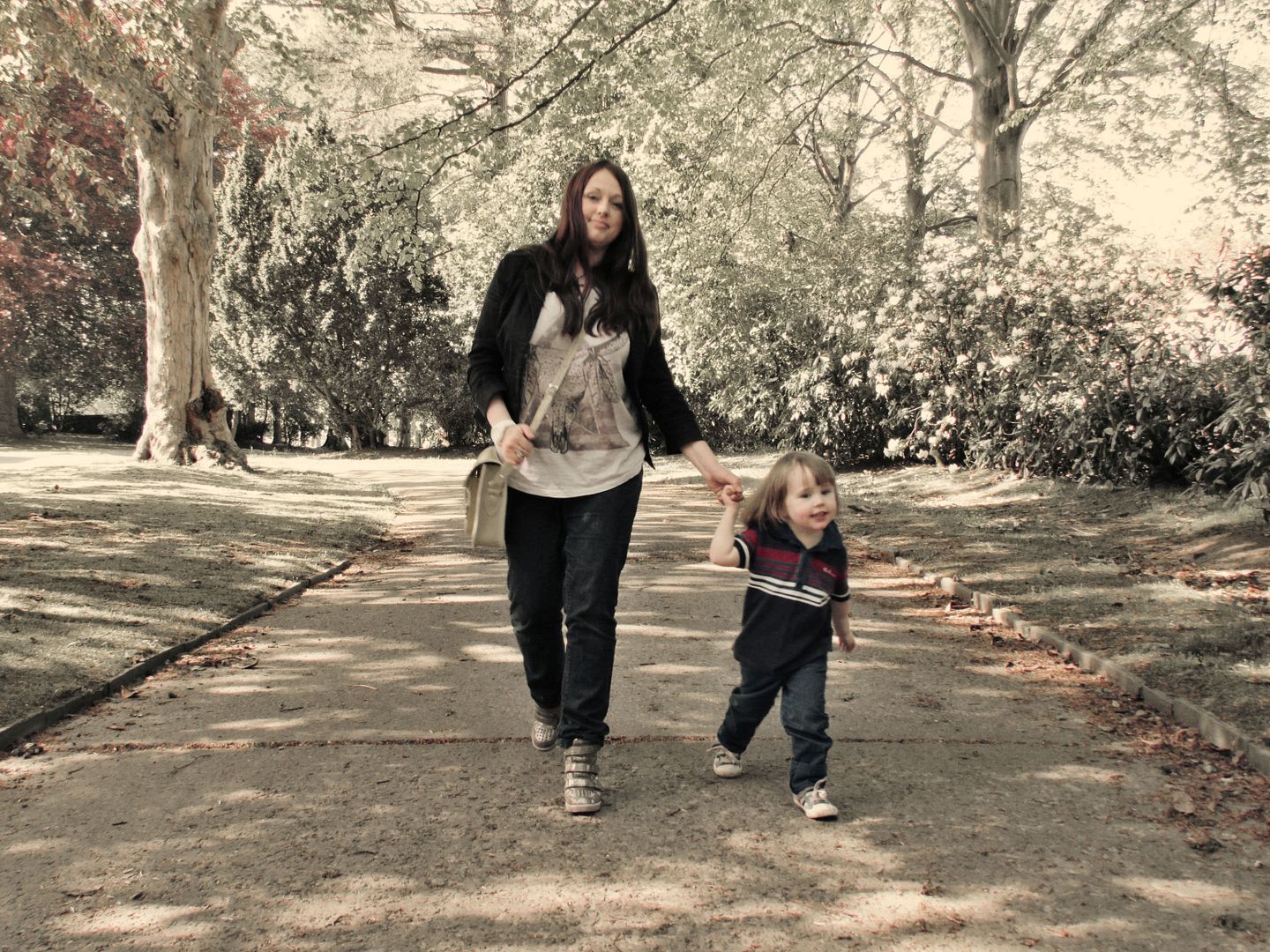 Lots of stories of sledging down Devils Bump on cardboard boxes or carrier bags. In summer shouting up to your mum and dad when the ice cream van turned up. 10p coins being thrown down from the windows and quickly grabbing them to get your '99' ice cream. Grass fights when the grass had just been freshly mown.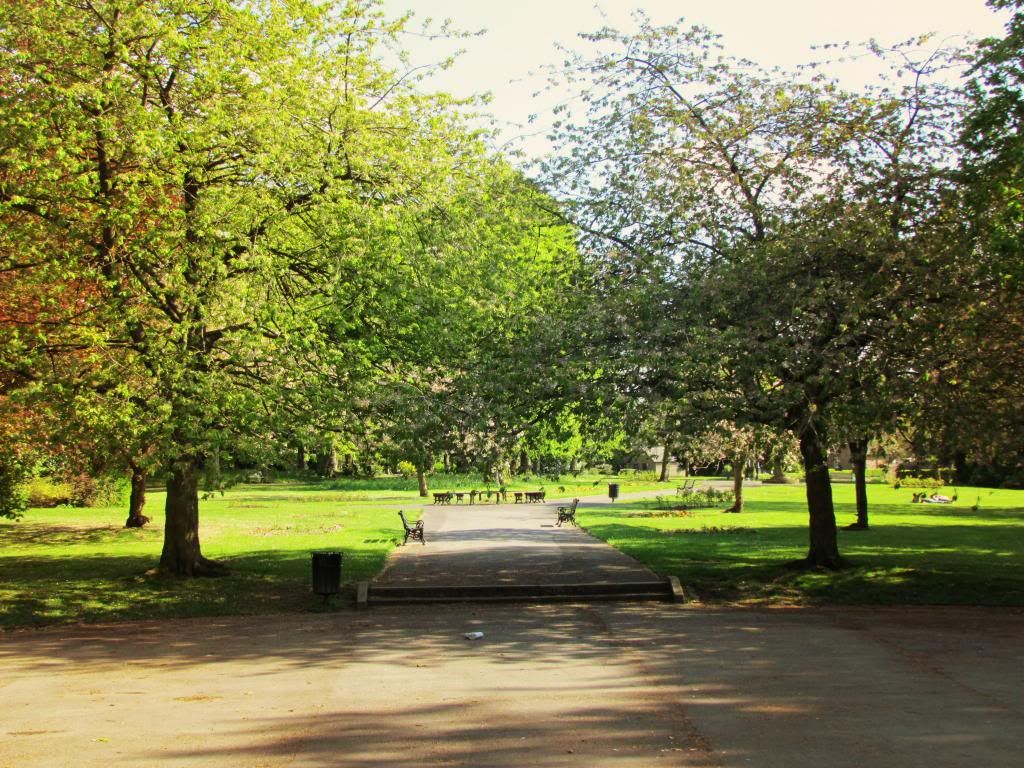 A very young Daddy Bird found a 'twig' and took it home to his mum one day. A gift of a flower for her. She still has it, it grew into a shrub and is in her current garden. The tales that greenery can tell.
Daddy Bird's old school, now a private girl's school. 'Twagging it' off school by doing a bunk out of the top fence and onto the canal towpath. What a beautiful building, I would like to look around.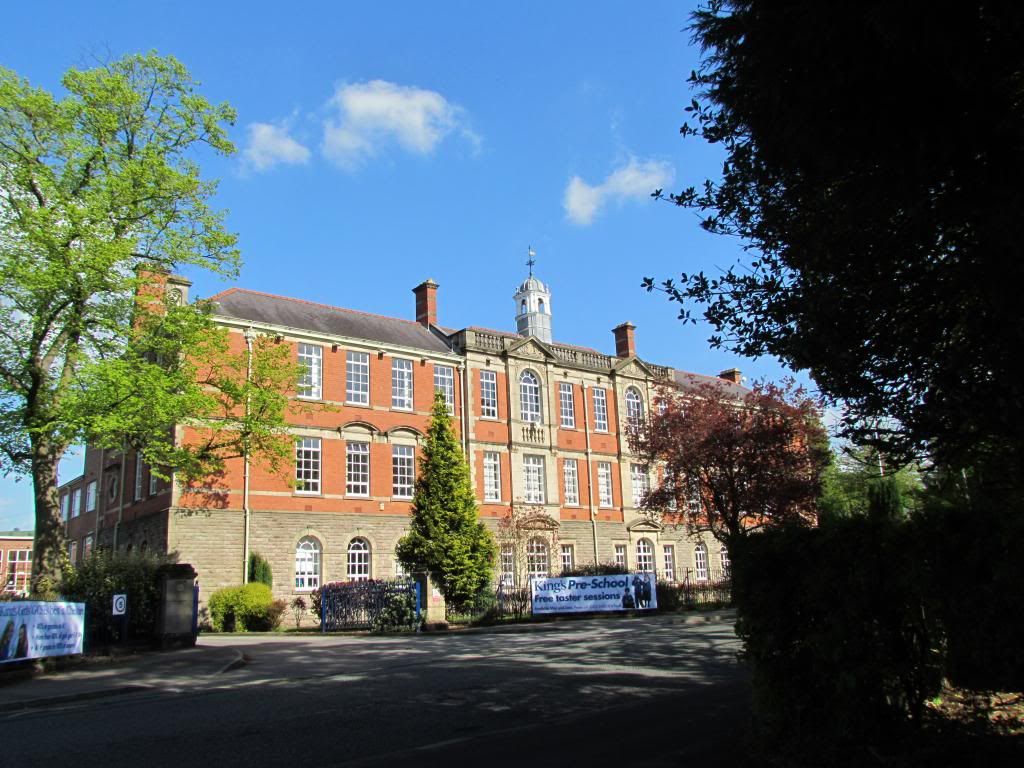 It was funny hearing all Daddy Bird's old memories but I don't think we will go back :( A little shabby and not much happening. I grew up opposite a park too and I'll show you that another time. Sadly it will be a similar story of a nice park becoming a bit dull or perhaps that is just nostalgia. Do places always seem better in the past? Of course they are entwined with our childhood and our fun at that time ignores the standing in dog poop or the broken bandstand. Play just carries on. Did you have a childhood park? What games and adventures did you have there?