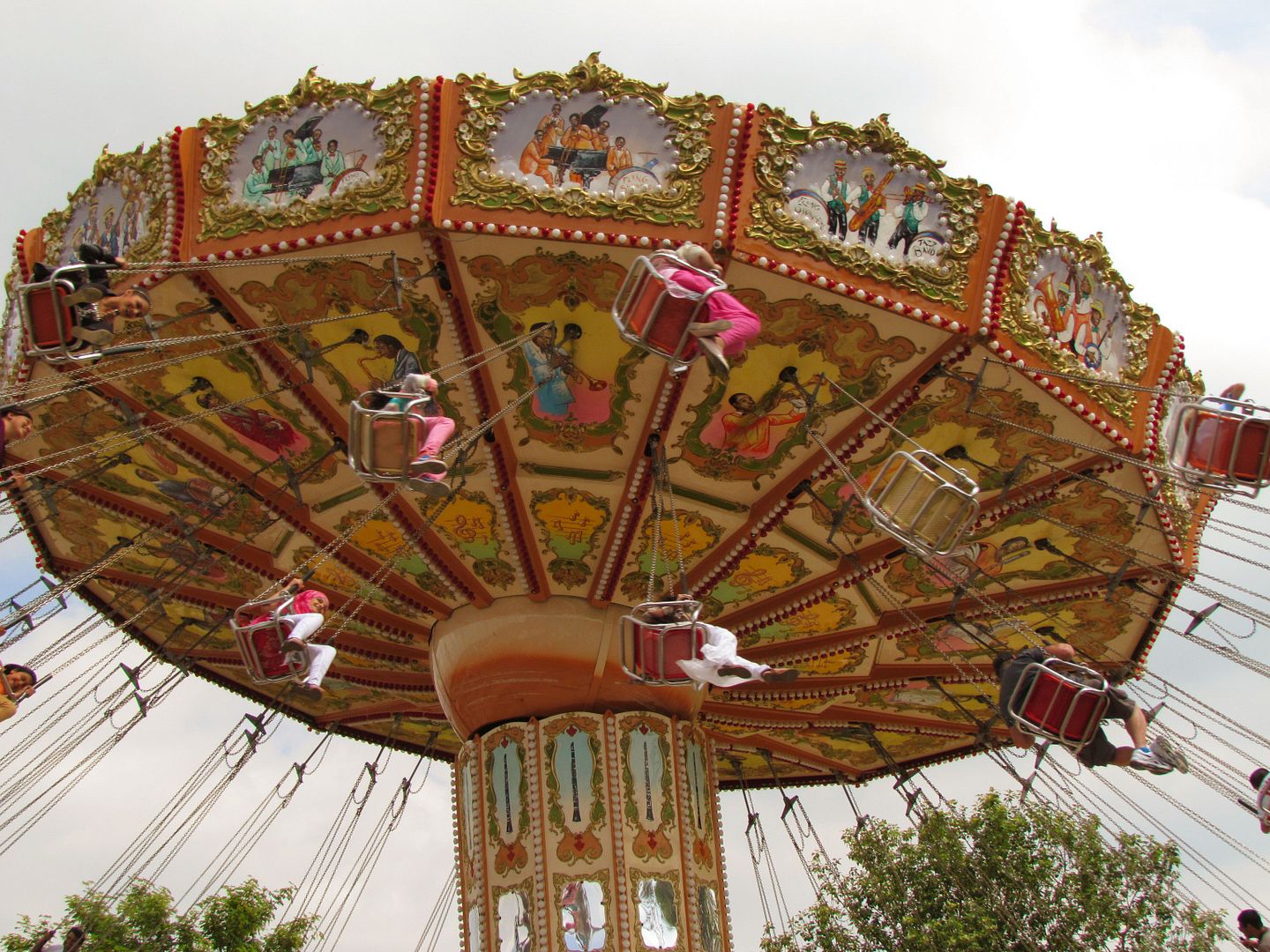 It was our lucky day when we were offered tickets to Lightwater Valley theme park in exchange for a review. I had never been before but have wanted to go since I was a teen. However, I'm not as brave now and won't go on roller coasters but Daddy Bird and the Junior Birds (8 and 12 years old) would. I was a little apprehensive about Little Bird as he has autism and can get anxious but it all worked out fine.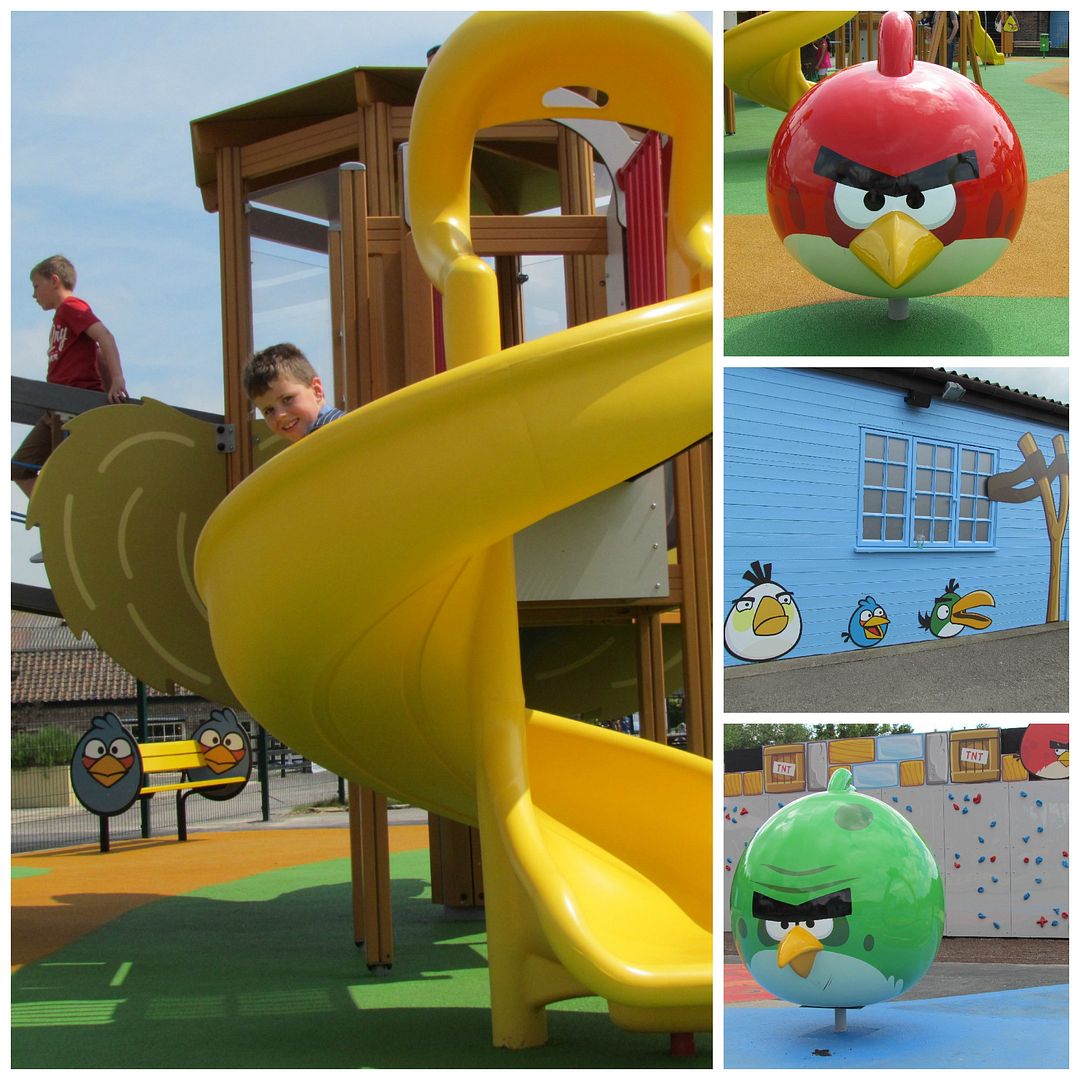 It was a beautiful sunny day for our trip and armed with a picnic we headed up to North Yorkshire, near Ripon to Lightwater Valley. Right near the entrance is the theme park's newest area - the Angry Birds Activity Park. Wow, it was superb! Absolutely spotlessly clean, helped by the no food policy in the play area and full of the most imaginative and amazing interactive play equipment. Big Angry Bird heads and benches are dotted around with lots of quirky details. Whirly slides, climbing walls, ropes, bridges and the dance zones which we loved. You can see that a lot of thought has gone into this play area and the attention to detail was well appreciated by the Angry Birds fan in our group. Safe too which is always my first worry with equipment and this had the most spongiest of surfaces. My Little Bird ran around with such a huge smile, not quite ready to attempt the equipment but loving investigating and noticing the numbers and colours on the floor. Junior Birds were straight up there climbing, crawling and sliding.
The Angry Birds play area will keep the kids entertained for a while and burn off some energy and stretch legs after a long drive. Gets everybody excited for all the rides in the theme park.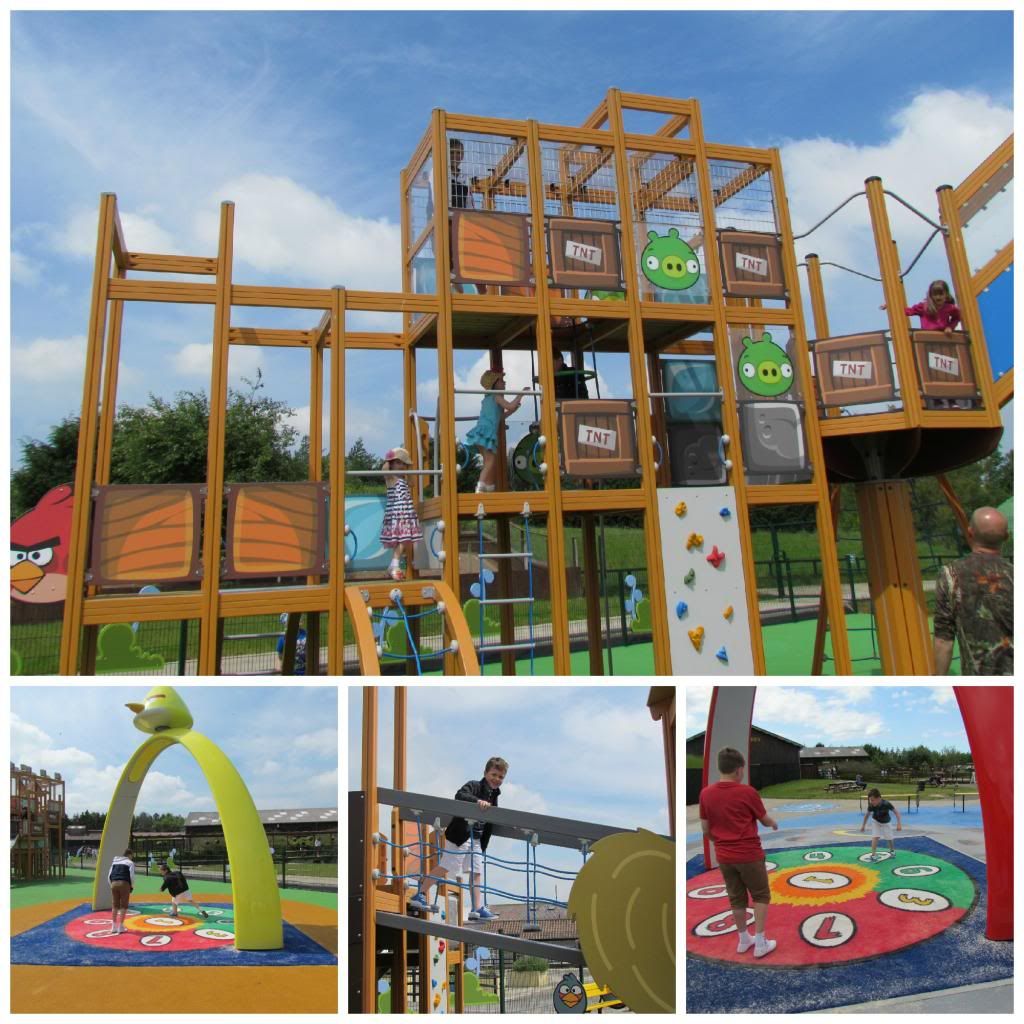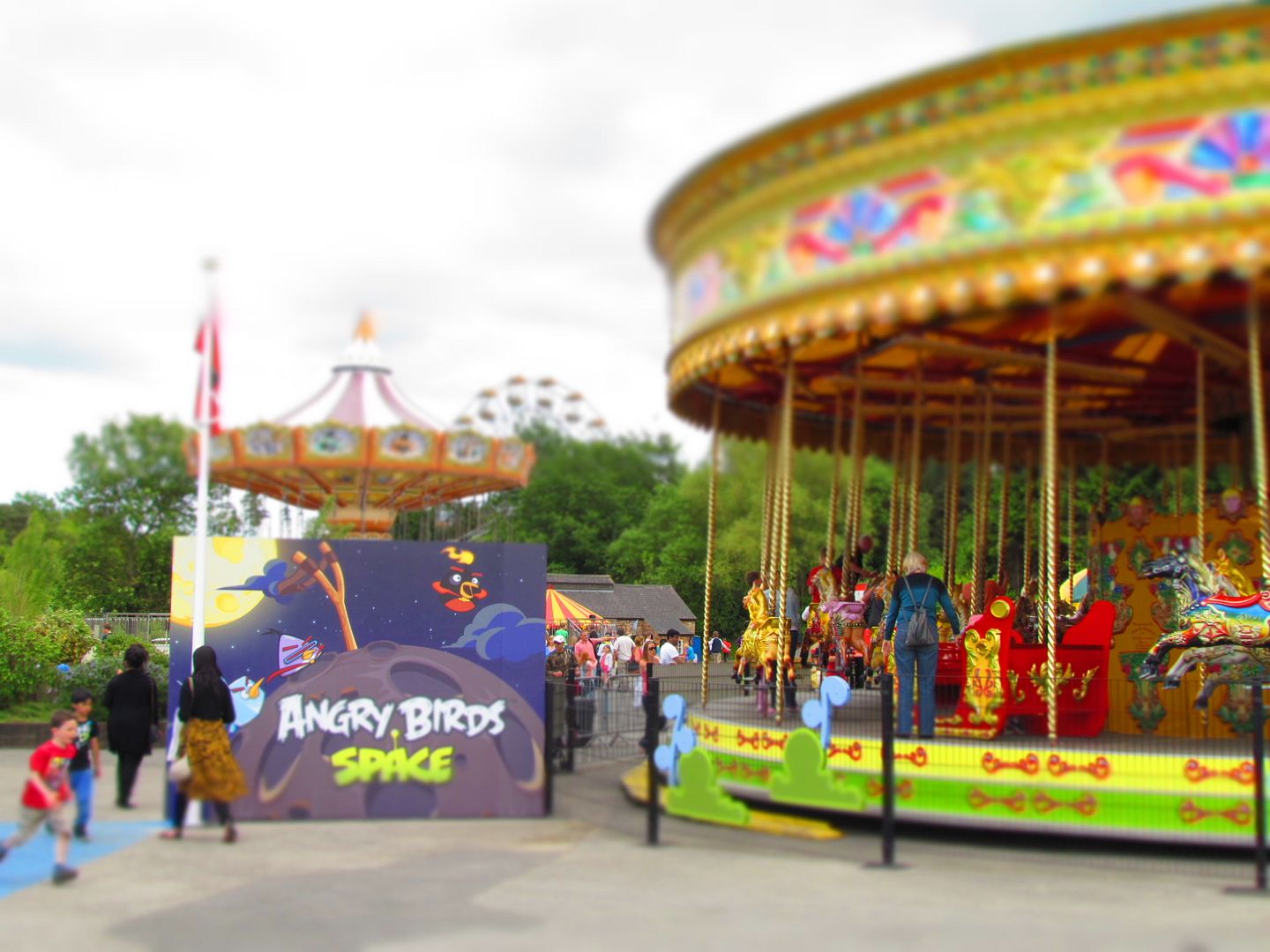 There is also the Angry Birds Space Indoor Activity Centre - all in the dark with twinkling stars,a glowing moon and a small cafe area. This is for younger children which I didn't realise at the time. Little Bird had a go on the slides as it was a little quieter for him. We probably spent nearly an hour in Angry Birds before moving on to the rest of the park.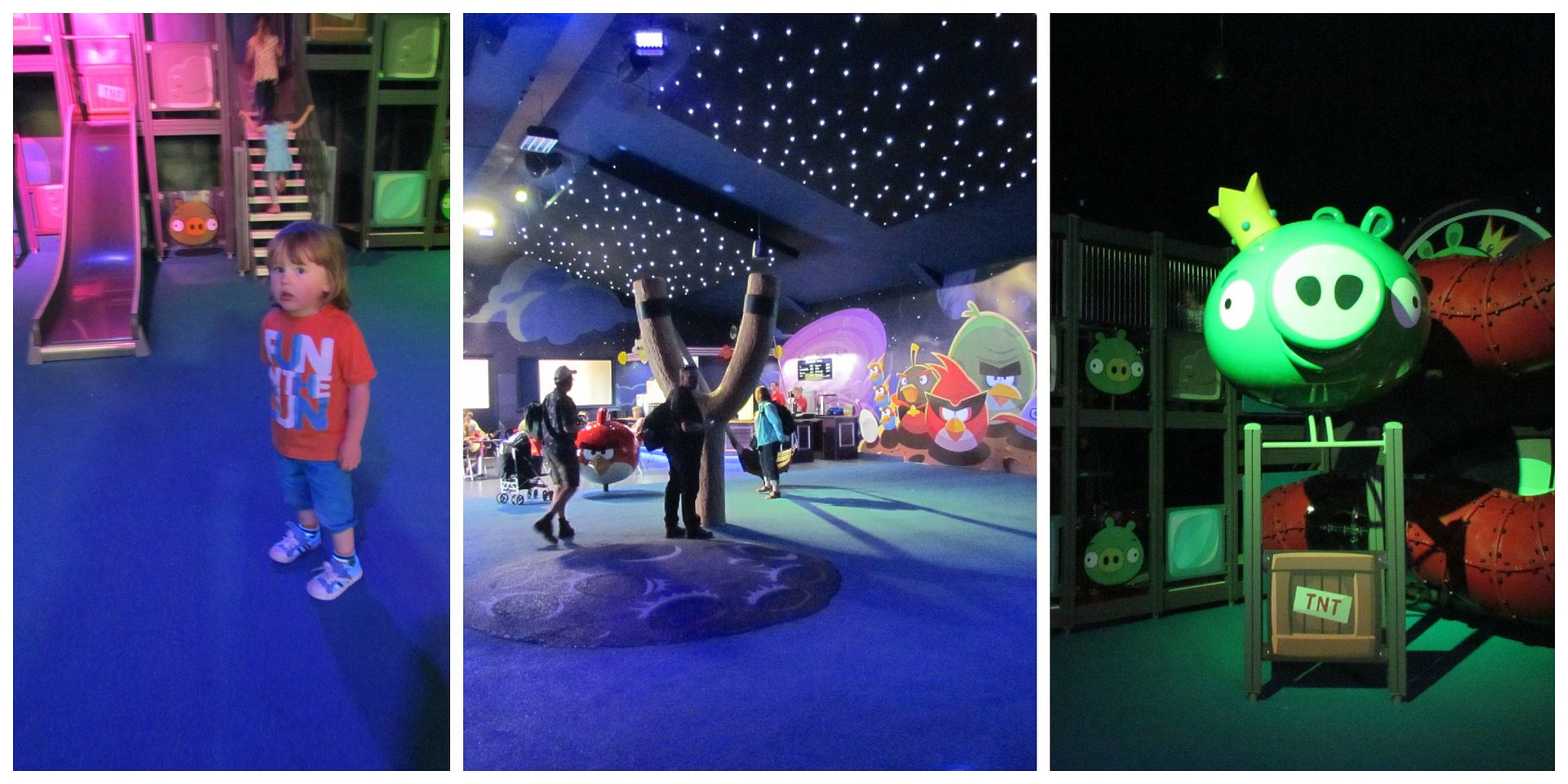 The rides at Lightwater are split into three categories - Mini Adventures for those under 1m and Mega and Ultimate Adventures for above this, although each ride may have further height restrictions or that an adult must ride too. Junior Birds were keen to show how brave they were except we had a few changes of mind at the last minute.
The Eagle's Claw was braved by Daddy Bird and Bird (12). Slightly green after this ride. Perfect for thrill seekers.
It did have a slight mechanical fault whilst they were queuing which extended the wait a little but the queue was not big at all and it was soon fixed.
The theme park is great for all ages, there are enough rides to suit everyone. Little Bird was very happy to run around whilst the boys went onto the roller coasters and older rides. We did try and take Little Bird on one of the new attractions- Eagles Creek Farm, a tractor ride around a farmyard with real animals. We thought this would be a great introduction to rides for our 3 year old. Unfortunately the attendant said that children must sit in the front of the tractor at the steering wheel and parents must sit in the back. There was absolutely no way that this would happen as he'd want to sit with one of us for security or else he'd be climbing out with anxiety. Bit of a shame really as he would have enjoyed seeing the animals. We were stuck then at the front of the queue behind a fence and nobody helped us out of the ride which was very awkward with a now screaming Little Bird. Fortunately a walk to the next area of the park dried the tears and we were ready again.
The grounds at Lightwater are stunningly beautiful and there is a lovely area by the Swan Boat lake to picnic on whilst watching the rides around you. When looking for cold drinks there were lots of vending machines or kiosks around and plenty of food options if you don't take a picnic.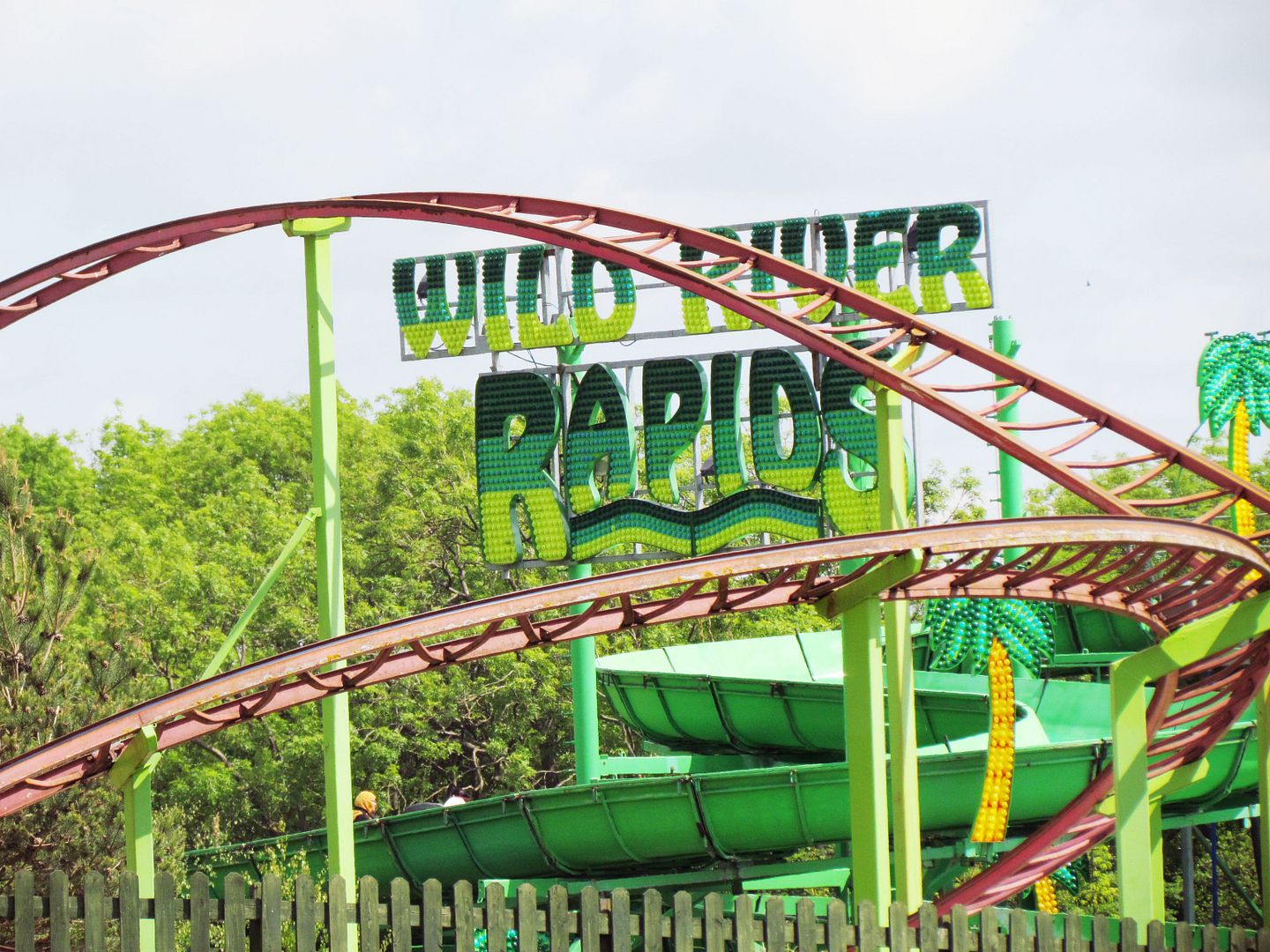 The boys all went and got soaked on the Wild River Rapids - I think this was their favourite. The queue was definitely the longest as you would expect on a hot, sunny day and this also broke down. I think we were unlucky that day, perhaps rides suffer in the heat too as 4 of our rides had issues. However, it is good to see that safety is so important and problems were soon sorted out.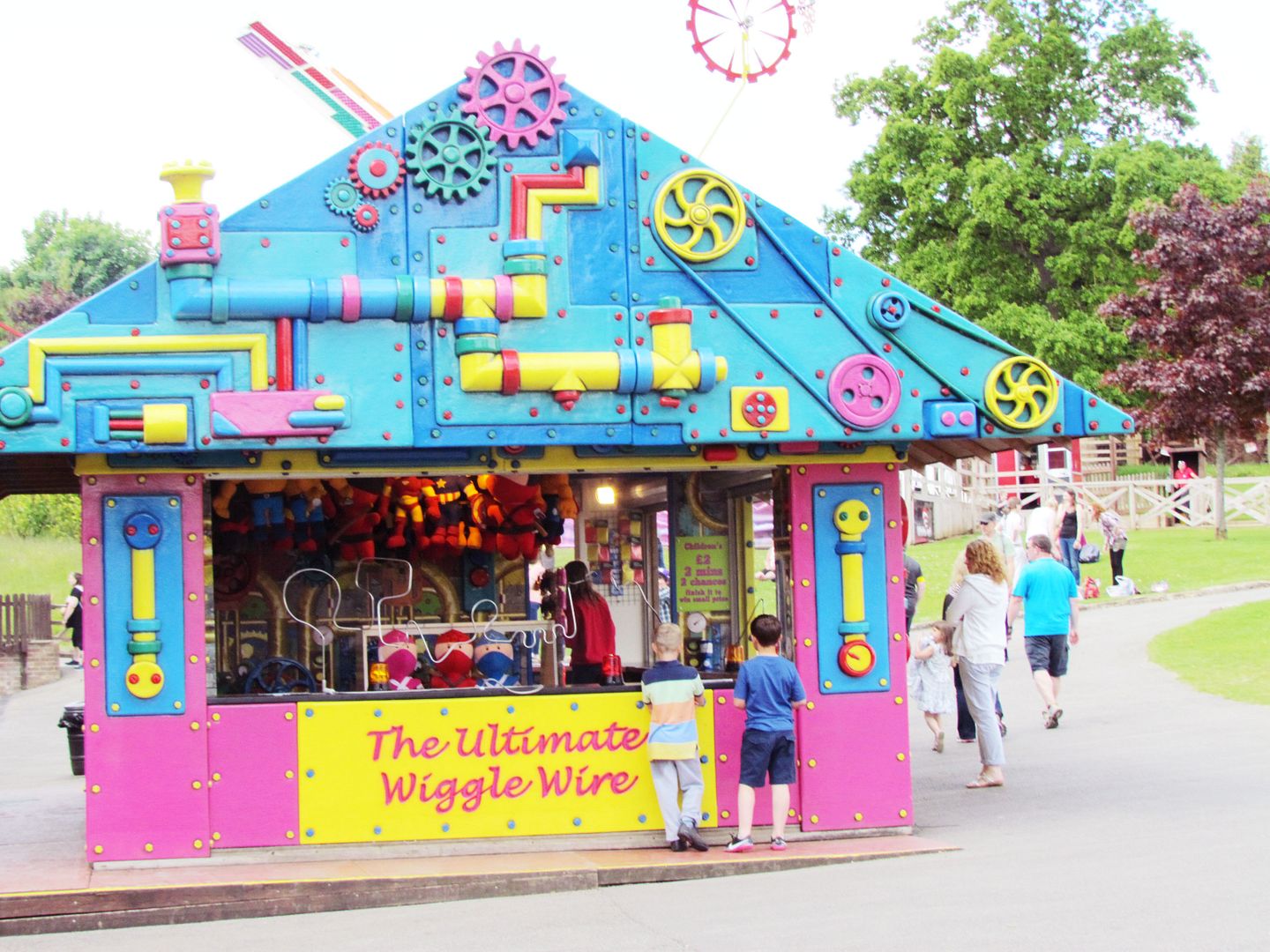 There are different areas around the park with several rides and activities grouped together. This is good so you can pick the shortest queue at a glance or if your group splits as we did so Dad and Junior Bird (12) could go on the scary rides, the rest of you can seek another activity or grab a drink. There's lots going on and being in my opinion a medium sized theme park attraction-wise, it is a bit more personable and easy to get around that others I have been to. I liked attractions such as the Falconry as purely roller coasters and big rides overwhelm me. It's more pleasurable to have breaks in between thrill rides to relax especially if you have younger children in the family. Themed areas like Skeleton Cove with its pirates provide an exciting setting for rides and just sitting and watching too as I did with Little Bird.
A great coaster, The Ultimate that goes on for ages - 1.5 miles to be exact. Another one for the brave is the Whirlwind, upside down and round and round - not for me these days. Anybody else like this? I was so brave when I was younger and now a complete wimp!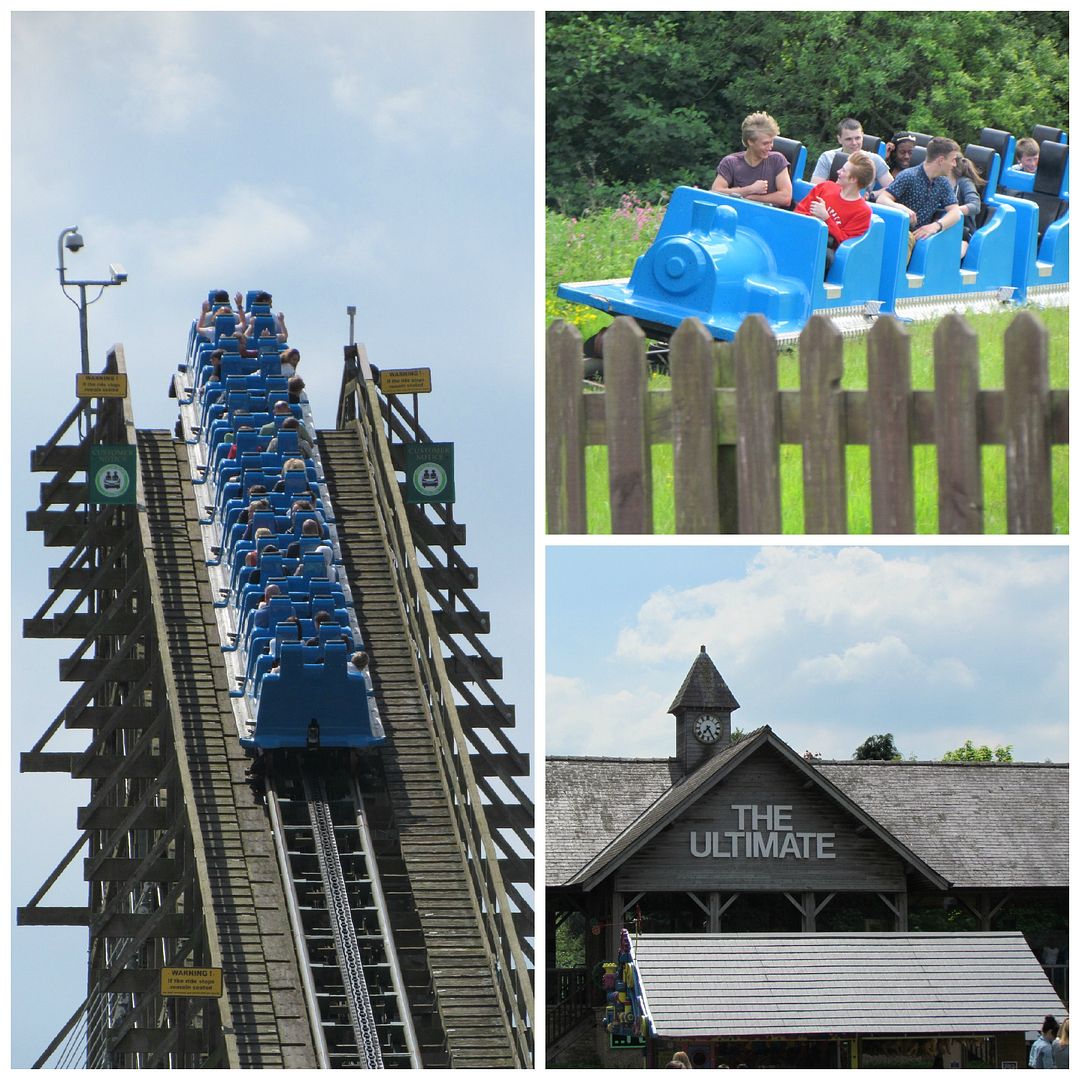 Another great mini attraction were the Skate Karts, the boys kept returning to this whilst we sat on a grassy area for a relax. It's hard work when you are the picnic bag holder, pushchair keeper, coat and drinks holder.
There are about 30 rides and we did not get around them all. I'm sure an older party without pushchairs etc would do as the queues are really not too bad and you can get on most rides almost straight away. I have in the past elsewhere, experienced waiting for over an hour for a ride so it was pleasing that the boys got on everything they had the nerve for. I'd say this factor alone makes it worth the entrance fee. Everybody will go home happy that they got on their chosen rides.
Lots of fairground type games and arcades. A swan boat ride to chill out after lunch perhaps.Truly gorgeous scenery especially from up in the nature area .
It's a large park so it doesn't feel busy or congested as you walk around but your feet might ache at the end of the day :)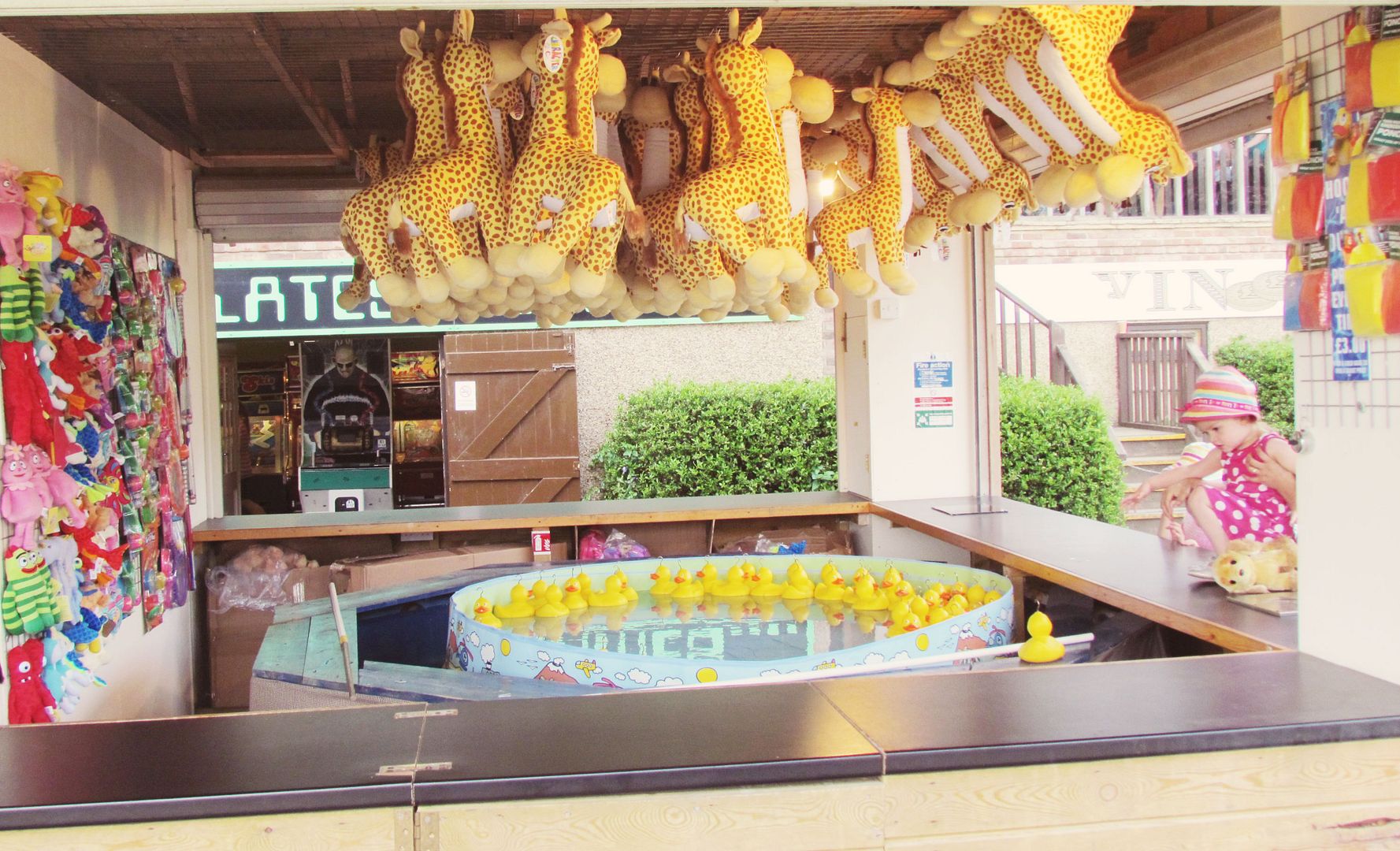 Little Bird loved the areas with the smaller, gentle rides such as Noah's Ark. There is plenty for younger kids to keep them amused and absolutely no waiting to get on. He was not upset apart from the earlier mentioned queue leaving episode so I was very pleased that he had taken a reasonably busy environment in his stride.
Such a pretty park and I could have gone snap happy all day.
Great views of the extensive grounds from the lofty rides.
Nestled at one side of the park amongst the trees and the wild flowers is The Caterpillar. We couldn't resist it's goofy grin and hung around here for a while, walking through the beautiful grassy meadows and wooded areas. This was a nice end to the day, a chance to unwind before heading back to the car. On the way back to the car park there are even some cute little shops and a crazy golf so it really is a full day to visit here.
We were very very happy with our visit and it was great for Little Bird to experience a theme park. For good all round entertainment, clean, beautiful landscapes and enough rides to keep the whole family happy, Lightwater Valley is a fantastic day out. I particularly loved the nature areas and the lake with the train running alongside. I'd like to return again as Little Bird gets older and perhaps go in the autumn when the park becomes Frightwater Valley for Halloween.
The Lightwater Valley website has videos where you can view the rides in action and has lots of information to enable you to plan your visit.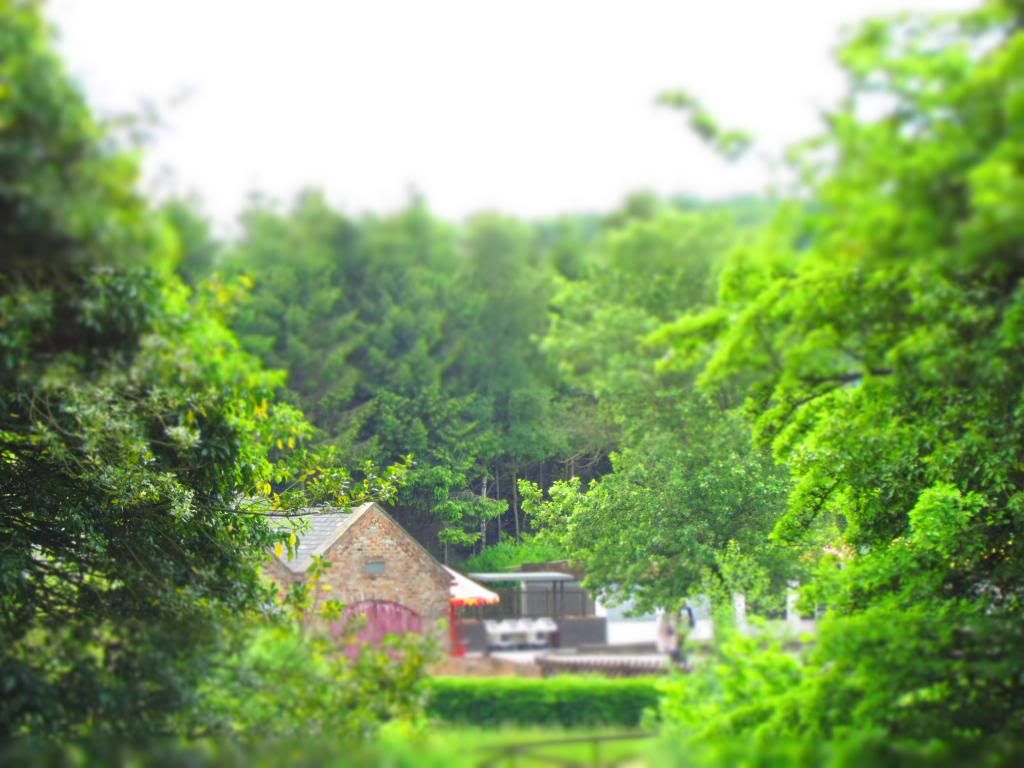 Little Bird fell asleep on the way back to the car and the two older boys were soon nodding off on the journey home. A fab day out.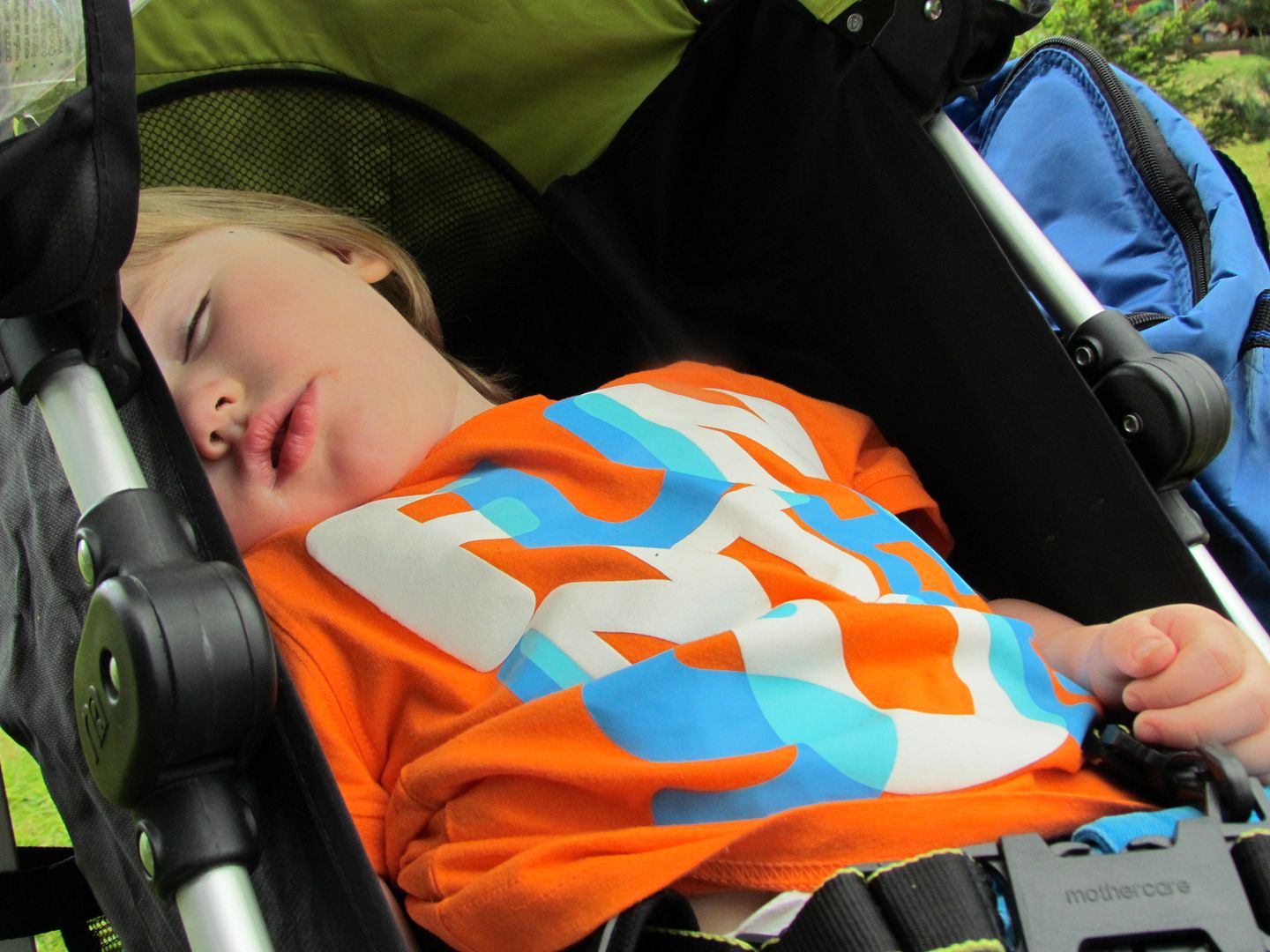 { I was sent Lightwater Valley tickets for a family group for the purposes of the review but all the words and pictures are my own honest experience and thoughts on the visit}