We are very fortunate in my little town that we have a great outdoor paddling pool. This is the first time we have been, as in previous years Little Bird's sensory issues would have made such a trip quite difficult. This year we decided to chance it.
Little toes dipped quite cautiously at first into the shallow blue water filled with excitable
children charging around, laughing and being very noisy. A few walks around with Daddy and then Little Bird was ready to let go of hands and join in. I was so immensely proud and felt very emotional.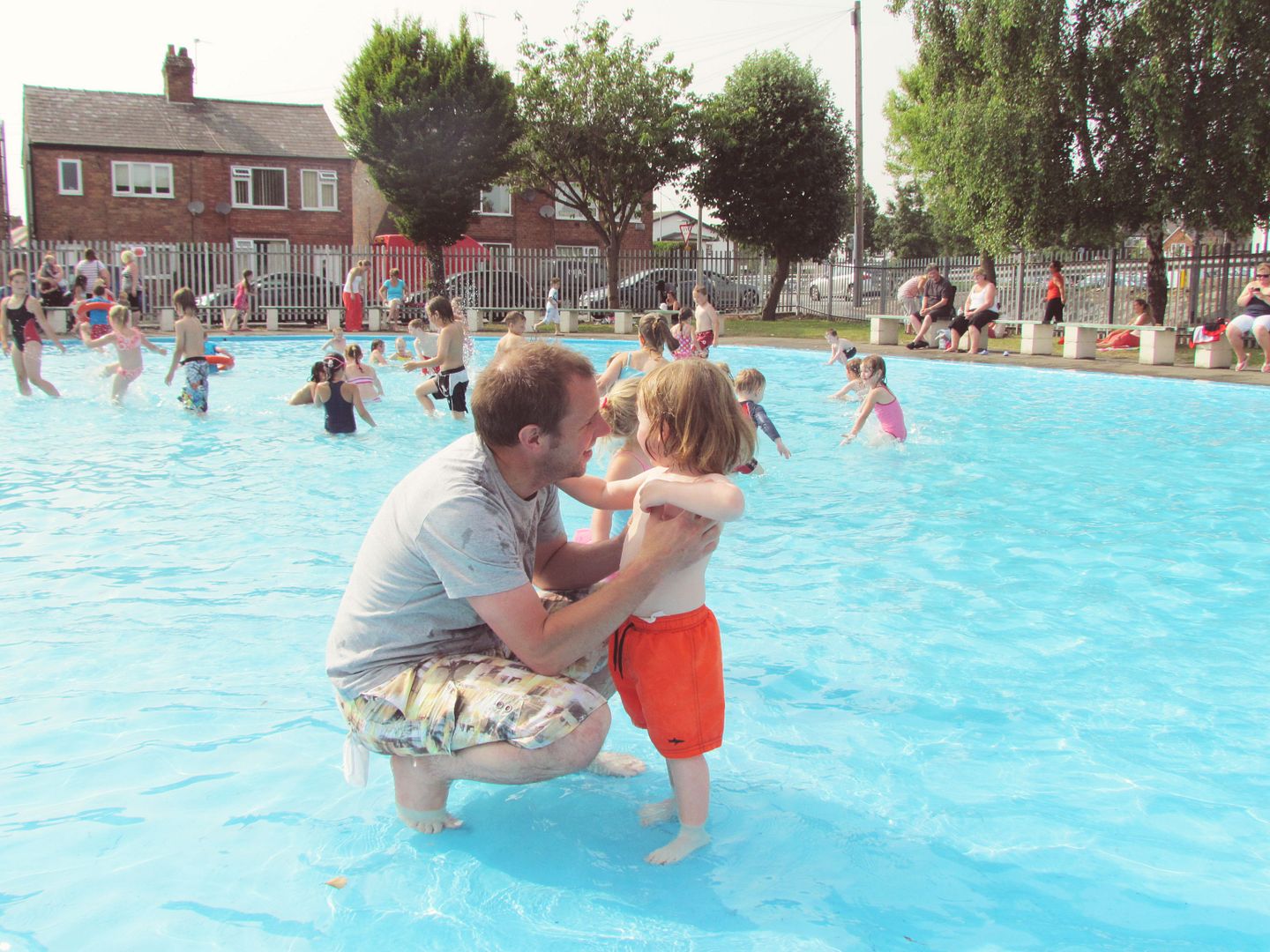 Splashing, laughing, watching the other children. He loved it so much that we have been back every day, either after Daddy Bird finishes work or I've taken him when it opens at lunchtime. There's a small kiosk selling drinks and ice creams, also a play area next door so it's a gem of a place.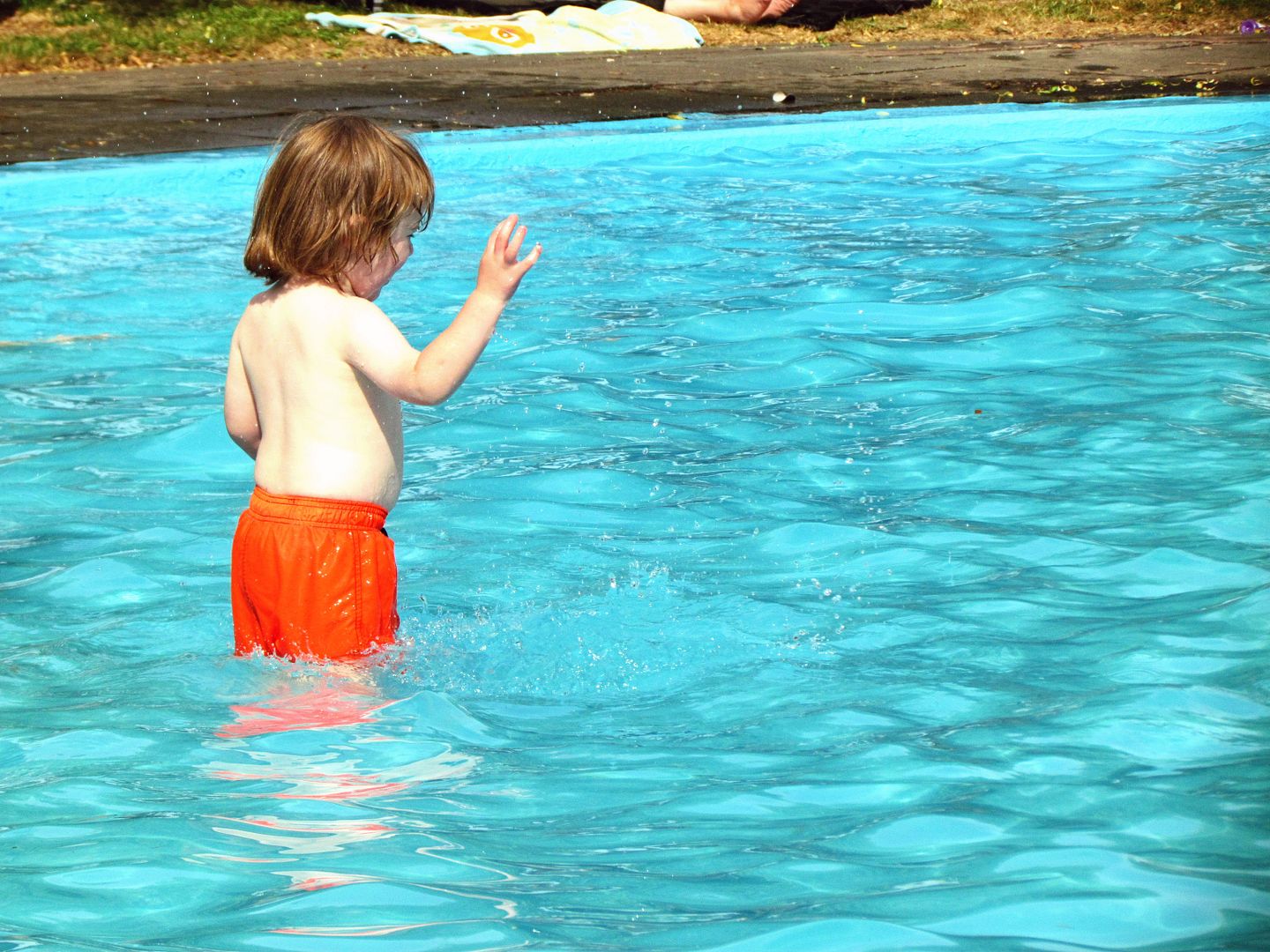 Trees line the edge of the fence to soften the view of a busy road with retail park shops opposite but really it does not matter. It's a pretty place for the mere fact that it looks so incongruous where it is positioned amongst shops and houses.
A lovely clear paddling pool, shining in the sun.
Many people take picnics and set up camp on the grass or under one of the trees. Little toddlers play on the edge with stacking cups, watching many an inflatable creature drift past. LB took a liking to a crocodile but its little lady owner became quite a bit haughty about things :)
I've noticed that Little Bird seems to like the little girls. Bless him, he really wants a friend.
He was playing with an abandoned beach ball until its owner, a pretty blonde girl stomped over, took it off him and lifted it high above his head. My little man took it all in his stride, looked at her with a gorgeous smile and chuckled, waiting for her to pass it back. When she didn't, he just tootled off, no tears, no big deal. It's occasions like this that really make me realise that there's more to my boy than what his assessment reports states. I see a boy who understands more than what people think, especially those who write those reports. Another post, another time I feel......
Little Bird has been very brave and ventured into the deeper middle part of the pool, joining in with the bigger boys and girls. He has been watching with great interest what the other kids are doing - 6 months ago he wouldn't have appeared to notice and 12 months ago he would have been so anxious we would surely have ended up leaving. Time is improving his emotions and although delayed, I see progression every week. A while ago it was like other children did not exist to him. Now he approaches children to try and play. Passing the ball back to other tots and tapping their arm to say, you throw, your turn. It's been so special to watch him try in a non verbal way to join in. Laughing when they splash, imitating and then also sending droplets flying though the air.
At the end of our pool party as we call it, LB is always happy to cooperate. No tantrums, helps himself get changed and then we go to the playground and onto the swings. Another achievement as he wouldn't go on the swings for such a long time and would panic. It's so lovely now being able to do these sorts of activities with him. We now have a PECS card for pool and guess who brought it to us before bedtime last night? Another day Little Bird.
Joining in for the first time with Country Kids from Coombe Mill
and Small Steps Amazing Achievements at Ethan's Escapades