I love days where I can get all my washing done and then hung out on the line to dry. A full washing line is one of life's beautiful sights or is it just me that feels that way? :) What I do not like quite so much is when my washing efforts don't remove stains. It's a real annoyance, even down to the tea towels, which to me are often pieces of art - ruined by certain people in my household using them as a quick cloth to wipe up any old mess. Vanish asked me to try out their stain removal products so I have tested it out on my recent washes.
Whilst having a bit of a pyjama day, Little Bird decided he would escape to the muddy garden. For five minutes it really wasn't worth the battle so I let him enjoy his quick run around. However, he came back in, after of course falling over, with big dirty black knees. The soil is very clay-like and is a pain to get out of clothes, so here was my first test.
Mixing 1/4 of a scoop of Vanish Oxi Action powder (the pink tub) to 3/4 warm water using the handy scoop included in the tub, make a paste and rub the stain with the scoop (it has a nobbly base). I left this for a few minutes and then put into my dark wash load with another scoop of powder. You can see in the above photo that it brought the worst of it out, there is still a little bit of a dark smudge but p
erhaps I will try soaking them next time.
An improvement on past washes with just my normal washing powder.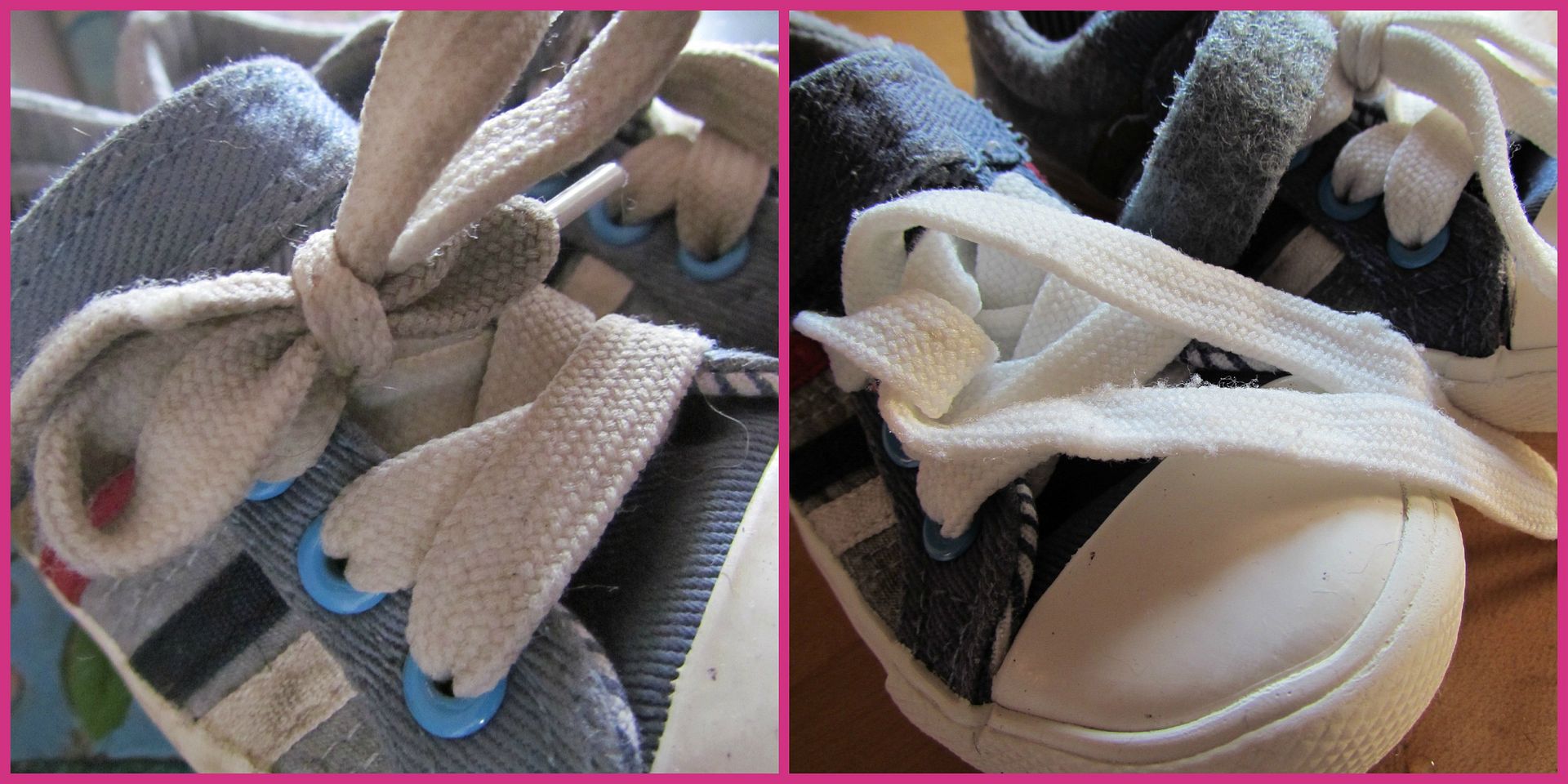 I hate it when Little Bird's pumps get all grubby looking. To be honest they weren't that bad but I wanted to see how Vanish Oxi Action Crystal White fared with its promise of up to 3 shades whiter. The picture speaks for itself and I was very pleased with how clean they look. I'm going to have a blitz on all our bedding next which always seems to look a bit grubby.
Now my precious tea towels! I like buying ones with fun illustrations and slogans so they look all pretty hung over the side of the sink. Frequently they get covered in curry, bolognese and oil. It never comes out. Sure enough it didn't take long for one of my favourites to be used to wipe a Little Bird free of tomato ketchup. Feeling very cross I took a piccy to show how it was and set about soaking it 1 scoop of Vanish Oxi Action in a bowl of warm water. After a wash with another scoop of Vanish - look, look. look!! It all came out! So pleased with this. Nana Bird is now going to buy some after I told her of how it removed the dreaded tomato sauce. I like keeping my clothes and homely items pretty so Vanish is a winner and I would use it again.
The Vanish site has an extremely useful guide to removing spillages on clothes, carpets or upholstery such as coffee stains and red wine stains with plenty of handy tips.
Vanish provided me with samples of their Oxi Action Stain Remover for the review but it is my own honest opinions and all the words and pictures are my own.