Tots100 have teamed up with Bathshop321 to give the chance of winning a wonderful bathroom suite. Hooray as our current bathroom is getting a bit shabby, especially the shower.
The bathroom suite has not been updated in the years that we have lived here. I've tried my best to improve by painting the walls and the
tongue-and-groove panelling all white to make it look fresher but the brown/orange/pink (who knows!) tiles are really not my style and the suite has seen better days with rust, wonky seats, dodgy sealings around the bath and worn away flooring.The shower in particular is awful and has cracks in it, rust and the water squirts in all directions, including the ceiling which makes for a lovely water fountain effect. Little Bird loves bathtime (as does Billy the dog) and it would be nice to make it extra special. With my whole house being a bit eclectic with wall art and ephemera, the bathroom is no exception.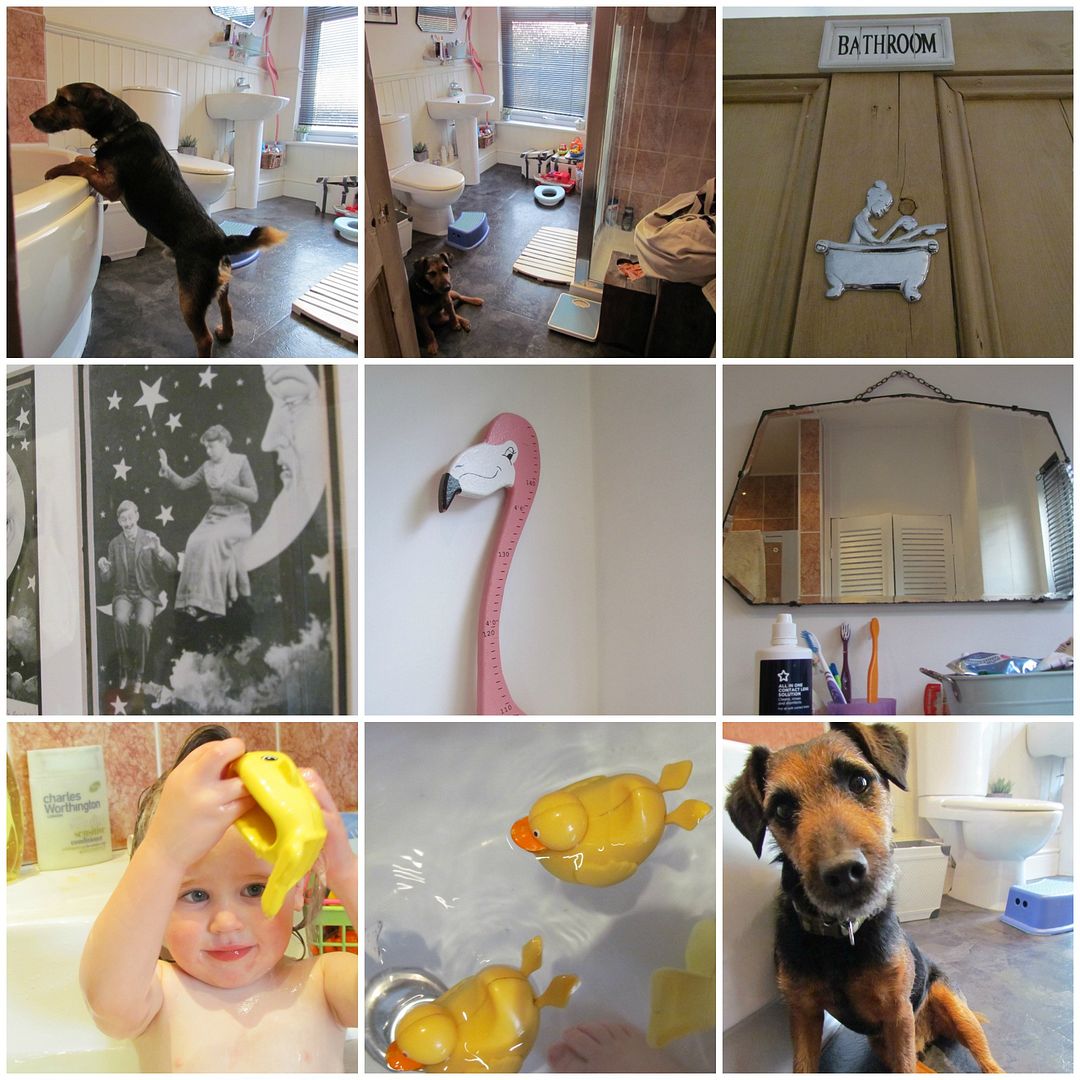 I would love a sparkling new white suite and retain the eclectic feel by having it circus/funfair themed. I shall explain...... My dear nana used to go a circus/zoo/funfair called Bellevue as she lived just around the corner. It was in Manchester and as a child I thought she had made it up to entertain me. Turns out it was all true. Bellevue was an amazing place and my nan's stories conjure up such fantastical images to me. She tells one particular story of losing her sister near the snake enclosure and then trotting home worried that she would have to tell her mother that Hilda had been eaten by a snake. These anecdotes have a special place in my heart. Bellevue was closed by 1980 but the memory of it in it's heyday lives on in my nan and her many stories. I found an old book on Bellevue and it's vintage pictures inspired me......tightrope walkers, tigers, clowns and pretty ponies. Not something I would encourage today of course with the animals but I find these vintage funfairs and circuses intriguing. Here are some of my ideas in the pictures below......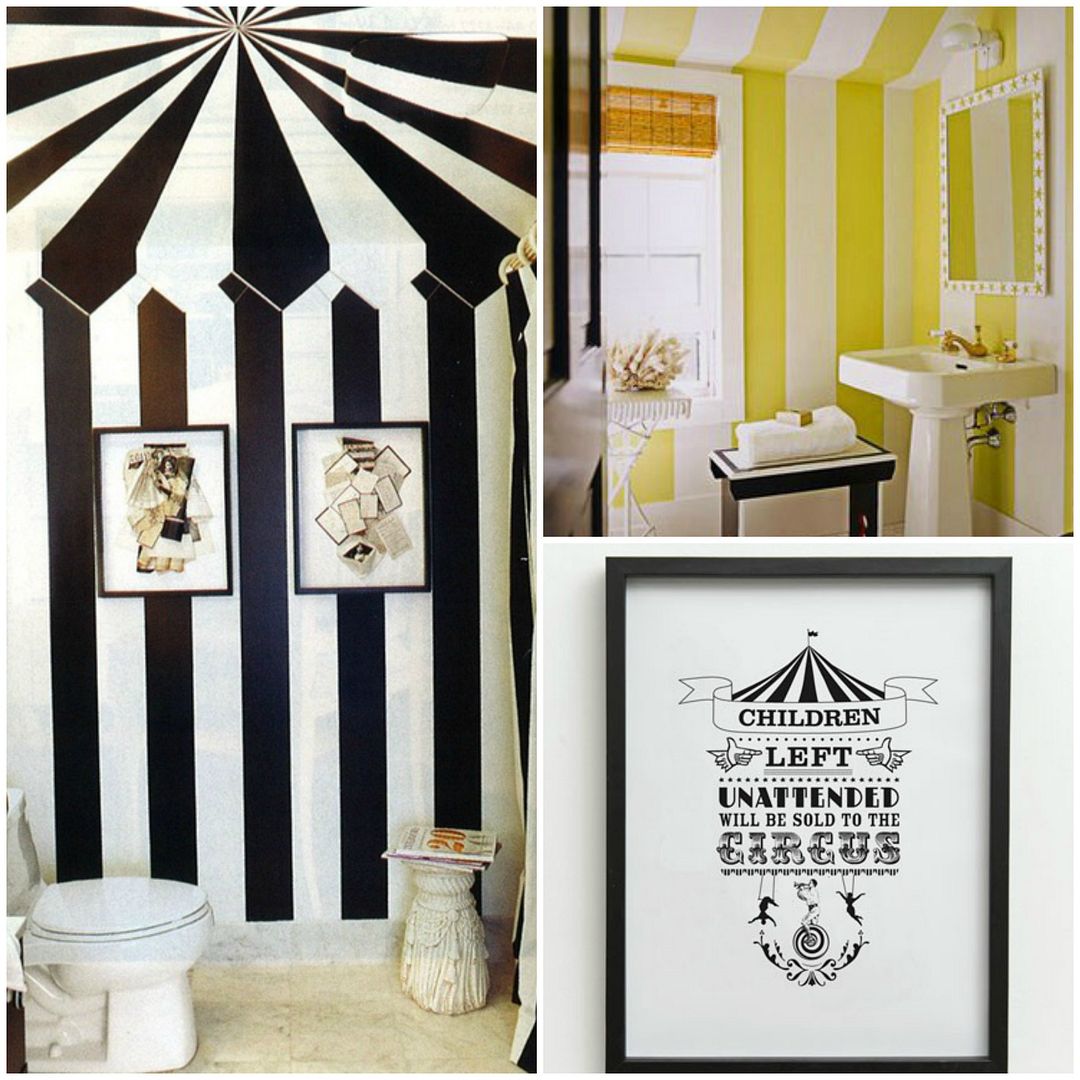 Perhaps I could paint c

ircus stripes - just bit not all over! Monochrome perhaps a bit too bold but yellow (my favourite colour) would be wonderful. Circus art that's particularly funny considering my nana's story.
Unusual fair inspired lights as a feature would set the room off and be fun for Little Bird.
We desperately need storage for bath toys and toiletries and something modern like this rounded unit would be my choice. It would be fun to shop for circus themed accessories too. On Ebay I found a cute circus towel for Little Bird, wrong name of course :)
I love grey too and this would go very well with the yellow accents in the room. Grey metro tiles in the shower to be very posh hotel-like. A heated towel rail would be great rather than the rusty old radiator alongside a little gallery of Belle Vue art on the wall to remember my nana's stories.
Plenty of cute accessories to make the bathroom fun. I'd like a huge vintage mirror above the new sink and new flooring maybe grey and geometric in style. Vintage framed posters would really stand out and make the bathroom very individual to us.

The Quadrant Shower Sorea Suite from Bathshop 321 is the one I would choose as I love the curve of the shower enclosure which would be ideal for the corner where I would put it. Perfect shininess that I would lovingly clean :) I love the chrome shower mixer, very unfussy compared to our current one which is yellowed plastic and huge. Although I love vintage, I like bathroom suites that are more contemporary in their design such as this with a sink that is angular. Very sleek.

This is my entry into the Tots100 and Bathshop321 Win a New Bathroom competition.