The British Summertime is nearly here and my thoughts switch to sunny days in the garden, hanging washing on the line, windows open, gentle breezes and balmy evenings with a glass of wine.
Inside the home I like to capture the essence of our summers from the British coast to the buzz of the city on a warm evening.
I was excited to find a wonderful United Kingdom cushion from George at Asda with a cheery map showing some characteristic landmarks and cliched but cute elements such as the bagpiper. A couple of these on the sofa will be lovely for my front room. Add to this one of their contemporary bug print cushions for English country garden charm.
Time to inject that lighter and brighter feel into the bedroom too with new accessories and furnishings, perhaps new throws and duvets such as yet another great find for my love of maps with this colourful offering from Ben de Lisi. Summer is a great time to redress those window with some new curtains to brighten your room. My trickiest windows are in the loft and with all the light flooding in early in the morning need some VELUX blinds such as their blackout blinds for a decent nights sleep.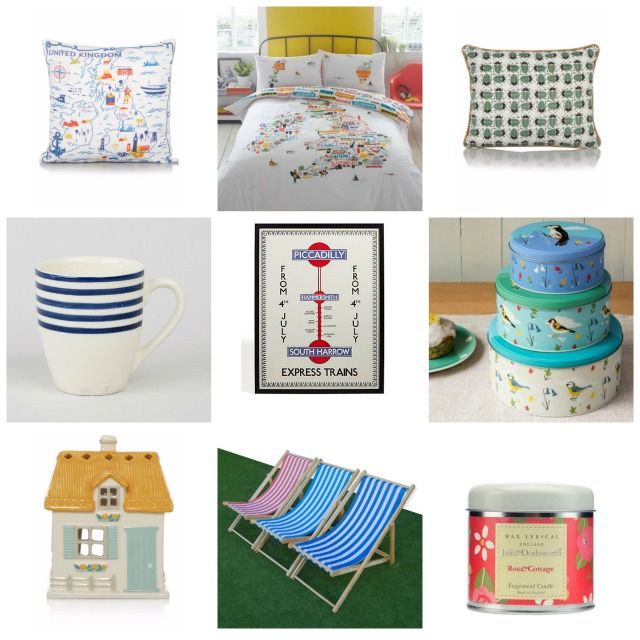 British Isles Cushion, George £5 // British Isles Duvet, Debenhams £28 for a double// Bug Cushion, George at Asda, £5// Blue Stripe Mugs, Matalan £1.40// Vintage Train wall art, M&S £55// Garden birds cake tins, Dotcomgiftshop £12.95// Cottage Tea Light Holder, George at Asda, £7// Deckchair, eBay, £26.95// Rose cottage candle, Candles Direct £4.95
I love a feeling of calm in the house and a candle of two with a summer scent is my treat whilst I read in the evening. Floral fragrances such as roses or lavender give a delicate aroma to the room. Some fairy lights or a lantern add to the look or a simple tealight in a pretty holder such as the country cottage, again from George at Asda.
It doesn't have to cost a lot to add some summer into your interior design, a few pieces from the high street, the supermarket or online can perk a room up. What could be more summery than a stripy deckchair, pop into a corner by a window for a cheerful reading area, or on the patio on a sunny day.
In the kitchen, a new set of mugs or some cake tins for your summer bakes - lemon drizzle please, can liven up open shelving, adding pops of colour. I need a new teapot and would love one with a coastal look, seaside gift shops are always so good for summery purchases so I will be looking out for one on our day trips.
Personal items make me happy, wall art of seaside trips, train journeys and city breaks and vintage style posters of the Tube line. After my recent holiday on the Yorkshire coast I'd like frame a retro Scarborough poster, the National Railway Museum sells these for all over Britain and they are such a great way to remember your summer holiday.