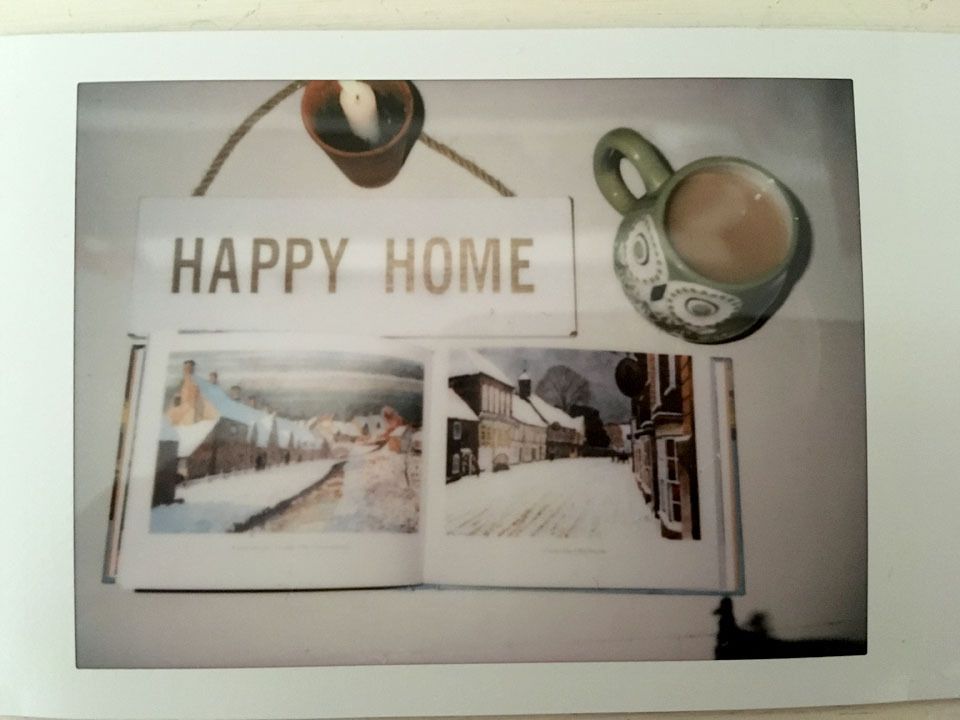 ...and the weather was indeed bracing today but inside we are cosy and enjoying the comfort of being at home. With spring on the horizon I have been looking at the winter so far and how I've enjoyed the season. As part of my winter fun I had a super Fujifilm Instant camera from Ocean Loans to capture the homeliness of the cold season.
There has been a lack of snow but that hasn't stopped me thinking of sledging and snowball throwing and we've had a lot of wintry books on show to look at over a cuppa. I put some on the mantelpiece as part of a little seasonal display.
The wood-burner has kept us all, dogs included, very snug over winter. In fact the dogs do hog the sofa and the fluffy throws a bit too much as you can see. A typical scene from our home with the logs piled up and stacks of kindling, ready to roar away and mesmerise us into afternoon naps. I have my books here too, so it is a perfect nook to hide away in.
As it has been a little bit spring-like for January and February I've been buying early bunches of daffodils for the mantelpiece to mix in with the snowflake decorations and glitter twigs - I've even kept my Swedish star Christmas decoration up for the rest of winter.....well you need a bit of glow until the lighter evenings return!
So that's my little bit of winter home and now I am welcoming the return of spring with planting up window boxes full of daffodils and sowing seeds. It's been another strange mild winter and I've missed frosty mornings and their photo opportunities. We had one snowy day and we had to go up into the Derbyshire hills for that so maybe that's it for snow this year but never mind I am ready for some sunshine now.
I received a Fujifilm Instax Mini 8 from Ocean Loans for the purposes of this blog post.